Released in January, 2010, VVVVVV is an action platformer where you control Captain Viridian, who is looking for his lost crew members after crashing landing in an alternate dimension. Instead of jumping, Captain Viridian is capable of controlling the direction of gravity, allowing him to flip between floor and ceiling. Watch out for spikes!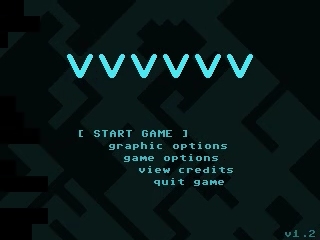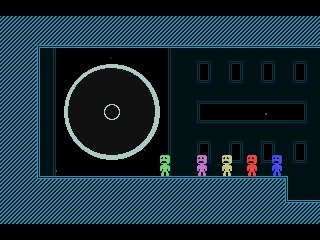 Best time: Single-segment 0:13:18 by Jared 'FieryBlizzard' Klein on 2012-08-18.
Best No Death Mode time: Single-segment 0:14:05 by Jared 'FieryBlizzard' Klein on 2012-11-22.
Best 100% time: Single-segment 0:17:48 by Jared 'FieryBlizzard' Klein on 2012-12-23.
Single-segment: 0:13:18 by Jared Klein
Get Flash to see this player.
Auhor's comments:
I originally ran the any% category for practice to prepare for the 100% category. However, this category quickly became the category I was most dedicated to, especially after the intermission skip was discovered by unpronounceable on the forums. With that in mind, I decided to work on making this category as execution heavy as possible. Throughout the course of the game, I die eleven times - all eleven times intentionally for a time advantage (once in the beginning of the game, six times in The Tower, once during Intermission 1, twice during the cutscene skip, and once during the Final Level). This is, in terms of speedrunning execution, a "deathless" run. Below you'll find some notes about rooms that could potentially be improved by more than a few frames for anybody willing to fight for a couple of small seconds.
Three's a Crowd (The Laboratory): It is possible to get the line clip on the first "flip." It takes me three times to execute the clip here, which is my standard during these runs.
I'm Sorry (The Laboratory): By dodging the enemies in "Kids bounce his age" in a tighter fashion so that Viridian passes the left-most enemy as close as possible on his fourth bounce in the room, it is possible to have Viridian land on the checkpoint in this room instead of the gravity line to the right of the platform. This avoids two extra flips and saves a slight amount of time.
That's Why I Have To Kill You (The Warp Zone): It's possible to flip at the very edge of the platform to the right of the gap and go directly into the warp token without falling into the alcove. This is a one pixel window that abuses the fact that Viridian can flip while on the very corner of a platform, which appears to look like Viridian is flipping while off the platform itself.
V-Stitch (Space Station 2): This room could just be better executed. In this run, it's clear that I was more focused on not dying than I was about going as fast as possible. This is because of the weird spacing of the room, which does not lend itself well to speedrunning through the room.
On The W/Vaterfront (The Final Level): By hugging the left spike platform in the room before ("The Untouchables") as close as possible, it is possible to land on the top platform rather than the bottom platform. This allows Viridian to escape the room a half a cycle earlier with proper timing (though there's a bit of time lost due to the layout of the next room).
Three's Company (The Final Level): It's possible to line clip through both of the horizontal lines. In order for the clips to not waste time, the first clip must be done in no fewer than 4 flips and the second clip must be done in no fewer than 2 flips. This room is probably the biggest possible improvement left in the whole run with the current strategies.
Overall: This is a pretty decent run. There are a couple of seconds that can be saved by tighter execution (and, in the case of Three's Company, a different strategy). However, this is as low as I plan on getting this time. Enjoy the run!
No Death Mode Single-segment: 0:14:05 by Jared Klein.
Get Flash to see this player.
Author's comments:
This is a speedrun of the no-death mode in VVVVVV. As the name implies, the entire game must be completed without dying once. The consequences of this means that not only do I get to play through the same five screens way too many times (I want to say that half of my runs end on Traffic Jam), but I actually have to run through all of Space Station 1 and have to survive the Gravitron. Both of these areas are nearly completely avoided in runs with the normal mode by using a couple of death abuse tricks. An obvious advantage to running this mode is that you can "completely" disable cutscenes (Violet still finds a way to have dialogue). This does not recover the time lost by completing nearly two additional areas. With that said, let's get onto the run.
Space Station 1: The only improvement I can see from this section is an earlier flip in "Linear Collider." The rest of this section was done quickly.
The Laboratory: The line glitch in "Three's a Crowd" can be done in fewer attempts. However, five attempts is an improvement over the previous six attempts. The rest of the area went well.
Space Station 2: I mess up getting to this area as I flip too early, which meant that I had to flip back to a platform. In retrospect, the proper thing to do here would have been to flip down rather than back as there would be no time lost from falling down. Space Station 2 itself went remarkably well for such a painful area to run. I really cannot complain about the performance in "V-Stitch" as it's remarkably tricky to do quickly.
Intermission 1: I get a little stuck on "Very Good" and I don't get a perfect "Don't be Afraid" (optimally Vitellary would fall right down instead of getting stuck in the edge), but it doesn't result in much time loss as I get Vitellary to fall down quickly after he stays on the edge. The rest of this section went smoothly
The Warp Zone: Everything in this section went smoothly. Two less flips can be done in "That's Why I Have to Kill You" but it's a tight window and can easily result in time being lost if not a death.
Gravitron: Up, down, up, down, up, down, up, down, up, down, and repeat for a minute. Oh, there are some enemies you have to dodge as well. I fall right into the tunnel after completing the Gravitron so no time lost.
The Tower: I wasted nearly a full second on two mistakes alone in the twisty tunnels preceding the Tower. Otherwise, the Tower went as well as an auto-scroller can go. I left the room about as soon as I could.
The Final Level: The final part is rather boring until you hit the terminal. After that, the game turns into a party of changing colors that match the crew. The room that gives me the most trouble in this level is "Timeslip," though it gave me no trouble during this run. Both line glitches can be done faster in "Three's Company." I also could have held right all the way through "The Villi People" but I decided to take it somewhat safe, which ultimately doesn't end up costing that much time. Everything else went as well as I expected it to, especially during the stress of completing the final level of a no-death run. For the record, going left and right quickly at the end does not improve vertical movement; it's just something I do at the end of my runs. I spend a lot of time at the game complete screen debating about whether or not I should kill myself on the final screen for a different end screen. I decide not to.
Final Notes: This is still an improvable run, but it's definitely better than my previous run. While I can get through the Gravitron rather easily, rooms such as "Traffic Jam" and the entirety of Space Station 2 make this category annoying to run, and even more annoying to speed run. My advice to anybody wanting to run this category is to spend hours in time trial practicing the room strategies and making each room very consistent. The only randomness in this run is found during the Gravitron. If you are just looking to complete the mode, there are several safer strategies to use that would result in a much higher survival rate for several rooms (such as "Just Pick Yourself Down" in Space Station 2). The Gravitron itself follows a noticeable pattern that's set between seconds 49-38 and 18-0 assuming the player does not die, which makes surviving this infamous room much easier. This mode isn't as impossible as a lot of people say it is, it just requires a lot of practice and patience.
Anyways, that's all there is to really say about this run and the no-death mode. Enjoy the run!
100% Single-segment: 0:17:48 by Jared Klein.
Get Flash to see this player.
Author's comments:
VVVVVV 100% entails beating the game with all 20 trinkets. Put another way, that means Viridian must go through more rooms, dodge more spikes, and ruin many more attempts. As this is a single segment run, there are a number of deaths that would instantly kill the run over and over again. Due to the difficulty of the run (and the previous number of attempts), I made this run more about surviving the incredibly difficult tricks (e.g. the Gordian Knot shortcut) rather than making the run look perfect. In fact, it is obvious in this run that Viridian did not like the idea of falling down. In that regard, this run looks pretty poorly executed in specific parts. However, these little mistakes cost very little time compared to the mistakes that I commonly make in my attempts. With only two unintentional deaths, both of which occurred while going through Space Station 1 backwards, I feel that this is as low as the time is going to get for a single segment run for a decently long time. More detailed run comments are below.
The Laboratory: Obtaining the first trinket went well (#1). The best part about this section was that I got the line clip on the second attempt, which is much better than normal during my runs. My biggest mistake in this area was navigating the "maze" to the second trinket (#2), at which point Viridian got stuck on multiple ledges instead of falling straight down. I managed to grab the third trinket, located in "The Tantalizing Trinket" (#3), quite easily. I was also able to avoid two extra gravity line bounces in "I'm Sorry" by tightly avoiding the enemies in "Kids Bounce His Age". Finally, I made it to the fourth trinket, located in "Unobtainium" (#4) without any problems.
Ship to Warp Zone: I have no idea why I decided to flip as soon as I got out of the teleporter (I don't think the game was allowing me to move right anyways at that point regardless). I grab Trinket #5, #6, and #7 while avoiding several of the 7,612 pointy objects that want to kill me in the game.
Warp Zone: Nothing particularly bad happened here. In other words, for once I didn't do a double-take at any point in this section. As a quick note, there are several rooms in this level that can kill you if you go too fast (e.g. "Time to get Serious", "Ascending and Descending", "Sweeney's Maze"). To get the trinket in "Edge Games" (#8), I abuse the lack of hit detection that occurs while wrapping across a map. By timing Viridian's movements to wrap around the map at the same time the enemy is wrapping around the opposite direction, Viridian can pass through the enemy completely unharmed. This allows a half of a cycle to be saved. As another note, it is possible to avoid flipping into the alcove in "That's Why I Have To Kill You." It's an incredibly tight window to hit and will cause Viridian to die if Viridian flips even a pixel late.
The Tower: I grab trinkets #9 and #10 without much of a problem. The biggest annoyance in this section is the lone spike before the second trinket in the area (#10). It's much easier to run into that spike that it seems. I get all four possible death abuses in the Tower, which saves approximately two seconds for the in-game time.
Intermission 1: Vermillion cooperates in "Don't Be Afraid." Other than that, there's not much to talk about in this section.
Ship to Intermission 2: I talk to Victoria to grab her trinket (#11) as talking to her any later will cause an extra cutscene to appear, which shows the locations of the rest of the trinkets. I then grab trinket #12, which is past the sad seizure-inducing elephant without any problems.
Space Station 2 to Space Station 1: I honestly just want to put down here that I had zero unintentional deaths throughout this whole area. The fact that I can even put that in the run comments should be a good enough reasoning about why I submitted this run in the first place. However, I'll provide a bit more commentary than that. The first trinket, which is located in "One Way Room" (#13) is one of the two trinkets that's obtained in the any% route as well.
The second trinket, located in "You Just Keep Coming Back" (#14) is the worst trinket in the game to get, and the run killer for the majority of runs that even get this far. To get to this trinket, Viridian has to perform a frame-perfect, pixel-perfect sliding flip off the right-most moving platform to reach the bottom-right ledge. To add more perspective to this, Viridian actually has to fall down from the platform before he flips. If you watch this portion frame-by-frame, it's apparent that Viridian spends one frame completely off the platform falling down before flipping and gets the ledge by no more than a pixel or two. Getting back from the trinket to the top-left of "Gordian Knot" is slightly easier, however, since Viridian can make the gap by simply sliding while flipping off the very edge of the platform, rather than flipping while completely off the platform.
The third trinket, located in "Clarion Call" (#15) is the second easiest trinket in this area. However, it's entirely possible to have Viridian enter the alcove on the side rather than falling down, which results in a death. The fourth trinket, probably the most infamous one in the game, is located in "Doing Things the Hard Way" (#16). This room, known as "Veni, Vidi, Vici" by most people who have played the game, is probably responsible for most of a player's death in the first or second playthrough. However, muscle memory in this area builds up rather quickly. I think I've only lost one or two runs by dying in this area, compared to the 50 or so I've lost on Gordian Knot alone. As a note, if I die on this area, I stop recording instantly as a death here just takes way too much time. After I grab the trinket, I head through the level and exit the area through the top of "Exhaust Chute", which brings me to Space Station 1.
Space Station 1: This section isn't nearly as hard as Space Station 2's "Gordian Knot", but it is difficult to do cleanly backwards. I get my first death trying to do three short flips in "Stop and Reflect", which is a rather common place to die. I get my second and last death in the run in the next room, "Trench Warfare," as I missed the spot where I was supposed to flip by a few pixels, resulting in a death by one of the pointy, pink, and ubiquitous spikes. After one failed attempt, I grab the trinket (#17) and head further backwards into Space Station 1. I run into more trouble in "Security Sweep" when Viridian falls the wrong way, though it's actually faster -- I just never plan for it to happen. Sadly, I didn't take advantage of that occurring and ended up wasting a cycle. The last thing that went wrong in this section was hitting the checkpoint in "It's a Secret to Nobody," which cost one or two seconds. At the completion of the level, I kill myself by pressing 'r' on the same frame I cancel Violet's "Captain!" dialogue in order to execute the cutscene skip. If I fail this trick, the run is over as the game can only be completed if the game itself is exited before the cutscene finishes. After hitting the cutscene skip (which also skips The Gravitron as Violet's cutscene has a higher priority than either of the Intermissions), I teleport back to Space Station 2.
Space Station 2: I go through the rest of this level pretty cleanly. (Still no deaths in this area!) I lose a couple of seconds grabbing the trinket in "Prize for the Reckless" (#19) as I fail to get Viridian to fall down to the moving platform on its first cycle. This costs another second or two. Other than that, this area went as well as I can ever expect it to during an 100% run.
The Final Level: Thankfully I don't do anything stupid in this area and I make it through without dying, grabbing the last trinket in "V" (#20). I avoid the line clips in "Three's Company" because the last thing I want to do at this point is make a fool out of myself and spend a large amount of time failing at clipping through, which -- given my consistency at performing the glitch -- was more than likely. I'll gladly take a no-death Final Level, as I had one previous run that just got destroyed by my performance in this area.
Overall: This run has some obvious flaws in it. However, it is nearly impossible to perform any run of this game that doesn't contain at least a few flaws. Given that this is the 100% category, I am extremely pleased with the run even with its obvious mistakes. I have had only one run that has had fewer deaths than this run when entering the final level among hundreds (probably thousands) of attempts, and that run had a painful four deaths in the Final Level. I don't expect this run to be improved soon, and I definitely don't expect this run to be easily improvable single segment. With all that said, I welcome anybody to try and run this category and improve this time. I must give thanks to Tranquilite, Blechy, Nitrodon, and all my stream viewers for their contributions to room strategies and keeping me somewhat sane during attempts. Enjoy the run.