James Bond 007: Nightfire is a 2002 shooter featuring everyone's favourite British ultra spy James Bond preventing the bad guys from blowing up the Eiffel Tower and roasting somebody on the launch pad as a space shuttle launches. All in all, an average day in the MI6.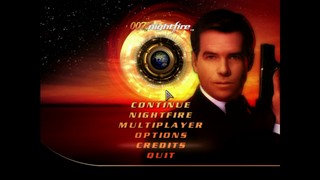 Best time on Operative skill: Single-segment 0:50:17 by 'Ricecooker' on 2013-12-30.
Get Flash to see this player.
Author's comments:
youtube link: http://www.youtube.com/watch?v=WHugzrV8JqQ
had trouble getting ingame timers to work (wsplit and llanfair) so i had to use an online one. the time reads 53:17 but it's probably a shade under 53mins from the time i get control of bond (when the parachute lands) until i lose control (final cutscene after killing drake)
i died once and had to load a quicksave, which cost about 20 seconds. a few other sloppy things as well throughout the run, but nothing major. other than that it was a good run
the main glitch that i make use of is referred to as "pjump" in the online nightfire community. it is basically bunnyhopping, except much faster than in most other games
thanks, enjoy the run!