In Age of Mythology: The Titans, an expansion to the 2002 RTS, you take control of the Atlanteans as the new faction seeking a new homeland after the destruction of Atlantis. They lose their rapport with the Greeks upon being solicited to pick questionable new objects of worship. Then things go from bad to Norse. I mean Egyptian.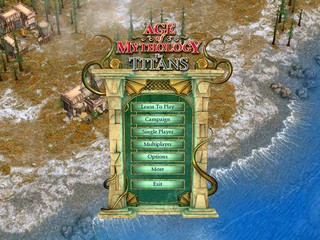 Individual Levels with Easy Difficulty: 1:25:56
Get Flash to see this player.
Author's comments:
Version: 1.0.0
Welcome to the expansion of Age of Mythology. This speedrun is recorded on easy as it provides additional resources and lowers the number of units you have to deal with. This expansion features 12 levels in a new "Titan" campaign, featuring Kastor instead of Arkantos as the main character. Kastor's abiltiy to instantly kill human soldiers is somewhat useful but not as good as his predecessor's.
Titan Mission 1: A Lost People (0:03:23)
Titan Mission 2: Atlantis Reborn (0:05:18)
Titan Mission 3: Greetings from Greece (0:03:58)
Titan Mission 4: Odin's Tower (0:06:07)
Titan Mission 5: The Ancient Relics (0:03:20)
Titan Mission 6: Mount Olympus (0:05:25)
Titan Mission 7: Betrayal at Sikyos (0:17:03)
Titan Mission 8: Cerberus (0:08:59)
Titan Mission 9: Rampage (0:06:04)
Titan Mission 10: Making Amends (0:09:56)
Titan Mission 11: Atlantis Betrayed (0:02:43)
Titan Mission 12: War of the Titans (0:13:40)