A cute flash game created by ambitiousk in 2010, Can Your Pet? is a pet simulator worth playing. Decorate your pet with various accessories and see if you can max out your hatchling's happiness. New location options open up multiple-pet management.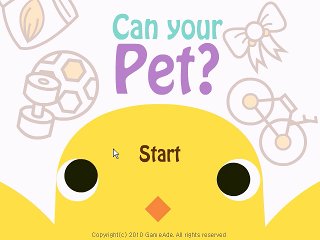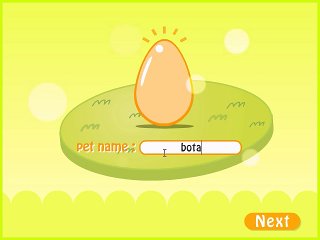 Best Time: 0:00:04 by Herbert 'Water_is_wet05' Stevens on 2020-08-28 (Exact run time is 0:04.500)
Get Flash to see this player.
Author's comments:
This run was done on version 1.3, canyour.pet, which allowed me to click on the green floor in order to close the cosmetic menu immediately (as opposed to the classic version, which required you to click the "collapse" arrow on the menu).

The exact time of this run is 4.633 seconds, I certainly believe it is feasible to improve in the future, but achieving a full second break to 3.xxx may be difficult, until then, I leave you with one final, indisputable truth, yes, your pet can.

Credits to Aftermath for finding the quickest method to unlock the "bicycle", and id9000 for informing me of the advantage of using version 1.3 of Can Your Pet as opposed to the classic version.