Released in August, 2000, this game is the sequel to Chrono Trigger and takes place 20 years after the events of that game. The story follows a teenage boy named Serge living in the El Nido area. Everything is normal until he hears a voice at the beach calling his name, and he passes out soon after. When he wakes up, he finds himself in another world... one where he died 10 years ago.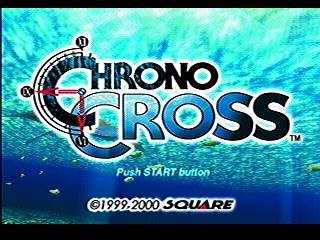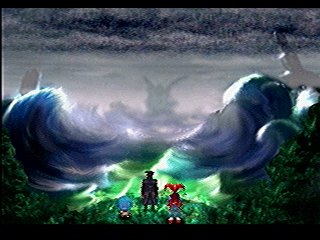 Best time: 6:42:11 by Wesley 'Molotov' Corron on 2008-08-09 (good ending 6:48:19).
Best new game plus time: 0:05:58 by Daniel 'Axel_Ryman' Fitzgerald on 2007-08-17.
Return to the Game List, the FAQ, or the Home Page.
Best time: 6:42:11 by Wesley Corron, done in 52 segments. (good ending 6:48:19)
Get Flash to see this player.
Author's comments:
Credits:
Nitrodon: I am NOT exaggerating when I say that the improvement run would've sucked without him. Simply put, I am horrible at planning. Nitrodon, on the other hand, is very good at it. He did so much planning work for this run that it would be easier to just note battles that he didn't plan (seriously).
Inichi: Quite a few of the battles (among other things) were planned by Inichi as well. He even managed to plan the FATE battle WAY in advance, which is pretty awesome.
Kimura Masahiro: Do I honestly need to say why? Though I've never heard from him, his record of 7:16.01 on Ultima Garden has served as a great inspiration to me.
Spikevegeta: Announcing a $50 bounty for a sub-7:16.01 run definitely gave my queue a jolt, and I thank him for getting me off my lazy butt (so to speak). Remember kids, money is a great motivation booster.
The Chrono Cross topic people: Sorry to bunch you guys into a large group, but I hope you understand. Thanks to all of you (unless you're one of those shady Trigger fanboys, that is). :P
Run comments:
First of all, I must apologize for the train wreck that was the previous run. That thing was downright horrific, and it's shameful that I actually submitted it (Sir VG was right to have doubts). You may (for some odd reason) think I'm overreacting about the level of suck, but after watching this run, you'll probably change your mind.
Now, I have to admit, this run does have its own moments of suck. By far the most blatant one occurs near the end of segment 19, and that is probably the one I'd describe as being the worst (completely my fault, no luck involved at all). It only cost me about 10 seconds or so, but it's really hard not to shudder when seeing it. More on that later though.
Anyway, I'm not completely sure what else to say here. My old run comments gave a rather lengthy description of the events leading up to the run, but there isn't much to say here. Basic details go like this:
Started improvement run. Made it to MegaStarky.
Hard drive died.
I didn't have any backups.
I am a moron.
Motivation to do this run pretty much died.
I planned to work on this run again after I completed a run of a different game.
Spikevegeta offers money, and my priorities quickly change.
Many ARGHs later, a run is completed.
Now to make point out a few things about some segments (note that there will be more detail in the audio commentary than there is here):
Segment 5: Ketchop's initial combo always targets the lead character, so Pierre is chosen as the victim (though I've seen him dodge all 3 before). This obviously leaves Serge in better condition for the battle, which is important. Stole a Power Glove from Ketchop as well.
Segment 6: That first battle went freakishly well, to say the least. My luck didn't really carry over in round two though.
Segment 7: 3/1 is a much better door code than 9/9, obviously. Grabbed the Dragoon Gauntlet in Karsh's room.
Segment 10: What an epic battle with the door at the end, huh? Not pretty.
Segment 13: Whoever decided to make Peppor's dialogue that slow should be punched. Repeatedly.

Also worth noting is that this is one of the few fights that I planned myself. If it sucks, you now know why.

Segment 19: Leena's magic was awful this time around. Not cool at all, obviously. Also, at around 22:52, you will see the mistake I mentioned earlier. I'll admit it: I'm lazy. This was such a horrible error to let slide, but the segment was amazingly painful to do...

TurnYellow was unnecessary, so add that to the pile of mistakes as well.

Segment 23: This segment has the only player character stat loss you'll ever see, and one of the only deaths. It was also a hellish segment to complete (100+ attempts, at least), so I let it slide. Also worth noting that WightKnight is awesome.
Segment 25: SHUT UP AND DIE, MIGUEL!
Segment 27: "Give mee Star Fragment!" "Nooo, it's heeeeere!!!" Grabbed the Plasma Pistol.
Segment 29: Fought a SpearFisher formation on purpose, as it is the only way to acquire the Magic Seal, which is useful later.
Segment 30: Painfully difficult "gauntlet" of boss fights. It didn't always go the way I wanted it to, but that's the RNG for you.
Segment 31: Rather rough Fire Dragon battle, but he's a biotch.
Segment 32: HellSoul had a use! Wow!
Segment 34: The Earth Dragon likes making the camera show Marcy's panties. What a pervert.
Segment 35: "Leave it to Beeba! Beeba drop dead!" Wingapede is probably the most amusing "boss" fight in the entire run, and it should be obvious why. Perhaps it's just me?
Segments 36 and 37: Gaia's Navel sucks, even in casual play. Luckily, I'm not there for very long.
Segment 38: Stole a Power Seal from Tyrano, and then he got dead.
Segment 39: The Green Dragon can screw you over in a variety of ways. FrogPrince returned the favor.
Segment 41: ARGH! Orlha is A FREAKING NINJA (a hawt ninja though). I settled on this segment.
Segment 42: "S! Put your pants back on, S!"
Segment 43: Vita was amazingly hard, and I had to redo the segment at least once. Mass element allocation isn't much fun.
Segment 44: "What the?! Everything is a critical! H4X!" Stone weapons auto-critical mechanical enemies. This makes PolisPolice wish he was a real boy about now.
Segment 45: Inichi planned the FATE battle...and it was sexy.
Segment 46: RoyalJelly just can't catch a break.
Segment 48: I planned Pyrotor, so yay me! Anemotor required 5 pounds of luck, as you can probably imagine.
Segment 51: The Lunar Dragon required HUGE amounts of luck. I got quite a bit of it right, but there's only so much you can do. I still think I can improve this fight, but I'm not going to try.

Also note the use of the Pendragon Sigils. This is important, since I didn't have the Mastermune/dual Einlanzer combo this time around.

Segment 52 (bad ending): Lavos is extremely annoying. I needed Carnivore to be the element she used (for Pendragon Sigil reasons, since Tornado is super slow), and often she would just sit there and do nothing at all. Glenn took out some of his frustration though, by landing a 1,167 damage critical in the first attack of the smackdown part.
Segment 52 (good ending): Lavos used Bushbasher. This is good.
---
Segment times and end points:
Segment 1: 0:00.00 -> 0:05.20 (Before Lizard Rock)
Segment 2: 0:05.20 -> 0:15.15 (Before Cape Howl)
Segment 3: 0:15.15 -> 0:23.06 (Before Fossil Valley)
Segment 4: 0:23.06 -> 0:30.54 (Before Viper Manor)
Segment 5: 0:30.54 -> 0:37.38 (Viper Manor stable)
Segment 6: 0:37.38 -> 0:41.38 (Viper Manor basement)
Segment 7: 0:41.38 -> 0:52.58 (Before Shadow Lynx)
Segment 8: 0:52.58 -> 1:13.55 (Before the S.S. Invincible)
Segment 9: 1:13.55 -> 1:21.28 (After Fargo)
Segment 10: 1:21.28 -> 1:23.42 (After obtaining "the key")
Segment 11: 1:23.42 -> 1:24.50 (Before DeadHead)
Segment 12: 1:24.50 -> 1:30.41 (Before Mount Pyre)
Segment 13: 1:30.41 -> 1:34.43 (Before the Fire Dragon)
Segment 14: 1:34.43 -> 1:37.29 (After the Fire Dragon)
Segment 15: 1:37.29 -> 1:41.36 (Outside Fort Dragonia)
Segment 16: 1:41.36 -> 1:43.59 (After the Dragoon)
Segment 17: 1:43.59 -> 1:58.00 (Before SunOfAGun)
Segment 18: 1:58.00 -> 2:00.31 (After SunOfAGun)
Segment 19: 2:00.31 -> 2:24.08 (Before Radius)
Segment 20: 2:24.08 -> 2:33.37 (Before the S.S. Zelbess)
Segment 21: 2:33.37 -> 2:42.58 (After grabbing the Handle, and in cat form)
Segment 22: 2:42.58 -> 2:54.02 (Before the Isle of the Damned)
Segment 23: 2:54.02 -> 3:04.47 (Before Highwayman)
Segment 24: 3:04.47 -> 3:11.35 (Before Miguel)
Segment 25: 3:11.35 -> 3:22.32 (Outside El Nido Triangle)
Segment 26: 3:22.32 -> 3:24.58 (Before MegaStarky)
Segment 27: 3:24.58 -> 3:31.58 (Outside Fossil Valley)
Segment 28: 3:31.58 -> 3:40.36 (Viper Manor basement)
Segment 29: 3:40.36 -> 3:46.37 (Before Hell's Cook, Porre guards, Grobyc, and both forms of Guillot)
Segment 30: 3:46.37 -> 4:07.29 (Before dragon hunting)
Segment 31: 4:07.29 -> 4:17.46 (Before the Sidesteppa and Water Dragon)
Segment 32: 4:17.46 -> 4:25.15 (Outside Earth Dragon Isle, after putting the guys to work)
Segment 33: 4:25.15 -> 4:29.55 (Before the Earth Dragon)
Segment 34: 4:29.55 -> 4:35.22 (Before the Hydra Marshes)
Segment 35: 4:35.22 -> 4:40.21 (Hydra Marshes, before Gaea's Navel)
Segment 36: 4:40.21 -> 4:44.17 (Gaea's Navel, after winning three battles)
Segment 37: 4:44.17 -> 4:46.50 (Gaea's Navel, after winning three additional battles)
Segment 38: 4:46.50 -> 4:49.31 (After Tyrano)
Segment 39: 4:49.31 -> 4:55.48 (Before the Sky Dragon)
Segment 40: 4:55.48 -> 5:00.28 (Before Orlha)
Segment 41: 5:00.28 -> 5:10.19 (Before Dark Serge)
Segment 42: 5:10.19 -> 5:21.22 (Before Vita Unus)
Segment 43: 5:21.22 -> 5:24.37 (Before PolisPolice)
Segment 44: 5:24.37 -> 5:31.15 (Before the Combot and FATE)
Segment 45: 5:31.15 -> 5:44.44 (Outside El Nido Triangle)
Segment 46: 5:44.44 -> 5:50.18 (Terra Tower entrance)
Segment 47: 5:50.18 -> 5:57.27 (After Terrator and after knocking down the pillars)
Segment 48: 5:57.27 -> 6:07.04 (After Anemotor)
Segment 49: 6:07.04 -> 6:11.05 (After Luxator)
Segment 50: 6:11.05 -> 6:17.34 (After Aquator)
Segment 51: 6:17.34 -> 6:32.40 (After the Lunar Dragon)
Segment 52 (Bad): 6:32.40 -> 6:42.11 (After the credits)
Segment 52 (Good): 6:32.40 -> 6:48.19 (After the credits)
In a way, the "project" from late 2005 is now complete, so cue the huge sigh of relief.
New game + 0:05:58 by Daniel Fitzgerald, done in 2 segments.
Get Flash to see this player.
Author's comments:
First run I've submitted to SDA. First I must thank the people who run this site, namely Radix, Nate, and Mike. Without them we wouldn't have this site. Next I would like to thank Molotov for helping me out with the idea of using the Pendragon Sigil A accessory, as well as inspiring to do this from his current run.
Just like CT, you can fight the final boss whenever you want on a New Game+. In CC, you get a few items in a NG+, including the Time Shifter. With this, I can fast forward or slow down through the game. With the Time Shifter, a time of under 6 minutes is possible. I get a time of 5:58, but I know lower is possible.
First segment is just the prologue , which needs some luck to avoid the bat enemy, and the path to Opassa Beach. Second segment I set my equipment and start the fight.
My equipment is as follows
Weapon: Spectra Swallow
Armor: Green Plate
Accessory: Pendragon Sigil A, Power Seal, and Sunglasses
Pendragon Sigil A works similar to Turn elements, changing your attack type to that weapon. With it in effect, I don't need to worry about my damage being lowered for the Time Devourer has the same innate as Serge.
Hopefully you will enjoy this run folks. I plan on doing 2 runs for KH2 next so keep a watch out for those.