Released in 1992, it's a board game, nuff said.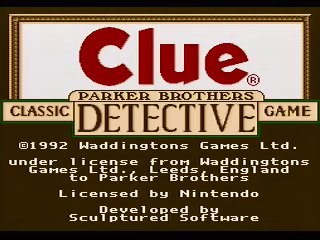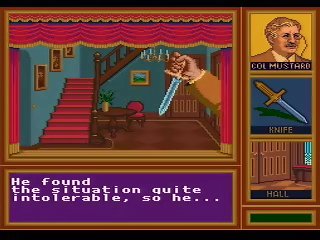 Runs on the SNES version:
Best time: 0:00:03 by Wesley 'Molotov' Corron on 2009-03-10.
Runs on the PC version:
Best time: 0:00:01 by Ellis 'Chrno' Watson on 2011-02-06
Return to the Game List, the FAQ, or the Home Page.
SNES version: 0:00:03 by Wesley Corron
Get Flash to see this player.
Author's comments:
The topic of short runs came up in the SDA IRC channel recently, and I mentioned this game. I put some attempts into a blind accusation win at the start, and this is the result. The Detective difficulty choice was just for kicks, since I know it did nothing besides waste half a second.
The rest is completely self-explanatory.
PC version: 0:00:01 by Ellis Watson
Get Flash to see this player.
Author's comments:
Hello. I was inspired to do this 'run' watching Molotov's previous Clue run on SDA, which if you remember was 3 seconds long. I knew of a Clue game I used to play as a kid that I could make a faster run of, so I tried it, and it worked. It took me 10 hours to do this, and I did it on the second try of the session I was playing. I decided not to submit this for a while - I felt it was a cheap run to do and submit, but I think I should now. It's been on my hard-drive too long.
I started timing the frame I gain control of the game (frame 401 for the interested) and finished timing the frame I lost control of the game (frame 450). Thats a run of 49, if I am correct of course. You may also see the name 'Rane' pop up in the name box for Mrs Scarlet. This is becasue of a bounty I was trying to obtain at the same time (You can find this on the bounty thread on the forums) where a character named 'Rane' would earn you a bounty. I decided after the run not to persue it as I felt it was cheap of me too.
Thanks!
Chrno.
P.S. Please don't take this run seriously, as I did not. Anyway, we already know of a game faster than this - Colour a Dinosaur. I would like to give my thanks to Molotov, this is his run really, I mearly just 'advanced' it. I hope you don't think of my too harshly. I have got more...'skillful' runs coming up!