Released in 2009 by Konami, Contra ReBirth is a Wiiware installment in the popular Contra series. I could put a plot synopsis here, but do you really want one? Contra games are about filling the screen with bullets, dodging the bullets you didn't put there, and watching lots of crazy alien creature die explody deaths. All you need to know. Good times.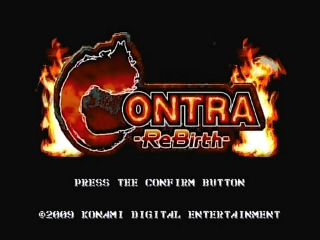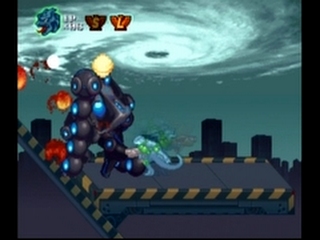 Note: Yagyu and Bill are the same category since they're identical aside from looks.
Return to the Game List, the FAQ, or the Home Page.
BW-W9 on normal difficulty 0:13:42 by Travis Hofman
Get Flash to see this player.
Author's comments:
Brownie is an interesting robot. Small in stature and that's about it. I actually found Brownie the most frustrating to run. It seems like things should be easier with a smaller hit box. My biggest problem was that my luck seemed to dry up when I finished the other two. Brownie also fires her gun at a lower point and even closer to her body than Plissken or Bill/Yagyu. This lower point is a bonus in the beginning, but a hindrance later. She also jumps higher than the other characters, which isn't noticed much until you start speed running her. Brownie runs as fast as Bill/Yagyu so I was aiming for a time similar to the run I had gotten for that category, which is no easy task. Again this is an extension of the Yagyu notes so only differences from that run are put here.
Stage 1:
Nothing different stage wise. Brownie can kill those frog shooters with the machine gun because of her height. Occasionally I had fun and tried using the machine gun up until I need the spread on the worms. The boss requires a slightly different pattern than the other characters for Brownie to kill it quickly. All the same strategy otherwise.
Stage 2:
Nothing changes here from the Yagyu run strategy wise. The wall is downright terrible. But I had that kind of luck all the time with Brownie. It's like the game hates Brownie exclusively.
Stage 3:
Nothing different in the beginning. Brownie is at a disadvantage here against the mid-boss because of her shorter gun. I had the best position for a moment and accidentally moved away. You'll notice Brownie is actually standing off the truck for a moment. Her box is larger than her sprite. You can see the size of her box when she is crouched; the difference between standing and crouching is how far she can stand off of something. The Boss went too far away from the truck at the end. Brownie wants it closer since she doesn't thrust her weapon out like her male counterparts.
Stage 4:
Minor screw up in the lava section but otherwise flawless really. Brownie's higher jump comes into play here making it slower slightly in spots. Not by much, but it's there.
Stage 5:
The beginning is the hardest part to run with Brownie. Her lower gun position is harder to work with here. This is why I use the laser near the beginning and why I need to fake out a turret. Otherwise, the herd part is slightly easier because of her smaller hit box. The boss is harder slightly because she is that little bit extra away from him so her spread shots spread out more, extending the fight slightly if your position is off.
Final Boss:
I show off the homing strategy here. It could have gone better, but this was a pretty average fight.
Overall:
I think this is the most entertaining one to watch, but the worst speed wise of the three. Lady Luck just didn't want to work with me on this one at all, so I let things slide I shouldn't have.
Plissken on normal difficulty: 0:13:13 by Travis Hofman
Get Flash to see this player.
Author's comments:
Plissken is a different beast than Bill or Yagyu. I don't mean that because he's a salamander alien. But because he's bigger and faster than the other two. Something I realized late in the running process, which I found ironic, he's harder to speedrun more because of his speed not his size. This becomes most apparent in stage 5, but is present in stage 1. Aside from size and speed, there is one other difference with Plissken. It's gun position. He typically holds his gun closer to his body. Possibly implying something sexual, but let's not go there. That's reserved for Contra 3. He also holds his gun in front of him slightly when he shoots up, not in the middle of his body. This gives him an advantage against the final boss.
I'm only going to go over differences between runs here. Most of what needs to be discussed has been in my Yagyu notes.
Stage 1:
Those green worm things in the middle of the stage end a lot of runs with Plissken. His speed actually makes him run into them most of the time. At least it's early so it's not a big time waster. The boss gives the worst pattern for killing him quickly.
Stage 2:
Nothing different. This is where you can tell Plissken is faster than the other characters. I'm outrunning bullets and the birds don't even leave the trashcans, except the last one.
Stage 3:
The Ninja mid-boss could have been a little better, but it's passable. My pride got wounded here because I didn't destroy all the llama heads. It's actually hard to do with Plissken.
Stage 4:
Notice how quickly the mid-boss dies and how quickly the screen fades to the next part. This was ideal.
Stage 5:
Not the best of boss fights, but was about average for what I would accept. Those two laser shots didn't go where I wanted and caused the fight to be a tad longer than I wanted.
Final Boss:
Plissken makes this fight easier when you get the right pattern. Notice how I have little fear of trying to use the laser method here. That's because of how Plissken shoots upward. Faster is possible, but difficult and would be based mostly on luck really. If I switched to the spread right before the end there I probably would have killed him sooner. Hindsight is always 20/20 though.
Overall:
Plissken definitely had the most attempts to get this run. Somewhere between 1500 to 2000. If my timing is correct this comes to around 13:03. If that is correct, sub 13 minutes is possible, but will take a lot of luck manipulation.
Yagyu on normal difficulty: 0:13:36 by Travis Hofman
Get Flash to see this player.
Author's comments:
I have to thank Sir VG for his runs in the Casual Speedrun section of the forums because they gave me a lot of ideas on improvements. Most notably, I noticed a potential pattern on the Stage 3 mid boss that could be exploited. There were a few other playthroughs scattered around the net, but none of them helped as much as his.
Thanks to the SDA crew. They do a lot of work for the site and the recent (as of this writing) JRDQ was just pure awesomeness.
Bill and Yagyu are exactly the same except for color and what they yell. Most of what I say here applies to the special characters as well. There are just occasional changes that need to be made so they can survive. I was also attempting to do three runs at the same time for this game, Normal Bill/Yagyu, Normal Plissken, and Normal Brownie.
Laser vs. Spread: The biggest and most important difference between these two weapons is shot speed. The spread shoots 4 times per second (20 pellets). The laser shoots 3 times per second. The laser pierces though and does somewhat continuous damage to enemies as it passes through them. The spread is, well, the spread. The laser needs to end up doing over 6.66 points of damage per shot to catch up to point blank spread. There just aren't many places the laser surpasses the spread. The only place it can consistently is the heart, and that assumes you're underneath it shooting up, which also requires a death. The laser's biggest strength is its ability to pierce and it's better than the spread at long range, so it has its place in plenty of situations.
Stage 1:
This goes pretty much according to plan the whole way through. There is a minor hiccup near the end caused by my thumb slipping off the control stick (I used a Gamecube controller), but it's barely noticeable. I stand where I do for the "mid boss" because it seems to always die at the same point no matter when I start firing.
Stage 1 Boss:
It's possible to kill this thing before it gets all the way across the screen. This takes a lot of luck, which my fastest runs never had on this boss, unfortunately. It seemed to be about a 1 in 30 or so chance. The platforms need to start in the right position, they need to rotate at the right speed, the boss itself needs to start its pattern at the right spot and it needs to move at the proper speed throughout its pattern. I think I had it this time, but I failed to capitalize on it. Basically what you see me do is what I always do for the boss. I was just slightly out of position in the beginning so a few of my spread pellets were missing early. I ended up beating Twin Galaxies high score for this stage on this run though, so not all is lost.
Stage 2:
One of the fastest runs of the stage I've had. The wall is the run killer on this stage simply because more than three salvos on Normal should end the run. Getting the last hit on the wall when the boss is near the bottom is the best way to speed things up. The screen starts scrolling up when he disappears off the bottom. It's random where he goes and where the missiles go though so it's very luck based.
Stage 2 Boss:
This is the fastest way I found to kill this boss. Another, almost impossible but probably faster way, would be to stand closer to him during his second phase using the spread and pray you don't get hit by the fireballs spewing from where its head used to be.
Stage 3:
Considering this is basically an auto-scroller level, there isn't a whole lot you can do to speed things up. The first part with the bug flyers is timed. The missiles are timed up to a point; where you need to kill either the guys on the missiles or the missile itself to end the section (it repeats forever otherwise). Killing the last three missiles the fastest is the only point where you can save even a little time.
I'm proud of coming up with for the mid-boss. There was a lot of trial and error to get it right. It probably looks harder than it really is. When it does its quick spin jump off the missile, the pattern the second set of ninja stars do is based on your position. That's why I have that random looking jump in there. Using this strategy you don't even see its ultimate attack. I'm not sure why I didn't die to that one star that went across the top of the truck. Usually that kills me if it happens. I have this nagging feeling there is an even faster way to beat this guy, but I couldn't find a way. After this is a timed section with mechanical llamas whose heads are asking to be blown to bits. I comply with the best of my ability.
Stage 3 Boss:
The missile part is random whether the missiles go back into the boss or not. If it can be manipulated, I never found a way. Anytime I thought I did, the game would prove me wrong. This was a pretty quick fight otherwise. The spread is better at point blank than the laser so I use it when I can.
Stage 4:
The first part is more auto-scroller with no real way to speed it up. The mid boss wants to be killed as it moves downward because the screen fades to the next screen when it hits the lava. I go through the next section basically non-stop, which is harder than I make it look.
Stage 4 Boss:
Easiest boss in the game if you have spread. Three cycles is the fastest one can kill it solo. It doesn't matter when you kill it during the third cycle because its arm moves up and down at the same speed and it doesn't blow up till the arm is all the way down. Sometimes he's mean and produces a bunch of turrets, but that is rather rare.
Stage 5:
This stage has the two hardest parts of the game to speed run. Both require quite a bit of luck and skill to pull off smoothly. The first part, charging those fly hives is so dangerous it shouldn't be possible, but it is. It's also filled with risk because those flies it spawns don't like to die. The turrets also randomly fire faster sometimes throwing one off and usually resulting in death.
At the distance I fight the Heart, it's fastest to use the Laser. I use the spread early to clear some of the pods to make it slightly easier. The laser doesn't kill all the spawns most of the time.
The section with the herd is the hardest part to go through quickly. Those things jump completely at random and the spacing and speed they come out on the bottom is totally random. Sometimes I was able to go through without stopping at all, even just jumping over the pyramid in the middle. Usually, like this time, that didn't happen.
Stage 5 Boss:
I try to manipulate the laser in the beginning to go the other way to start with, fail. Notice how it is possible to just jump into the boss. Otherwise this was a pretty typical slightly better than average fight.
Final Boss (Stage 6):
This boss sucks. There is such a high chance he ends the run and it is completely out of player control. If he switches to the phase where you are on top, it's run over. That's about 8 to 10 seconds wasted. I personally find it the hardest to survive against. There is slightly over an 80% chance he does it for the first or second switch (2nd or 3rd phase).
I got really lucky at the beginning with him coming down and parking himself right above me. The only thing that would have made it better was if I got a homing from him near the end.
The phase where your are on the left and he throws trash at your position can be done better in one of two ways. Homing, so you can lay a constant stream of damage while running. Laser, where you stand underneath him and shoot up hoping beyond hope that you don't die. I died so often trying the laser here with Yagyu during testing that I gave up. I maybe survived 1 out of 100 times with Yagyu and I have to survive 3 salvos (total chance comes to 1 in a million roughly). I just didn't like those odds.
The trash shield requires the laser. I'm usually better at predicting where he'll end, but fail slightly this time.
Overall:
With better luck it's definitely possible to get faster. There are a few mistakes here and there, but overall, I'm very proud of what I did. This may not have been done on Hard mode, but it was still very difficult to accomplish. Ironically, I thought Yagyu would take me the longest to do, but he was actually done first of the three. He took maybe 20 to 30 recorded attempts total to get this. I tried more afterwards to get an even better run, but sadly couldn't do it.
Bill on easy difficulty: 0:12:37 by Jeremy Doll
Get Flash to see this player.
Author's comments:
SDA staff rocks! Thank you for your continued dedication to this site, us runners and our submissions.
I ran ReBirth during the 2014 Contra Conference with Mr K. I was looking for a Contra project and so I decided to tinker around and do a run with Bill. Especially since the existing runs use everyone except him.
Let's Party!
Area 1 - One of the rare instances where Homing is not only a helpful weapon, but it's somewhat OP. This stage is pretty straightforward. One cycle on the Worm is mandatory.
Area 2 - Hold the button to fast forward the cut scene! Taking it back to NES Contra, point blank Spread on the walls is the way to go. THen I combine Homing and Spread to kill the Robot quickly.
Area 3 - Essentially a big autoscroller. The Ninja fight can be frustrating to do quickly. I could have saved a cycle, but this was acceptable. I was a touch too far away. I trade up Homing for Laser for the Boss. The Pod goes quickly when you abuse the Laser mechanics.
Area 4 - Another autoscroller. I switch back to Homing so I can be lazy. Part 2 is back to a normal stage. You literally have to 'go slow to go fast' here. The Golem is free.
Area 5 - Homing is critical. It wrecks this stage to the point where you don't even need to care. Part 2 is where Laser dominates. You can mostly keep walking. I stutter step a couple times so I don't get trampled. The Queen is dependent on Worm patterns. I die, but the time washes with not having to deal with the second Worm.
Very clean run all things considered. Happy with the outcome and final time.
Bill Rizer, the Ultimate Contra!
2-player on hard difficulty: 0:13:52 by Kyle Halversen and Jeremy Doll.
Get Flash to see this player.
Author's comments:
Contra Rebirth Co-op Hard Any%
Thank you to SDA crew for the amazing site and all your hard work. There can never be enough praise for keeping the site up and being awesome!
This run was originally brought up as a contribution to The Contra Conference 2014. Mr K wanted to give it a shot and I felt like taking on a new game, so here you go. The game is pretty ridiculous and hard difficulty doesn't make matters any better. Be that as it may, I really enjoyed playing this with Mr K!
Stage 1 - In a word, Homing. Homeless finally found a home and is pretty much OP in this level. There is so much going on, but you don't need to see cause Homing can. My first strat I figured out here was using the second platform to get more bullets on the boss and killing it before it leaves the screen.
Stage 2 - Homing/Spread continues. Part way through, I have to dodge a bomb and pick up the N power-up. Yes, there is a power-up that gives you the Pea Shooter. Anyway, I figured out how to one cycle the Boss by using Homing as he jumps over us. This gives just enough damage to kill him before he starts phase 2.
Stage 3 - The bugs fly in from the foreground and are supposed to go to a corner. I got the best spawn ever and it killed me in the middle. Shenanigans. Mr K actually thought he died during the llama herd, but actually grabbed the bottom. Epic. MURPH helped here by suggesting getting Laser for the Ninja Mid-Boss. I then decided to also keep it for the stage boss as it penetrates his shell. Gold.
Stage 4 - Just watch this stage. It was deathless. Enough said.
Stage 5 - Much like stage 1, Homing is ridiculous here. The Crawler herd had so many close calls I can't believe it. The Queen put up a fight, but still dies. The Garbage Final Boss is garbage. But all in all, this was still a great run for what this game has to offer.
One of the best things was actively routing this game as we were still doing attempts. Contra Conference FTW! Be sure to listen to Track 2 which was the live audio while playing, it's priceless.
SPACE HELICOPTER!