Released in October 2005 by Sierra and developed by Radical Entertainment, Crash Tag Team Racing is, as you might have gathered, a racing video game in the acclaimed Crash Bandicoot series. Crash must win the ownership of a ruined theme park before his opponent, Doctor Neo Cortex beats him to the punch.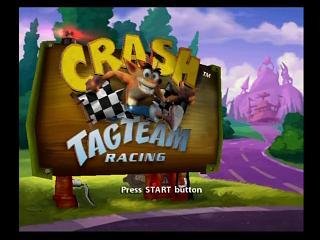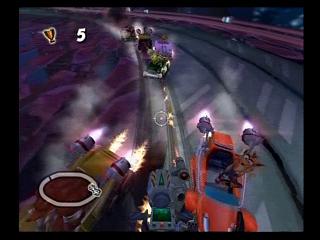 Best time: 1:16:12 by Michael 'MAS8705' Solseth on 2011-10-02.
Best European version time with large-skip glitches: Single-segment 0:52:22 by Peter 'PeteThePlayer' Tissen on 2012-12-30.
1:16:12 by Michael Solseth, done in 4 segments.
Get Flash to see this player.
Author's comments:
It is difficult to say how people get interested in speed runs or how they pick which game to speed run... I've been juggling 3-5 games in my mind for the last year, however, (ironically enough) the game I decide to speed run is a game that I've played for 2 weeks known as Crash Tag Team Racing... I blame give credit to Austinn 'Davis' Hallman for his submittion of Crash team racing that inspired me to look for it's sequel (and later deciding to skip said sequel and move onto the 3rd game in the series) and Youtube user 'AuronSuper95' for his 100% walkthrough in which I used to help plan the route... I am writing this as I can think of things to say, so it might be a bit out of order...
At first I wanted to do a SS run of this game, however because the platforming in this game is a bit broken, I decided to split this into 8 segments, and later to 4 segments since the last segment didn't need to be broken up... The thing about this game is that unlike other Kart racing story mode game where you drive to the next race (Diddy Kart Racing, Crash Team Racing) you actually run around and jump around just like a crash game...
The Main goal behind completing an any% run of this game is to collect 65 power crystals (8, 10, 12, 15, 20) in order to unlock jump pads and get the power gems to move onto the next area... I would say this is a low% run, however because I complete missions, that's not really the case (or so I would think that would be the case)...
For the route, it is pretty straight forward:
Segment 1: Before going to mystery island, I collect 500 coins in for the next segment... During the time I going up, I get the Wumpa Whip to double the amount of coins I collect and it also provides a speed boost... The only draw back to using the Wumpa Whip is that it makes the platforming even more complicated, thus you see how I am being very careful since if you are making the movements towards the ledges in advance, the game will drop you into a pit... or you won't jump in the way you wanted to jump (or at the first jump pad where you see me stop for a sec, reason being the same where you won't grab the ledge)... After I enter the park, I speak with N. Gin to get a mission to bring him plutonium; he is vital to my run and you will see him in action in segment 3. Another small thing to mention is when the gate opens since it actually pushes you back as it opens, so spent those few segments getting to 500 coins... After I enter, I complete crashinator (used cortex for his handling), fastest lap , race, and run 'n gun before ending the segment...
A few things to mention at this point is how this game is different from other kart games for its mechanics... As advertised, this game has a great feature called "Clashing" which allows you to fuse with another race to forge a temporary alliance. One person continues to drive the kart, while the other is a gunner who can fire upon other racers... With the CPU, this feature is a double edged sword since when you are the gunner, the cpu driver will keep you on track, but will sometimes drive into a wall like an idiot, while when the CPU is the gunner, they have good aim, but sometimes can't tell who to actually target, thus they begin to waste ammo and keep circling between people without focusing... For the races, I usually try to get two or three KOs before swapping seats since the racers are close together, but for the first race, I wanted to try and get a few KOs before driving (and the CPU actually can drive properly enough where I can enjoy the gunner seat)... The only problem with clashing besides that is how the CPU can De-clash with you the moment they run out of ammo or will de-clash at the end of the race to take first themselves; also when you initiate the de-clash, you get a speed boost, so you will sometimes see me use this to get ahead of some people... A few other things to mention about the mechanics- you get boosting in this game by either to Knocking out other racers or power sliding and power sliding is much more complicated in this game than in other games (you press the brakes and then hold it in place; no snaking here since when you let go of the stick, it ends the slide)... The other thing I can think of is that in races, you can get KOed at anytime, so if I get blown up two times,I still finish the race...
Segment 2: After the first segment, I have 2600+ coins (100 more than I needed) so I begin collecting and buying all the power crystals in the area, including Cortex's Ninja Suit for 500 to trade for a power crystal... I also farm for this one time in to ensure I have enough coins by the end of the run (since I need 14,500 coins in order to buy all the crystals in the game) after collecting coins and crystals, I take part of the first battle arena in the game... Falling back to what I said earlier, you can either drive and let your moron partner take the shots, or you can let your idiot AI drive around trying to figure out where to go... I decided to be the driver since the AI never does try to get the power ups... From there, it was a game of getting the power up and driving straight at the opponent; hoping the AI partner doesn't miss... Thankfully I not only get through this first battle arena without getting KOed, but the AI actually got in a few good shots before the end... Afterwards, I get the plutonium, give cortex his ninja outfit, get the first power gem, activate the secret shortcut and spend a few seconds finalizing my farming and then proceed to do more races... As long as you touch the track entrance, you can access them from anywhere, so I do the next two track together doing everything (and getting the shortcut crystal) except fastest lap in this segment since getting gold is a bit more difficult here...
Segment 3: After completing fastest lap, I leave mystery island and head to happily ever faster (also switches reset, so I have to reactivate it to exit out)... While going there, I give N. Gin his plutonium, making him playable...
During the time waiting for you verifiers, I decided to look back at my run to see what the possibilities were to improve my speed run... During this time, I realized how races take too long and I begin to think of how to cut down time... Turns out I could do fastest lap for Once upon a track and Track and the beanstalk... I would perfer to do fastest lap on these stages with faster speeds, but even on normal speed, as long as you do what you can to power slide, you can just barely get gold... I also realized that Run 'n Gun was also possible for the speed run, it isn't hard, but at the time I couldn't properly do it since I hate Nina's shotgun...
Anyway, getting back to the run: After entering the next area, I buy all the crystals, collect one crystal, and move towards evilocity while activating the other two races... From there, I do all the crashinators, run 'n guns, two fastest laps, and all six Rolling Thunders with N. Gin (which is my favorite event... Very satisfying to blow up the other racers continuously)... Afterwards, I get the 2nd power gem and save out...
Segment 4: Going back to what I said about platforming in this game sucking, I get the other two crystals that are pretty difficult to get and proceed to the other zones to buy crystals, find crystals, get pinkie bear to crunch, partake in a 2nd battle arena (with N Gin for his armored ride) and finish the run... I was very happy with how this battle arena played out since the AI actually did a great job shooting everyone, even getting one or two people without me knowing about it...
Overall, I'm very satisfied with the run, although I have noticed that every time I redo segments 3&4. Throughout three different runs, I've cut the final time down by about 3-5 minutes, so I am very happy that I was able to have a suitable speed run which will hopefully get me back into submitting more runs...
I am currently flipping a coin about segment 2 since one of my main concerns about the run was not having enough coins, when it turns out I had too much... Chances are that I might have a 4th version of the run to replace this 3rd in case if I need to replace any mistakes made (if there are any)...
Single-segment European version with large-skip glitches: 0:52:22 by Peter Tissen.
Get Flash to see this player.
Author's comments:
Well here we are with a speedrun of Crash Tag Team Racing by PeteThePlayer. I have seen the segmented run on SDA before and it was pretty good, but since two major skips have been found, I was interested in taking care of this game and imporve the time massively. Those skips are glitching into the second hub and actually acquiring the gem of the second hub. In order to go from hub to hub, you need to get the gem, which requires you to offer crystals, which are obtained by doing challenges, collecting them in the hubs or by buying them by those idiotic drug dealer workers of MotorWorld. There are also some other side missions, that give you the crystals, which is indeed noteworthy. Plus there is a secret shortcut in each hub possible to be unlocked. Taking that in race of the specific track for it, grants you a crystal as well.
Because of the two new major skips, I do not need to offer crystals for the first two hubs whatsoever, but I can still go in both hubs to earn cash and crystals easily. So my route is about abusing that
to the full extent and being able to burst through the other three hubs as quickly as possible.
Noteworthy facts about the game mechanics are, that your hitbox is increased when you spin, so you can grab more coins and you can even obtain crystals through ceilings and walls. It allows you to jump higher and longer I believe, which is showed off a few times in the run as well. Once the difficult races in this game are done, only the platforming can be atroll. Thankfully, despite the horribly terrific platforming physics in this game, I only had five little mistakes, which didn't cost much time at all.
Since the tracks are naturally longer and harder in the later hubs, I skip those completely. They do give me more money than the early ones, but to battle against that, I just do the early races on Hard Mode, which grants me a 50% money bonus. Gotta get rich dawg. So I run into the first hub, get all the three races done, including the secret shortcut. I buy and collect all crystals in all of the hubs, except in the very last one, where I skip to buy one. I also buy Cortex' Ninja Outfit, giving taht to him grants me another crystal, which ended up costing only 500 coins, only half as much as buying them normally. You will see that I will not be able to get the 47 crystals, that are necessary to beat the game, this way. So I do the Fast Lap challenges in all three tracks as well. Along with those, I also do the main thing for this run here, Rolling Thunder. This is probably not really the fastest challenge since I let teh AI drive for me, but it is the most consistent one for me. This whole run can be screwed over, if the AI actually messes around too much on the actual race challenges, since those are much harder and I take a huge risk by taking the Drive-By position for it. But since I need to earn my money somehow, I get it by demolishing other's people's cars. So the Fusion of the cars is actually still an important factor for this speedrun.
The second hub is entered by glitching, as already mentioned. I got a little crack-up getting that jump, but you need a weird camera angle and some inconsistent spin jump action, to grab on to the ledge anyway. That reappears at some point in the hub as well, when I want to get up a platform to reach one crystal much quicker, because I actually have no idea how to get there legitemately anyways. Other than that, there is some funky stuff going on in the hub, a little bit of detour for the cash, and that's that. The twitchy jump up to the gem is performed as well and the Rolling Thunder Challenges are done in every track. Fast Lap would be a possibility, but I think it would not be moderately faster. I already take huge risks at the very beginning of my whole run.
Now in order to gain the third gem, you will need to spend 12 crystals. Obviously I already collected a good amount already, which is good. I do my last challenge here, which is one Rolling Thunder challenge. For the rest, I just enter, get what I can get quickly, and leave. The only other side mission I do is Crunch's Pinky Bear Quest. Pretty clean.
To finish the fourth hub successfully, I need 15 crystals. I go in there, get what I want. Done.
For the final hub, I need 20 crystals, so I buy two fo those and collect three, ending up with exactly 20 crystals. And that's game. To round everything up, I accidently skipped the ending, so I went back to the main menu and showed it in the Theatre Mode for the cracks.
In the end, I am happy to have beaten the segmented run by over 20 minutes, with good planning and excellent execution. this game can be quite a troll. But I pulled in only a few attempts, that does it! Now screw this, I will still have to work on Crash Twinsanity 100%, since that is teh real giant of a run here.