The fictitious rural community of Greenvale, Washington, has been violently perturbed by a ritualistic murder of a young woman called Anna. FBI agent York is designated to bring the culprit to light, and to justice, but his biggest obstacle may just prove to be his own unsettled psyche. As York explores the town's streets and institutions, mingling and ingratiating himself with the locals, the days will pass and the clouds (as the plot) will thicken. Released in 2010 on the Xbox 360, the PS3 and Windows, the subtle and surreal Deadly Premonition is officially recognized as the single most divisive survival horror game, with scores ranging from 2/10 all the way to 10/10.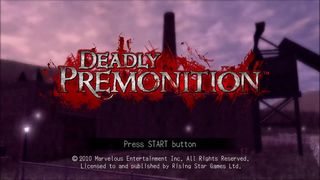 Best Easy Difficulty Time: 3:21.07 by 'StiWii Rage' on 2017-04-24
Get Flash to see this player.
No author's comments provided.