Doom II was id Software's October 1994 follow up to Doom. It featured a slightly tuned engine and a whole host of new and terrifying monsters such as the unbelievably fat Mancubus, the unbelievably evil Arch Vile and the unbelievably annoying Pain Elemental. The storyline carried on from where Doom left off: KILL EVERYTHING!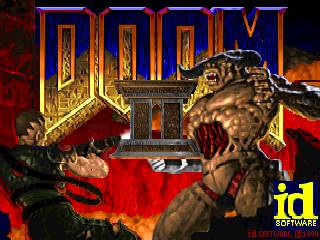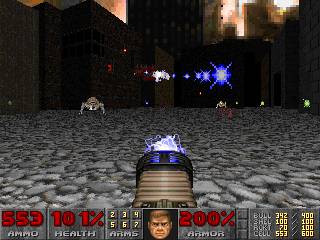 Best Single-segment time, Nightmare skill: 0:29:56 by Drew 'stx-Vile' DeVore on 2004-10-18.
Best Multiplayer Single-segment time, Ultra Violence skill: 0:22:27 by Radek Pecka and Vincent Catalaa on 2005-04-07.
Individual-levels run of Ultra Violence skill: table.
Return to the Game List, the FAQ, or the Home Page.
Single-segment Nightmare skill 0:29:56 by Drew DeVore.
Author's comments:
           Time
---------------------
LV 01  -   0:06
LV 02  -   0:59
LV 03  -   0:33
LV 04  -   0:40
LV 05  -   0:38
LV 06  -   1:08
LV 07  -   0:55
LV 08  -   0:57
LV 09  -   0:58
LV 10  -   0:39
LV 11  -   0:44
LV 12  -   1:15
LV 13  -   1:26
LV 14  -   0:59
LV 15  -   0:36
LV 31  -   0:36
LV 16  -   0:46
LV 17  -   2:06
LV 18  -   0:35
LV 19  -   1:01
LV 20  -   0:41
LV 21  -   1:03
LV 22  -   1:20
LV 23  -   1:11
LV 24  -   1:10
LV 25  -   1:08
LV 26  -   1:10
LV 27  -   0:34
LV 28  -   1:01
LV 29  -   2:17
LV 30  -   0:44
---------------------
Total     29:56
---------------------
C-N entry #207, movie run #40.
No different route, just a broken milestone. :)
You'll find little nagging mistakes all over this movie (12, 14, 17, 22, 24, 28, 29), but it's more experience for me and a few more seconds knocked off the final time. I managed to once again bring down the time of my favorite map, 30 (cough) and I'm sure you'll enjoy the finale considering the first enemy I drew from the Icon's deck... lucky me.
Multiplayer Single-segment Ultra Violence skill 0:22:27 by Radek Pecka and Vincent Catalaa: Radek, Vincent.
Authors' comments:
Radek:
It was a big pleasure for me to join Vincent and make this demo. It took us some while, be sure it wasnt that easy. We worked on it about a week or so, mostly in the evenings. Started off with times slightly over 25mins, but we got better by every run we recorded. We had 24min demo soon, 23min came quick as well. We both knew we had to do it under 23min, it wouldnt have let us sleep in peace otherwise. Breaking the 23min barrier was a great challenge for both of us I believe. Dont forget we recorded it playing over Inet with ping around 100ms. That makes me even more happy. I think the demo is definitely the best one we did. I mean, no big fuck-ups and we implemented all tricks we wanted to, except of map27 archie trick, on the other hand map30 went perfect for instance. I wanna thank Vince for his effort in this movie, he made an awesome job. It's the best coop player Ive ever played. Thats it, enjoy!
Vincent:
That was a kinda fun and interesting adventure. We got the routes set up pretty quickly and then improved a few things here there as we played more. This is by far our best run, no real major mistakes, a lot of small ones here there though :) I was glad to make the glide in 21 and not to fall in 24 (which happened quite often:) Radek played great all along. Our original goal was to get below 24 mins, but it quickly changed to below 23 mins. Note that this is the only time we got below 23 mins, and it's even below 22:30 :))) Thanks Radek for giving me the opportunity to do this run with such a great player.
Slower exits are also available: Industrial Zone normal in 0:01:22, Wolfenstein secret in 0:00:32.
Individual-levels run of Ultra Violence skill in 0:17:56:
| | | | | |
| --- | --- | --- | --- | --- |
| Map | Level name | Time | Date | Player |
| map01 | Entryway | 0:00:05 | 1998-03-30 | Thomas "Panter" Pilger |
| map02 | Underhalls | 0:00:40 | 2001-12-16 | Adam Williamson |
| map03 | The Gantlet | 0:00:19 | 2002-03-13 | Marijo "Sedlo" Sedlic |
| map04 | The Focus | 0:00:28 | 1999-10-30 | Vincent Catalaa |
| map05 | The Waste Tunnels | 0:00:24 | 2002-04-21 | Marijo "Sedlo" Sedlic |
| map06 | The Crusher | 0:00:54 | 2000-04-24 | Henning Skogsto |
| map07 | Dead Simple | 0:00:06 | 2002-05-01 | Marijo "Sedlo" Sedlic |
| map08 | Tricks and Traps | 0:00:22 | 2000-04-08 | Jonathan Rimmer |
| map09 | The Pit | 0:01:01 | 2001-07-24 | Vaclav "Bolton" Kunes |
| map10 | Refueling Base | 0:00:25 | 2003-12-19 | Juho "ocelot" Ruohonen |
| map11 | Circle of Death | 0:00:34 | 2001-12-07 | Ian Sabourin |
| map12 | The Factory | 0:00:43 | 2000-05-01 | Henning Skogsto |
| map13 | Downtown | 0:01:00 | 2001-04-05 | Vincent Catalaa |
| map14 | The Inmost Dens | 0:00:20 | 2002-04-29 | Marijo "Sedlo" Sedlic |
| map15 | Industrial Zone | 0:00:30 | 2002-02-21 | Marijo "Sedlo" Sedlic |
| map16 | Suburbs | 0:00:11 | 2001-03-24 | Adam Hegyi |
| map17 | Tenements | 0:01:59 | 2003-03-05 | Adam Williamson |
| map18 | The Courtyard | 0:00:21 | 2004-01-06 | Juho "ocelot" Ruohonen |
| map19 | The Citadel | 0:00:36 | 2002-07-18 | Marijo "Sedlo" Sedlic |
| map20 | Gotcha! | 0:00:34 | 2002-01-07 | Ian Sabourin |
| map21 | Nirvana | 0:00:17 | 2001-11-21 | Vincent Catalaa |
| map22 | The Catacombs | 0:00:37 | 2000-01-09 | Vincent Catalaa |
| map23 | Barrels o' Fun | 0:00:45 | 2000-09-19 | Adam Hegyi |
| map24 | The Chasm | 0:00:33 | 2004-01-23 | Marijo "Sedlo" Sedlic |
| map25 | Bloodfalls | 0:00:43 | 2000-08-28 | Adam Hegyi |
| map26 | The Abandoned Mines | 0:00:41 | 2000-08-18 | Vincent Catalaa |
| map27 | Monster Condo | 0:00:11 | 2002-10-27 | Marijo "Sedlo" Sedlic |
| map28 | The Spirit World | 0:00:40 | 2003-02-01 | Marijo "Sedlo" Sedlic |
| map29 | The Living End | 0:01:46 | 2000-12-06 | Vaclav "Bolton" Kunes |
| map30 | Icon of Sin | 0:00:30 | 1999-03-09 | Adam Hegyi |
| map31 | Wolfenstein | 0:00:30 | 2000-07-18 | Marijo "Sedlo" Sedlic |
| map32 | Grosse | 0:00:11 | 2002-04-10 | Adam Hegyi |