Released in 1992, Ecco the Dolphin was an instant classic that bolstered the Genesis/Mega Drive against the defending Nintendo empire. The game's rock-solid control ensures that it always feels like your fault when you die, and if the profound storyline doesn't make you cry, the difficult gameplay will.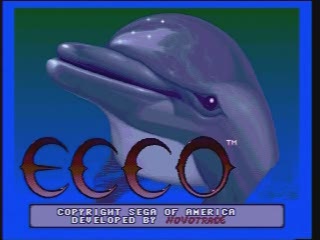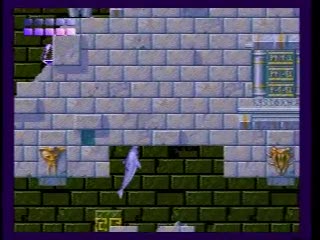 Best Single-segment time: 0:28:32 by Jared 'BlueGlass' Minnihan on 2006-06-15.
Individual-levels run: table.
Return to the Game List, the FAQ, or the Home Page.
Single-segment 0:28:32 by Jared 'BlueGlass' Minnihan.
Get Flash to see this player.
Author's comments:
First of all, I'd like to thank:
Radix - for SDA
Nate - for transfering the run from DVD
Ninjitsu - for his very helpful TAS
Nate - for giving me the idea to do this run
my friend - for discovering the shortcut I use at the start of Undercaves
Nate - for all the help and encouragement he gave me while I was running
and everyone else who aided or encouraged me in any way.
I originally wasn't going to submit this run, as it has a few very large mistakes, but I reached the point where I couldn't play the game anymore without getting sick of it, and this was the only completed run I had, so here it is. Note that sometime in the distant future I do intend to return to this game and make a better run, unless someone else does so first.
Home Bay:
One of the few levels that went perfectly (then again, it's the first 15 seconds of the run).


Medusa Bay:
See above, but change 15 to 30.


Undercaves:
This level was just filled with bunches of tiny mistakes. Fortunately, the current skip went smoothly, and I (just barely) didn't miss the last key glyph.


The Vents:
I charged slightly too late on the first jump, forcing me to circle around to make it over the second island. Other than that, everything went fine.


The Lagoon:
This level was interesting, in the sense where the dolphin randomly decided to follow me, which was so unexpected that I started playing horribly.


Ridge Water:
Those star rings really hated me this run. Plus I messed up with the first shell and swam straight into a few walls near the end.


Open Ocean:
I love this level.


Ice Zone:
I actually managed to get the glyph glitch to work on my first try.


Hard Water:
Had I turned slightly earlier, I could have gone in front of the first ice cube, but it only saves about a second and greatly increases my chances on death. Those ice cubes after the barrier glyph seem to be completey random, so I have to slow down a bit.


Cold Water:
Best music in the game. Besides a few problems with glyphs and sonaring, this level went quite well.


Island Zone:
Ugh. What was I thinking?! Ah well. Besides that horrendus bit near the start, the level went okay.


Deep Water:
Yes, I did mean to get hit by that spike near the end. No, I did not mean to sonar after I started turning.


Marble Sea:
Actually went fairly well.


The Library:
I should've just ended the run right here. BLEH!! Not only did I mess up pushing the block, I messed up TWICE. And then I messed up trying to recover from my mistakes.


Deep City:
Got the jump on the first try. Went smoothly for the most part, if you exclude my getting caught in the second-to-last current.


City of Forever:
Missed the warp ring and had a bit of trouble activating the time machine.


Jurassic Beach:
In case you're wondering what all the random sonaring is about, it's just because I love that sound effect. No major slipups in this level.


Pteranadon Pond:
Can anyone say "how to fail at glyph glitching?" Besides that, there weren't any problems worth mentioning.


Origin Beach:
Sometimes, that trilobite actually never appears. Wish I could figure out why. No big problems, except maybe getting stuck against the ceiling of that diagonal tunnel.


Trilobite Circle:
I kinda missed that first jump.


Dark Water:
Here we are. The part I'm always afraid I'll die on but for some reason haven't yet. I got stuck between the glyph and the wall a bit longer than usual. Asterite fight went smoothly.


Deep Water again:
I have no idea why I decided to turn into the wrong passageway near the end.


City of Forever again:
This time, I managed to hit the warp ring dead on, and I managed to sonar the time machine right away as well.


Home Bay again:
For whatever reason, Ecco always refuses to move properly for the first second or so.


The Tube:
Sorry it isn't more interesting; I didn't want any chance of death.


Welcome to the Machine:
Managed to avoid almost all of the slowdown.


The Last Fight:
I was being a bit too cautious at the very end because of my low health.
Individual-levels run in 0:22:31:
Get Flash to see this player.
| | | | |
| --- | --- | --- | --- |
| Level | Time | Date | Player |
| Medusa Bay | 0:00:11 | 2006-09-02 | Jared 'BlueGlass' Minnihan |
| Undercaves | 0:00:44 | 2006-09-02 | Jared 'BlueGlass' Minnihan |
| The Vents | 0:00:19 | 2006-09-02 | Jared 'BlueGlass' Minnihan |
| The Lagoon | 0:01:34 | 2006-09-04 | Jared 'BlueGlass' Minnihan |
| Ridge Water | 0:01:29 | 2006-09-02 | Jared 'BlueGlass' Minnihan |
| Open Ocean | 0:00:47 | 2006-09-02 | Jared 'BlueGlass' Minnihan |
| Ice Zone | 0:00:06 | 2006-09-02 | Jared 'BlueGlass' Minnihan |
| Hard Water | 0:00:28 | 2006-09-02 | Jared 'BlueGlass' Minnihan |
| Cold Water | 0:00:54 | 2006-09-02 | Jared 'BlueGlass' Minnihan |
| Island Zone | 0:00:47 | 2006-09-07 | Jared 'BlueGlass' Minnihan |
| Deep Water | 0:00:34 | 2006-09-04 | Jared 'BlueGlass' Minnihan |
| The Marble Sea | 0:00:24 | 2006-09-04 | Jared 'BlueGlass' Minnihan |
| The Library | 0:00:34 | 2006-09-07 | Jared 'BlueGlass' Minnihan |
| Deep City | 0:01:01 | 2006-09-07 | Jared 'BlueGlass' Minnihan |
| City of Forever | 0:00:36 | 2006-09-04 | Jared 'BlueGlass' Minnihan |
| Jurassic Beach | 0:00:48 | 2006-09-04 | Jared 'BlueGlass' Minnihan |
| Pteranodon Pond | 0:01:24 | 2006-09-04 | Jared 'BlueGlass' Minnihan |
| Origin Beach | 0:00:31 | 2006-09-04 | Jared 'BlueGlass' Minnihan |
| Trilobite Circle | 0:00:22 | 2006-09-04 | Jared 'BlueGlass' Minnihan |
| Dark Water | 0:00:35 | 2006-09-04 | Jared 'BlueGlass' Minnihan |
| The Tube | 0:01:51 | --.--.-- | ---- |
| The Machine | 0:05:47 | --.--.-- | ---- |
| The Last Fight | 0:00:45 | 2006-09-08 | Jared 'BlueGlass' Minnihan |