Released in October 1985 as an NES launch title, Excitebike brought the dangerous and dirty sport of motocross to your mom's living room. It features two racing modes and a very innovative design mode. Just like real life racing, your engine overheats in 10 seconds and can be cooled off instantaneously by passing over turbo strips.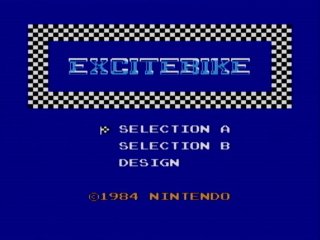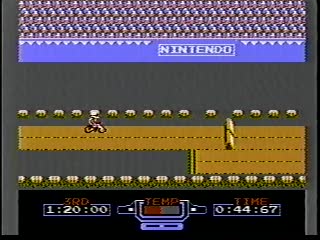 Individual-levels run in 0:04:08.85:
Get Flash to see this player.
| | | | |
| --- | --- | --- | --- |
| Track number | Time | Date | Player |
| Track 1 | 0:00:43.69 | 2009-05-16 | Andrew Gardikis |
| Track 2 | 0:00:48.17 | 2007-05-01 | Andrew Gardikis |
| Track 3 | 0:00:53.10 | 2007-05-03 | Andrew Gardikis |
| Track 4 | 0:00:52.49 | 2007-05-05 | Andrew Gardikis |
| Track 5 | 0:00:51.00 | 2007-05-07 | Andrew Gardikis |
Andrew Gardikis's comments:
Track 1: I don't think there's much room for improvement. This is the best time I've ever gotten on this track. Most average speedrun times on this track are ~10 seconds slower. ;)