Released in November 1997, Frogger: He's Back is a PC remake of the classic arcade game, with an erstwhile Game Boy Color port accompanying it. Frogger must make his way through several unique zones, this time in 3D. The game was moderately successful, selling about a million copies in four months and spawning a bunch of sequels nobody's ever heard of.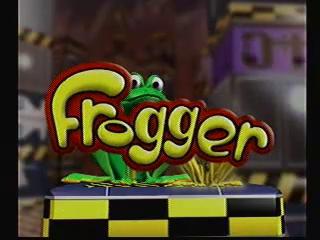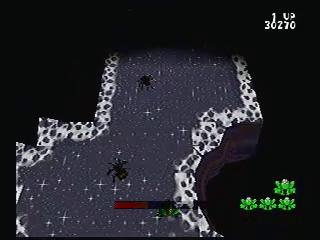 Best time: 0:15:41 by Stephen 'SSBMstuff' Evans on 2012-03-07, done in 2 segments.
Get Flash to see this player.
Author's comments:
"Overall, part 1 is good--the kind of "good" that would equal a 3 on one of those surveys where you give your feedback 1-5. It certainly isn't "excellent" and doesn't quite make the cut for "very good" mainly because of that death.
I want to explain why Retro level 1 is so much more optimized than the rest. One word: alligators. The alligators, introduced in level 2, pop up at random to cover the colored frogs and have no pattern whatsoever. Most moving objects and enemies in the game are very readable; the alligator mouths are NOT! This is why half of what you see on Retro level 2 to 4 is improvised. I couldn't trust any planned routes because at any given time an alligator could appear to ruin it all. The Retro Zone can clearly be improved, but my patience for luck-based optimization is thin. Also, the death on retro level 4 makes me cringe. I'm still mad at myself for not redoing this part before calling it a final product. Oh well. My better-than-usual speediness on level 2 & 3 make up for it I guess.
The Leaf Zone is a bit tricky in places, but I managed a mistake-free run of it.
Machinery Zone is laughable.
Part 2 turned out to be pretty nice. Taking on Frogger Goes Skiing and Uncanny Crusher (granted, I didn't have to complete the level) in the same run was a little bit daunting. I considered three segments originally. I'm happy I was able to do it this way though.
Lots of memorization for the Cave Zone. Nothing--I mean, nothing!--was improvised on Frogger Goes Skiing, or either of the others for that matter. This is probably my favorite zone, and I feel I did it justice.
The Sewer/Fish Zone went pretty well. Finding a good route on Slime Sliding was one of the biggest challenges I faced in this run. Being able to pull it off in context took quite a lot of practice. Uncanny Crusher was really bad compared to my other attempts, unfortunately.
There were some slip-ups in Tropical Trouble (bad hop timing going to the red frog; many hesitations on the last stretch to the temple; etc.), but all in all, I'm satisfied.
Sub 15 minutes is plausible for this game. A TAS could easily achieve it, and with enough practice, a real-time single segment could hit the mark too, I think. I'll be waiting to see if this run ever gets beaten, because it is far from optimal."