Developed by Rockstar North and released in October 2009, Grand Theft Auto: The Ballad of Gay Tony is the second expansion pack to GTA4. The game's plot centers on showcasing the aftermath of a robbery.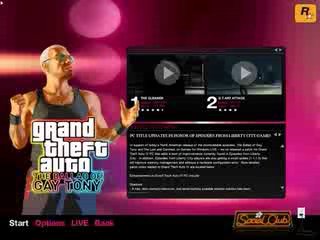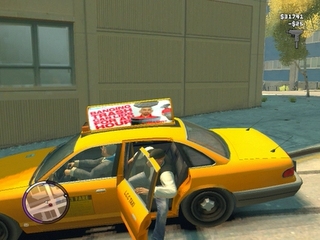 Best time: 1:43:10 by 'SCM' on 2010-05-28, done in 23 segments.
Get Flash to see this player.
Author's comments:
PC configuration:
Intel Core2 Quad 2.5
3.5 Gb DDR
ATI Radeon HD 3800
Audigy 2 SP (with 5.1 sound system)
Here's a list of missions in each segment:
1 - I LUV LC
2 - CHINESE TAKEOUT
3 - SEXY TIME
4 - PRACTICE SWING , KIBBUTZ NUMBER ONE
5 - MOMMA'S BOY
6 - CORNER KIDS , HIGH DIVE
7 - BANG BANG
8 - CAUGHT WITH YOUR PANTS DOWN
9 - BLOG THIS!...
10 - THIS AIN'T CHECKERS
11 - BOULEVARD BABY
12 - NO. 3
13 - FROSTING ON THE CAKE
14 - ...BLOG THIS!
15 - CLOCKING OFF
16 - NOT SO FAST
17 - LADIES' NIGHT
18 - GOING DEEP
19 - DROPPING IN
20 - IN THE CROSSHAIRS , FOR THE MAN WHO HAS EVERYTHING
21 - LADIES HALF PRICE
22 - PARTY'S OVER
23 - DEPARTURE TIME
Here's a speedrun for a second GTA4 DLC - The Ballad of Gay Tony. There's a some reasons, why i prefer to run TBoGT only, not TLaD (The Lost and Damned - first DLC).
First of all - TLaD is really boring for making speed run on it. Almost whole game you drive same bikes, listening same bullshit. There's no boats, no aircraft, and almost no cars.
Rockstar games also don't improve stupid bike physics from GTA4, they just make bikes more steered.
Now, about TBoGT run - this one became much more intensively, in comparison with GTA4. There's no more resaving, phone calling, clothes changing, e.t.c.
Considering that missions became more interesting, I recommend to watch this whole run.