Released in 1996 for PlayStation, ITaF is a 3D remake of/sequel to the original Track and Field games, in which up to four players can compete in eleven different Olympic events. That's about it. Yay.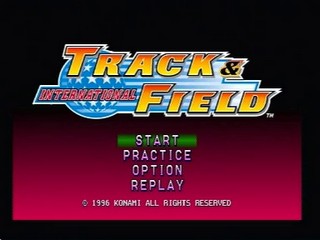 Best Hard Difficulty Time: 0:08:21 by 'Chris-X' on 2016-09-16
Get Flash to see this player.
Author's comments:
Hey there! I'm Chris-X from Germany. Welcome to my International Track and Field speedrun, completed on September 16, 2016.
It's a single segment run on hard difficulty (that means you must have better results to qualify).
The goal is to complete all events by beating the qualification time/distance/height and win the championship.
The run was recorded with Elgato Game Capture HD.

This run is approximately 9 seconds faster than my old run.
The improvement is based on better tactics in High Jump and better execution in Triple Jump.

100m Sprint:
This is very easy. Only have a good start and hit the run buttons (circle and triangle) as fast as possible.
I use a text marker to do so, most people use a lighter.

Long Jump:
I only need one valid attempt farther than 8 meters. The other two attempts are intentional fouls to save time.

Shot Put:
In this event a foul saves a lot of time, so it's important to beat the 21 meters in the first attempt.

100m Free Style:
It's not important to be that fast here because the computer opponents are very slow and you have to wait for them.

110m Hurdle:
This time I nearly beat the world record. But that isn't important because I have to wait for my opponents again.

High Jump:
I choose the lowest height possible (2.20 meters) to save time. My 2nd and 3rd attempt were fouls because that is faster.

Hammer:
Same tactic like shot put.

Triple Jump:
I beat the 16.50 meters in my first attempt, which is faster compared to my old run.

Javelin:
Nothing more to say here.

Pole Vault:
This time I didn't commit fouls. A successful jump saves a second due to waiting time.

Discus:
Nothing more to say here.

Final stats:
100m Sprint - 7.60 s
Long Jump - 8.58 m
Shot Put - 26.92 m
100m Free Style - 43.52 s
110m Hurdle - 9.13 s
High Jump - 2.20 m
Hammer - 103.62 m
Triple Jump - 19.06 m
Javelin - 89.30 m
Pole Vault - 5.52 m
Discus - 80.09 m
Total points - 15794

Thank you for watching!