Jagged Alliance 2 was developed by Sir-Tech and published in 1999. It is a turn-based tactical combat RPG, focusing on the urban areas of an imaginary Caribbean island. The retail game features a huge arsenal of over 70 firearms, natural time progression, a very colorful single-player plot, several dozen side quests, extensive mercenary characterization (more than 20 voice actors and several thousand lines of NPC dialogue), and non-linear gameplay. It has a highly active fan base who are responsible for extensive modification of the game, now that the source code has been released. JA2 is a massive improvement to, and expansion of, the original Jagged Alliance game.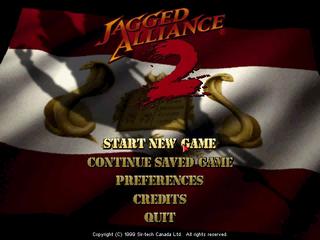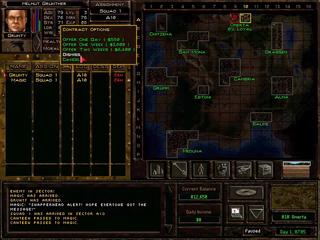 Category note: Gun count and Sci-Fi and Realistic mode do not count as separate categories because those choices make no difference in a speed run.
Best expert difficulty time: 0:06:44 by Janis 'Pendrokar' Lukss on 2008-03-22, in 3 segments.
Get Flash to see this player.
Author's comments:
1st Segment:
1) Took Magic for agility(speed/sneak), silenced Uzi, High marksmanship.
2) Took Grunty for the two canteens(the only one merc that has two) used in segment 2 and 3 by Magic when energy gets low.
3) Due to randomness of character availability at A.I.M. I save after I give both canteens to Magic and dismiss Grunty.
---
2nd Segment:
1)There are only several routes of going to Cambria some of which can slow down mercs, such as going from E10 to E9 + I need to get in Cambria from the north. I went through the Omerta because less game time would pass. (Used + - keys for speeding up game time at map)
2) Used the corner switch trick at B9 that is going to a side sector and then back into B9(passing some game time minutes) and selecting a different start point which in this case is south!
3) Luckily I did not run into Blood Cat ambushes that sometimes happen at C9 though this just takes a few seconds unless Magic confronts a Blood Cat(if the blood cat manages to hit magic the run is over due to that Magic has no healing equipment)
4) In F9(Cambria) there are two LAW's in a crate(random from 0 to 2) which I use at Meduna Palace. Many restarts due to the random count!
5) I shouldn't had a contact or opponent loading times(loading time occurred because another soldier saw the soldier die), but due to the rareness of 2 LAW's in the crate I continued the run.
6) Going through the town saves game time.
7) If there wouldn't be any soldiers in K6 Magic would disobey map moving orders on the map and I would have to make hime move manually.
8) M3 would needed to be gone through at night, but when I discovered that there doesn't need to have a clear way to the next sector I made him just go through! This eliminated the need of wire cutter in N3(Airport) for the wires south of it.
9) In N3/O3/P3 sectors there are mines, but they aren't randomly set so I know where they are!
10) Saved near Meduna Palace due to status of the LAW's which would make them useless when trying to shoot.
---
3rd Segment:
1) Both Laws fired, both pretty precise. Note: No alarm sounds due to the interruption of the fire that is Magic moved!
2) Used a Burst fire interruption while shooting at Deidranna to not initiate Turn-Based Mode. Though I did not make one interruption Magic still got enough AP to kill her in the first turn thus ending the game.