Released in March, Kingdom Hearts II sold a million copies within a month of its release, probably because the unholy alliance of Square and Disney was irresistible. Like most Square games, you wander through a world populated with pretty boys and end up fighting a really powerful one at the end of the game. Incidentally, everything above could be copied directly to describe the first game.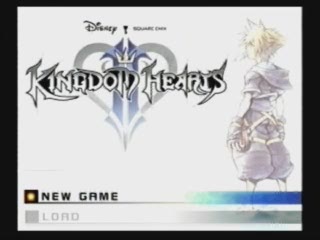 Note: There is no high quality for the single-segment run because the runner used a bad capturing device (Gamebridge).
Best beginner mode time: 4:39 by Asa 'spikevegeta' Tims on 2007-06-17.
Best single-segment time: beginner mode 4:52 by Daniel 'Axel_Ryman' Fitzgerald on 2007-12-12.
Return to the Game List, the FAQ, or the Home Page.
Beginner mode: 4:39 by Asa Tims, done in 16 segments.
Get Flash to see this player.
Author's comments:
This run, like the last, is dedicated to an old friend of mine who went far too soon. Scott, thanks for all the times you made me laugh, and I wish I had gotten to know you better before you left us. My memories of you will last forever even though you may not be beside us in person. I love you buddy.
Well, here it is a run that has really made me wonder how my first KH2 run ever got accepted. Not long after my 5:06 run was released, I started playing the game again and quickly realized through other members and my own discoveries, that the last run was horribly rushed and was a very lazy excuse for a speed run. In this run, nearly every boss battle is improved upon at least slightly, and many of them(such as Xaldin, Xigbar, Genie Jafar, Hydra, Dark Thorn, and almost every other boss) are improved by a large amount of time. To be honest this run itself could still be improved by probably another 10 minutes at least. I should have had Combo Boost attached earlier in the run to make Explosion more powerful. Also, I tried AquaTiger's strategy of gettting a Soldier Earring, but the problem was that I need to pick up about 20 different items to be able to synthesize that, not to mention 5 specific items just to make it. At the earliest I could get it, I would already have both the Medal and Sardonyx Ring attached, each giving me +1 Attack. Anything I could synthesize would only give me +2 Attack, and once again, that would require me randomly getting at least 20 different items, meaning I would have to segment the hell out of this run just to give myself a chance of picking up all of these items. All that and I think the time spent getting them would cancel out anytime the 1 extra attack(since I wouldn't have a spot for it, meaning I would have to take off one of my +1 Accessories anyways) would give me. All of that being said, someone could try it, it's just not going to be unless there's any easier way to do it.
Anyways, I'm glad to finally improve upon my old run by what looks like 26 minutes(bringing the time down to 4:40 Final Blow). On to individual segment comments:
Segment 1:

Against the nobodies in the beginning that you have to face with the bat, the cutscenes will not start until you have hit them 10-12 times. So I came up with this pattern to dispose of them the fastest.
The sword still seems like it would be the fastest path in this game, although admittingly, I haven't gone through the game completely with each, so if someone else cares enough, they can try this with one of the others and try it out.
In my last run I attached Aerial Recovery prior to the Twighlight Thorn. This time around, I decided I didn't need it for the boss, and saved it for when I attach the Medal later in the segment.
Against the boss, he has a harder time hitting me if i stay at the top(bottom?) of his neck when hitting him while he is in the ground. Good battle overall for me.
Newsflash: I still suck at the Struggle battles, but hey I saved like 12 seconds between Hayner and Vivi, which never happens.
The battle with Axel could have been better, but this was the only attempt since my old run that he didn't use his invicibility state.
I lose to setzer in order to get the Medal, which gives my attack +1.
I've had a better vivi battle, but it's based solely on where all the vivi's pop up, So I didn't worry about it.
That nobody in the street was a real bastard this time.
Against Axel, I save using his reaction command until the second time I knock him up in air in order to skip his invicibility stage.
27 minutes into a speed run, we finally see the main character, Good god that's a long intro.
eh, I've gotten out of Twighlight town with 0:34 on the clock before, but that was only once, and I think my time was a low 0:35.
I cut out using Blizzard in the Bailey battle, which saved time.
In the battle, it's fastest to get all of the nobodies stuck up against the cage, then you can hit multiple enemies at once with Sora and Leon.
There always seems to be one left hanging out in the back :(
I save before Land of Dragons to make sure the heartless aren't too annoying while I climb the mountains.

Segment 2:

In Land of Dragons, against the flying heartless, I use a single hit, followed by a 3 hit aerial combo to dispose of them quickly, while keeping them in distance.
Fire works as a form of Explosion agaisnt the tiny heartless.
I risk using Valor a little bit earlier this time when going up the mountains, the goal is to reach the cave with all the heartless before Valor runs out. If I run out of Valor before the Cave, then it isn't refilled and I won't have it for the rest of the World.
While going up the mountains, those heartless can be way too annoying. luckily I tried the segment over and over again until I got this result.
The battle in the cave is much better than the last run, where I couldn't get close to the large heartless.
It's possible that I could skip attaching Slide Dash here, and save attaching it until segment 3 along with Aerial Spiral right before Pete in olympus Coliseum.
It's so random exactly when the heartless decide to start attacking you on the peak, once it took so long that I only killed about 30, keeping me from doing enough damage with Red Rocket(Mulan's limit). Thankfully this time I killed plenty.
Instead of using Valor on the way down the mountain, I save it for Shan-Yu. This allows me to use Red Rocket in the square.
Speaking of that battle, I've done this segment about 20 times, and only once before this did Red Rocket not just kill them. Very unlucky there.
Against Shan-Yu I am able to skip his reaction command by using Red Rocket, Valor, Red Rocket, then a regular combo to finish him off(which probably took too long at the end).
Wouldn't you figure this gummi mission would come before Port Royal, not olympus coliseum? Whatever.
I had a few really close calls with the boulders in the underworld.
I always jump now at the end of the path to hades lair, in order to avoid the projectile of the plant heartless. If I don't it delays me going through the entrance.
I have to be very careful when using Reaction Commands against the heartless in the final tier of the Hades battles, sometimes I press triangle and I'll use Auron's limit instead. This is bad because I want to save it for the last group of enemies when the large heartless shows up. No problem here though.
Ah, Cerberus, the boss that made me stop trying this run for a week. on my first attempt at this segment, I had about the best recording ever for this section, and then he killed me out of nowhere(which happens maybe once every 15 times I fight him. I was able to kill him quickly this time, but this is still my least favorite segment in the run, it should have been 1:08 not 1:09, but I got tired of trying this segment over and over again, considering I was so close in the first attempt.
I save here so I can have better pot battles.

Segment 3:

First pot battle was excellent.
In the second pot battle, I had to back the large pot up into the group with all the smaller pots, because it gives you large orbs worth 10 a piece, but if you destroy it along with a bunch of the smaller ones, all of their orbs become worth 10 a piece also.
Hey, looky there a Power Boost, how the hell did I miss that the first time?
It's way too hard trying to control Sora when he is using the wild dance reaction command against Demyx. The battle was overall 4 seconds faster than last time, but I would have liked it to have been still a few seconds faster.
Had a few hiccups before the Pete battle.
Attached all my AP Boosts that I will need for the rest of the game and a also the Power Boost I picked up earlier.
The first Pete battle is set on a time limit, and it doesn't matter how much you damage him, so when other heartless show up, I take the time to kill them instead.
This was a really good second battle with Pete, Valor worked out well, and the other enemies didn't get in my way too much.
This save is in order to get a better Hydra battle.

Segment 4:

For Hydra, I time a few early hits by being knocked up in the air by his tail, and then by jump attacking at a certain time.
When using the first Vanquish, I usually end up on his back when falling, but there is always a delay before Phil's reaction command can be used anyways, so it didn't cost me a lot of time.
I avoid using Trinity or Pegasus run, by simply hanging out and waiting for him to lower his head, than in two quick rounds of damage he is defeated.
I attach Hero's Crest here because if I don't my next chance won't be until Beast's Castle, after two more battles with heartless.
random pause before I leave Hollow Bastion, I wasn't paying attention.
Once agan, Fire works as an Explosion to make the first battle in Beast's Castle much faster.
I buy a Sardonyx Ring here(+1 Attack, +1 AP), but I can't attach it until latter on.
Just a question, has anyone ever gotten the closet moved in two full rounds instead of three before?
The Door Beast, was a decent battle, but could have been faster if not for those damn gargoyles.
I have to destroy a few boxes when lighting all of the lanterns to make a path for my little helpers.
I went a little too gung-ho when facing Beast, and decided to try defeating him without using Cogsworth's reaction command, ended up costing time.
With the added Power Boost, this initial Dark Thorn battle was the best I've ever had. Second phase of the fight was also really good, but I shouldn't have had to use the reaction command twice.
Just a general save here, to avoid having too crappy a session with guiding Minnie or from getting screwed over by Anti-Form in Timeless River.

Segment 5:

I've never really had a solid strategy to guiding Minnie across the hall/throne room. It's just really using her reaction command when enemies surround her, or when they are winding up an attack, and using triangle when I get a certain distance away from her.
Attached Sardonyx Ring and Trinity Limit(after messing up a little bit) before Pete.
Found out that the reaction command in the second miny world does no actual damage to any of the heartless, so I cut that out along with Trinity Limit here, since it appears to be faster to just use regular combos and Valor here.
I remember when I used to think that those cars were the most annoying enemies in the game, now Trinity Limit for almost a year now have made them much easier.
I go Valor prior to the Steamboat Willie battle, beacause if I wait until I go into the battle, I will miss the first item that pete throws at me. It also makes my attacks stronger when trying to break through the bars.
The final stage of the Pete battle can be ended with three of the reaction commands pretty quickly.
Wow, that's the first time I've ever gotten through a gummi mission with a score of 0.
I attach Donald's Comet limit for a few uses in the run.
The intial encounter with the pirates can be ended by accumulating a certain amount of hits on them, even though you aren't doing any damage.
I save Valor till I'm in front of the boxes so I can blow through it due to the transformation, rather than needing a full combo to break through.
For all the sailing in Port Royal, you can skip all of the battles by running inside and then setting sail for the destination a second time.
It's good to kill as many pirates as you can in the minute you have, since they give really good Exp. at this point in the game.
Instead of using Blizzard against the large group of Pirates in the battle at sea, I use Comet to spread damage all around, followed by Valor and another dose of Comet. However I screw up by locking on to one of the pirates during the second Comet, so i need to do a little extra work with my regular combos.
Geez, that pirate before Barbosa kicked my ass.
Really quality battle with Barbosa here.
Trinity limit followed by Valor always seems to make the opening battle go the quickest.
Before heading to the cave of wonders, I steal two Ethers from Aladin, attach Aerial Finish to Sora, and Teamwork(Knocksmash) to Goofy.
The first large body took far too long to defeat. However the rest of the battles were just fine.
I use the Drive Recovery I picked up in beast's Castle in order to make sure that I would reach 3 full drive gauges again during the battle in the treasure pit.
Comet works best here with the smaller enemies, but then I go Valor, Revert, and use Knocksmash for the big ones.
Probably should have used Valor at the end of the boss battle, but there is a high chance of going Anti-Sora at this point.
Save here is to avoid having a terrible battle with the large nobodies in the sandlot of Twighlight Town.

Segment 6:

It's Explosion time bitches.
Battle was decent but after so many tries I gave up on killing the large nobodies with one Knocksmash.
In order for me to make the whole way to Space Paranoids with only 4 Drive Guages, I needed to attach Oathkeeper onto Valor at the beginning of the stage.
If I re-do this run, I'll skip picking up the Drive Recovery at the beginning of Space Paranoids. For some reason I never had to use it.
The boxes don't actually start moving until you approach the red one.
Should have used Valor a little bit sooner, but it didn't cost too much time.
The only way to actually slow down in the bike sequence is by either hitting a wall, or getting hit by an enemy, so I kill as many as I can in order to avoid either of those things.
Comet is a great way to kill a lot of enemies really quickly in the freezing sequence. Overall, this was about 22 seconds faster than my last run.
Save here is to make sure I have good battles with the Space Paranoids Boss and all the enemies in Hollow Bastion.

Segment 7:

Got another Ether off of Tron Here.
After facing this boss many times during practice runs, it seems that Knocksmash, followed by a full usage of Valor, regular attacks when that wears off, and finishing him off with another Knocksmash is the fastest way to go.
A major error from last run was that I used Knocksmash while he was frozen, which actually inflicts no damage at all. Also I have to make sure that he is within distance before I start Knocksmash, or too many of the first stage of attacks will miss him.
This is the first point in the game where I start using Ethers in order to use more limits throughout my battles.
The ideal battle in the corridors would have been to completly kill all of the nobodies with the second Knocksmash, but it didn't take too much longer.
The second battle was excellent.
I've heard about the possiblity of Wisdom/Fire being useful to clear out all of Demyx's water clones, but I didn't here about it until after this segment was finished.
The whole trick to Demyx is to keep him off balance at all times so he never has a chance to use his 10 form in 10 seconds technique, which I achieved in this battle. I make sure to do just enough damage to him with Valor before reverting and using Knocksmash again, this allows me to save two Ethers for later usage.
Admittingly, If I were to re-do the run again, I would have attached Combo Boost by this point to make Explosion do even more damage, however I wasn't thinking and it appears it could have helped out quite a bit.
In the final stage of the smaller battles when I get to fight with Cloud, I always wish that I could use the Sparkle Ray Reaction Command more often, but it never seems to pop up.
First of 3 elixir's I pick up throughout the game.
This 1000 Heartless battle ended up being terrible. The smaller heartless have an annoying tendency to just dissapear when you start moving towards them, and their Sparkle Ray Reaction Command is by far the fastest way to destory all 1000 Heartless. Once again, If I re-do this run, I'm going to save right before the 1000 Heartless battle because I've had battles SOOO much better it's not even funny. I eventually excepted it because I was getting tired of this segment after it unexpectedly took me a few days to complete.

Segment 8:

I'm really sorry about excepting this segment, let's just say I was tired after trying Segment 7 about 40 times. I know the beginning is terrible, with me attempting to attach Sora with more Ethers. Also, I should have taken Mulan out for Donald, which I have to take the time to do later on.
This battle with the Mysterious Man becomes a lot faster with me using Trinity, Ethers, and teh Reaction Command from all of the heartless. The most annoying aspect of the battle is that I have to be pretty close to use Slide Dash instead of accidently using aerial attacks against all of the flying heartless.
In order to get full usage out of running with Valor, but not taking the time to revert, wait for Goofy to come back and use Trinity Limit in the battle in the square, I reverted just as I entered the square.
I'm surprised to see after practicing this segment quite a few times in the past, that Trinity Limit is still the fastest Limit to use against the Heartless in the square. It deals the most damage by far and leaves me with just a little bit of damage left to deal. Plus, the bonus is that I always end up with just over 3 Drive gauges left at the end to use against the heartless in the palace.
Ogre Shield gives a huge attack boost to Goofy, making Knocksmash(and soon Whirli-Goof) much more powerful per attack.
Against Storm Rider, I always seem to miss jumping on his back at least once every single time I fight him.
Instead of using the reaction command that knocks him up in the air and then to the ground, I allow him to fly by, therefore knocking me back up onto his back, which allows me skip the animation of the reaction command, and skip him flying up after I do a certain number of combos on him on the ground.
Don't ask me how I was able to stay on his back at the end of the battle. I think it's one of the coolest parts of the run though.
Knocksmash/ Whirli-Goof is much faster than my previous usage of Trinity Limit here is Beast's Castle 2.
I save here instead of in the room with the Moogle before Xaldin since it's right in front of me, rather than waiting until after I finish the battle in the main hall. It just meant I had to do that battle again every time I messed up the Xaldin battle.

Segment 9:

This is proabably the best I've ever done in the Menu. sorry I suck so bad at it all the time.
I attach Reaction Boost for the Xaldin battle, and Scan makes allows me to know when I lower Xaldin to 3 bars of health, which any lower than that and he starts going into his Wind of Despair bull shit.
Whirli-Goof is so awesome because of its ability to "suck" in enemies whenever they get close. Not to mention it's powerful as hell, and it's got the fastest animation of any of the limits.
Ok, so while this battle was over two minutes faster than my last run's battle, it still could have been improved if Goofy didn't die while I was stocking Jumps. Best case scenario, Goofy is alive after my second use of 9 jumps, therefore I would have continued attacking him in the air, then used Whirli-Goof, and hung up in the air until it killed him. It still ended up being a hell of a lot faster, and after about 15 tries, this was the only time, he didn't use Wind of Despair.

Segment 10:

Another Ether is picked up at the beginning of Port Royal 2.
For some reason this segment took many attempts because about 4 times out of 5 I would go Anti-Form at some point in the segment.
Proabably would have been better if I had allowed the pirate to just shoot me from behind to give myself a boost forward.
Whirli-Goof seems to be the fastest way to kill the nobodies with the coins.
These are still the 3 fastest Nobodies to kill in order to get the other 3 coins.
I pick up the Meteor staff and attach it to Donald immediatly.
This battle is a hell of a lot faster then last time because of many reasons. First of all I keep Donald out of the team at the beginning of the segment. Then after he takes all 882 coins from the chest, go Valor in order to fill back up my MP meter(pray I don't go Anti-Form here). I then swap out Jack for Donald(which is supposed to conserve Donald's MP until this point, but he used it all for a cure on Goofy this time instead). After that I revert, leaving myself with a full MP bar, and start using Thunder like crazy, all while picking up potentially all the coins and constant MP bubbles he drops while Goofy and Donald attack him regularly, allowing myself to use Thunder even more. This also tricks him into hovering above the chest trying this certain move over and over and over again, while I keep thundering 50 coins from his every time, and all that has to happen is Donald needs to use Thunder once or twice and I'll start loading them all into the chest pretty quickly, he usually attacks me while I'm dropping them all, so I have to use his reaction command once, but regardless it still is a great strategy in my mind.

Segment 11:

I take a few more Ethers from Jack at the beginning of the segment.
I use Knocksmash here instead of Whirli-Goof because it ends up being too hard to suck in the 3 enemies. Also I save Valor till a certain point in the battle to make sure it dosen't run out before I get to the forest.
In the battle in Candy Cane Land, I have enough time to go over and pick up the ether before using my other two ethers, because it always takes a little more then two ethers to fill back up my MP bar, so I have to wait for my limits to be used again anyways.
I avoid using Valor when heading to the graveyard so I can use a certain pattern of attacks against the boss.
Good god this boss has so much freaking HP at this point in the game.
Since Knocksmash does the most damage to this boss, I have to make sure that he doesn't avoid too much of the final stage of the attack(which happens while he is absorbing another one of the kids to transform). This works out the best by using Knocksmash at the beginning and the end of the battle, which is where he rarely uses his transform technique. Therefore I use a full combo of Knocksmash, Valor, Whirli-Goof(because it doesn't have a break anywhere big enough for it to start transforming), two ethers, another Knocksmash, and Valor again to finish the battle.
Boy, I screwed up badly against Oogy
Boogy the second time he fell down. I don't know how the hell I missed him when I jumped to use Whirli-Goof though. Whatever.

Segment 12:

These little bastards made this segment take way too freaking long to actually accomplish(along with Anti-Form and collecting the presents). It's important to know that once two kids are knocked out and in the boxes, that you don't have to actually knock out the third one, you just have to get ii in the box regardless, which triggers the end of the fight.
I went Anti-Form in the forest way too many times to count.
Knocksmash has a fast enough animation and kills the heartless with the presenst quick enough to allow me to pick up all 4 presents before the larger enemies have a chance.
Got really lucky with the Present miny
game. I actually got plenty of large boxes to appear this time.
I avoided using Valor against the boss, because the chance of going Anti-Form were way to high at this point. Regardless, it was still a really good battle, just a careful one.
At the beginning of Agrabah 2, I give Sora the Pumpkin Head, and I take off Reaction Boost to make room for Combo Boost, which will make all my explosion's a lot stronger against all the enemies and Jafar in this world.
The goal in this carpet
riding sequence is to use Explosion as much as possible and to get it to attack as many enemies as possible. The more I use it, the faster the battles get.
I was probably crazy for trying to activate the 3 switches near the end of such a hard segment to get right. The annoying factor comes from activating the Blizzard Switch, because of all the little enemies trying to mess me up while trying to activate the switch. They hit me once, but that was just fine at this point.
When racing back to Agrabah, all the enemies are killed in one swing other than the bigger pink heartless, which can only be killed after a final hit, so I try to hit other enemies with my first two swings, then attack the pink heartless with my final swing.
I save here so I can make sure to get this Genie-Jafar battle how I like it.

Segment 13:

I saved over 3 minutes on the Genie Jafar battle battle through the new strategy of using 3 combos on his head before using the reaction command, then after I use it do another 3 1/2 combos. Unfortunatly, I could never get two full rounds of this to ever fully kill him, so I fixed this by using up my MP bar using Thunder between the two of them. This way, I was able to completly skip him pulling me into the other dimension.
Not much to say about the battle I get to fight along side mickey with, I just utlize Knocksmash, Slide Dash, and Explosion(with a screwed up Whirli-Goof at the end).
The reason why I don't pick up the elixir in the mansion until this time through instead of with Roxas at the beginning of the game is because the chest doesn't contain one.
Killing off all of the Nobodies in the intial battle with Whirli-Goof is pretty hard, but I was able to just barely get it.
This is the last battle before the Final Battle where I will be facing anything that will give me experience, so level 35 is what I've got until the Final Battle.
As for the battle, as always, the closer I can bunch all the enemies together, then smack them all with Explosion, the faster the battle gets.
For anyone wondering why I don't force Final Form at some point throughout the rest of the game, the reason is because I can only go Final Form if my Valor is at Level 5 before I try, and also because it just really isn't worth it, I only use Valor once more for battle in this run anyways.
I'm considering not picking up the Cosmic Belt at the end of this segment at the next run, since I barely get hit by Xigbar anymore.

Segment 14:

The reason why I go into the synthesis menu at the moogle is because he gives me a free elixir.
I know I said this last time, but I've got to say it now. MOST. AWESOMEST. XIGBAR. BATTLE. EVAR. It saved over a minute from the last run by utilizing 4 ethers, and 3 doses of Knocksmash.
Well, I'm in the home stretch now, and it's good to get that battle out of the way.

Segment 15:

Good god I love this segment so freaking much, It's easily my favorite in the run.
Against Luxord, I attached Combination Boost so I could use three full combos with every use of Trinity.
I love that I was able to pull of the reaction command trick all three times he hides himself in his cards.
This is the first time I use Thunder as a good quick final blow to a boss here at the end of the run.
Against Saix, the reason why I use Knocksmash, Whirli-Goof, then Knocksmash instead of just 3 Knocksmash is because, sometimes during the break before the Final stage of Knocksmash he will go Berserk, so Whirli-Goof doesn't give that break.
Both of those battles were basically perfect by my standards(however low those may be).
I whore the crap out of almost all of my ethers to maximize the speed of the Xemnas battle.
Never really understood why against Xemnas here I always waited for him to reach the ground before using Trinity, I guess I never really tried it while he was airborn.
I understand there is a 3rd stage to what I can do against him while we are running up the building, but it takes too long, and I really just need him to be stunned so I can start using Trinity.
It wasn't quite a perfect battle, because it's possible to keep him from climbing the building a 2nd time, it just rarely works out that way, and the rest of the segment was too perfect for me not to accept it.

Segment 16:

Last segment, here we go.
I attach Sora with my 3 Elixirs and final 3 Ethers I have.
Speacial thanks to Axel-Ryman again for telling me about using Magnega here to make the cannons part go a lot faster. I have to use of my Ethers inbetween to fill back up my MP Bar because 4 Magnega nearly sucks it dry.
I still use Knocksmash rather than Comet here simply because it does more damage and it still covers plenty of ground(that and it's so much faster than Comet).
Since Valor is safe when no enemies are on screen, I use it to take down the core, but revert and use Knocksmash/Whirli-Goof when the nobodies show up.
The reason why I use Whirli-Goof the second time is because I want to make sure I kill the large berserker nobody in particular, because he's the one who can slow down the final battle so much if he starts using his more annoying techniques.
Trinity is used rather than Knocksmash/Whirli-Goof against Xemnas here because it's way too random exactly what hits him in those two techniques.
The "space bike race" goes pretty much like last time.
Trinity is used for the rest of the battles for two main reasons, 1. it's stronger, 2. it's faster. Two kind of big points in a speed run.
My two final Ethers are used in certain points to get me to a full MP bar faster in order to use Trinity.
Also with Trinity, I have to be close enough to him before I use it or I'll start attacking in random areas instead against Xemnas. That's why I move closer to him before I use it everytime.
I finally use my 3 elixirs here at the end of the game both to make Trinity come back faster but also so he doesn't kill me in 1 hit like he loves to do.
I don't know how much faster neccesarily Reflect would have made this battle, but I decided to just use all my MP for Trinity instead.
It's important to use Trinity just before he grabs a hold of Sora with his orb, that way I can take care of another bar and a half of health before the part of the battle where I use Riku, then my MP is almost full charged back up after I gain control of Sora again, so I can use it again pracitcally for free.
Screwed up at the beginning of the Riku part, but it wasn't that bad.
Thanks to Wheels for the idea of using Thunder for the final blow, it proabably didn't save much time, but it gave a much cooler final blow screen.
Cool to see that I never used Anti-Form, Mickey, or used Cure in this run. Those were my goals from the start of this run.
Overall, this run makes me feel a lot better about my Kingdom Hearts 2 speed capabilities. While the run was my first, it looked a little bit too much like one that shouldn't have been accepted on Speed Demos, and it admittingly was a lazy run from the planning stages. thank everyone for their support on the boards and I hope everyone enjoys it.
I wish the best of luck to Axel-Ryman and his Single Segment Kindom Hearts 2 run, and I send out a request for a Kingdom Hearts run to a certain Final Fantasy IX master.
As for me I'm thinking about letting this game collect a little dust in my game box for a while, as i want to try a Rayman 2 N64 run. Although I'm sure this won't be the last you see of me running this game.
Beginner mode single-segment: 4:52 by Daniel Fitzgerald.
Get Flash to see this player.
Author's comments:
First things first, got to thank those who helped, starting with those that run this site.
Mikwuyma
Radix
Nate
DJGrenola
Next are those that aided me in my run.
Spikevegeta: For his Beginner Mode run to help make me want to do this as well as some of the stategies.
Essentia: For her FFIII/FFVI single segment for telling me that its possible with such games.
Everyone else in the KH2 Speedrun thread who's name I cannot remember cause I'm too tired and exhausted right now because of the run and finals: Cheering me on and not giving up on me.
Welcome to a 5 hour long action filled no cutscenes start to finish speedrun of KH2.
This run took months, way longer than I planned due to life things such as work and school.
Without some of the mistakes, sub 4:50 is possible, though you need to be pretty lucky. Some of my battles went well, and others (COUGHSAIXCOUGH) didn't.
A few highlight moments.
The first Mystery thing when playing as Roxas.
Thresholder and Possessor battle
Shadow Stalker battle
Hostile Program battle
Storm Rider battle
Xaldin Battle(PWNED)
Grim Reaper(Went better than half of mine)
Experiment battle
Jafar battle(I always do well in this one.....though I did screw up in the end)
And the first Xemnas battle(The very beginning is pure PWN)
I'd include the Saix battle, but that was the worst one I've ever done somehow(Without dying I mean).
If you have questions or comments, either PM me, post in the KH2 Speedrun thread, or contact me via MSN (axel_ryman AT hotmail DOT com).
Will I redo this? Maybe. If someone can urge me to redo it, I'll do better...I hope.