Kirby's Adventure is a classic NES platformer starring the lovable Kirby himself. Despite what some people would tell you, Kirby's debut was in Kirby's Dream Land, not this game. Kirby finds out one day that nobody can have dreams anymore, because King Dedede has stolen the Star Rod. That's not cool, so Kirby sets out to collect fragments and repair the Star Rod. It turns out that Dedede was only saving everyone from having nightmares, so the whole game minus the final boss fight is essentially a giant undo button. The real culprit is in fact Nightmare.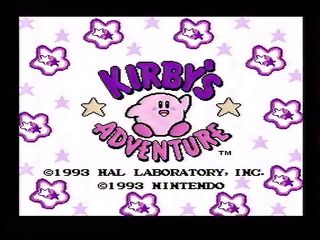 Category Note: Using the UFO glitch is considered a separate category because it significantly changes how the game is played.
Best time with large-skip glitches, European version: single-segment 0:41:40 by Giel Goertz on 2009-03-05.
Get Flash to see this player.
Author's comments:
Firsts of all I'd like to thank Greenalink for showing me were I could find secret UFO's.
Secondly I'd like to say that Kirby loves singing.
Soooo, without further a due I present....
KIRBY'S KARAOOOKEEEEEEE!!!
*puts on karaoke version of Kelly Family - Fell In Love With An Alien*
Come on now folks, let's sing along to the Kirby lyrics!:
Out in the fields
Where the trees are fed
when they see their meals
they puff their breath
then dark came to fall
and silence was all
a beauty shone bright
surrounded by light
c'mon now;
Kirby is in love with an Alien
He fell in love with her might
He fell in love with an Alien
I'm telling you no disguise
He's in love with an Alien
He's in love with her might
He's in love with an Alien
I'm telling you no disguise
It came looking out babe
for Kirby -oohhh 'cause
It ain't looking out babe
for META KNIGHT
He's in love with an Alien
He's in love with her might
He's in love with an Alien
I'm telling you no disguise
The moon went to bed
The sun going dead
A nightmare appeared
And chased them in fear
She send him her power
Her power to him
And then they did grow
enough power to win
c'mon now;
Kirby is in love with an Alien
He fell in love with her might
He fell in love with an Alien
I'm telling you no disguise
He's in love with an Alien
He's in love with her might
He's in love with an Alien
I'm telling you no disguise
It came looking out babe
for Kirby -oohhh 'cause
It ain't looking out babe
for META KNIGHT
Kirby is in love with an Alien
He fell in love with her might
He fell in love with an Alien
I'm telling you no disguise
Kirby is in love with an Alien
He fell in love with her might
He fell in love with an Alien
I'm telling you no disguise
He's in love with an Alien
He's in love with her might
He's in love with an Alien
I'm telling you no disguise
Kirby is in love with an Alien
He fell in love with her might
He fell in love with an Alien
I'm telling you no disguise
He's in love with an Alien
He's in love with her might
He's in love with an Alien
I'm telling you no dis...
I'm telling you no disguise