Released in 2004, the 8th game in the series and the first in which Al Lowe was not involved in any way. Rather than following Larry Laffer, it instead depicts his newphew, Larry Lovage, as he attends the Walnut Log Community College. Rather than focus on his degree, Lovage focuses on more sexually orientated studies to achieve his goal on getting on the dating TV show "Swingles".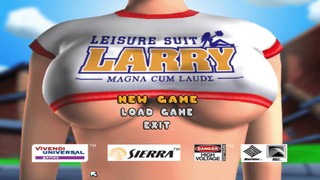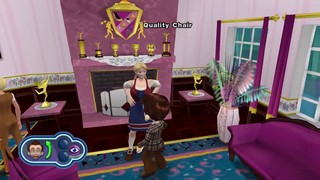 Best Single-segment Time: 0:29:26 by Andrew 'Bigmanjapan' Bondarenko on 2015-08-04
Get Flash to see this player.
Author's comments:
This is a single-segment run of «Leisure Suit Larry: Magna Cum Laude» done in 34 minutes and 41 seconds if RTA timed (IGT is 17:54) on PC. Run starts with the very first cutscene skip, run ends when you skip last Uma cutscene.
The gameplay revolves around getting tokens of affection from girls. In order to get the tokens you need to play all kind of mini games with them. You can "wimp out" of a mini game for a certain amount of Secret Tokes found all over the game and skip playing the mini game. In my run I don't play a single mini game — everything is skipped. To do so I counted an amount of Secret Tokens needed to be collected throughout the game. Amount of cash is also calculated and gathered by fastest ways possible (at least I think so).
If you look at this run from RTA perspective, loading times are a huge time waste. In this game, delay that goes will loading screens is scripted and you can speed it up by alt-tabbing out of the game. I do this with every loading screen.
I will provide a list of location where I got Secret Tokens, list of locations for Cash and my general routing below.
***
Secret Tokens needed: 209
Secret Tokens picked up: 210
Larry's bed — 10
Crime Scene — 10
Front Desk — 3
Plant to right of library door (Library entrance) — 3
First Porn Fairy by peep hole in Sorority House — 15
Kegs to left of pool (Frat) — 5
Main campus Porn Fairy (PF) — 25
Sorority PF (Inside Sorority) — 20
Railroads PF (Nice Streets) — 10
Test Tubes (Lab) — 5
Art gallery paiting PF — 20
Sweetwater's car trunk — 10
Fat Sam's Gold Record Past top of right stairs (Titty City) —15
Third Champagne room door to the left (Titty City) — 30
VIP Stage PF (VIP room at Dance Club) — 25
Stage with Spanking Cross (VIP room at Dance Club) — 4
***
Cash needed: 182
Cash picked up: depends on your accuracy
7 full photo sessions near Sorority House and 1 half session (3-4 photos). Photos are evaluated by a guy near Sorority House.
1 Porn Fairy photo is evaluated in Dance Club. You get 51$ for it.
***
Routing
Take 10 tokens from bed
Complete Sally Mae
Take 10 Tokens in Crime Scene
Take 3 Tokens at Front Desk
Take Camera Lens
Take 3 Tokens at Plant to right of library door
Ione Chat 1
Comissar task
First Porn Fairy by peep hole in Sorority House: 15 Tokens
7 1/2 photo sessions
Analisa Chat 1
Buy basic Suit
Supernaut: 10 dollars
Kegs to left of pool: 5 Tokens
Analisa Chat 2
Main campus PF 20 Tokens
Ione Chat 2
Swingles 1
Harriet chat 1
Zanna Chat 1
Sorority PF
Railroads PF / Buy full Preppy suit
2 beers at Dance Club
Luba Chat 1
Harriet Chat 2
Luba Trampoline
Swingles 2
Buy full Geek suit
Beatrice Chat 1
Test Tubes in Labs: 5 Tokens
Monkey in lab
Charlotte Chat 1
Swingles 3 and 4
Art gallery paiting PF
Lucius at Dance Bar
Julius at Titiy city
Buy full Cool suit
Sweetwater's Trunk: 10 Tokens
Photo session at gay bar
Fat Sam's Gold Record Past top of right stairs: 15 Tokens
Third Champagne room door to the left: 30 Tokens
VIP Stage PF
Stage with Spanking Cross
Suzi Chat 1
Barbara Chat 1
Morgan Chat 1
Barbara Chat 2
PC build and software used:
QuadCore Intel Core i5-3570K, 3400 MHz
ASRock Z77 Pro3
8076 MB (DDR3-1333 DDR3 SDRAM)
Sapphire AMD Radeon HD 7770
Hitachi HDS721050CLA362 HDD
Win 7 64
OBS Multiplatform 0.11.1 to capture the game
You can contact me via:
http://www.twitch.tv/bigmanjapan/
bigmanjapan@mail.ru