MechWarrior 3 had the most sordid developmental cycle in the franchise, notoriously apparent from all the company logos displayed during the intro movie. This was the first game in the series to include significant voice acting, animated audio-briefings before each mission, mobile field repair bases, and in-game mech repairs of wingmen. The engine is the last in the series to incorporate the distributed mech-customization design ("critical slots"), use plodding robotic movement, and focus on gunnery simulation — namely, the ability to "leg" an enemy mech. It also lacks any kind of "free market", requiring the player to juggle inventory and balance play style to maximize equipment cannibilization from neutralized mechs.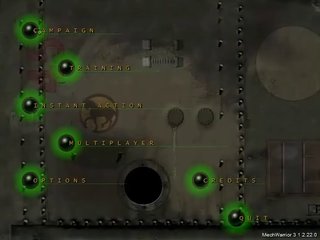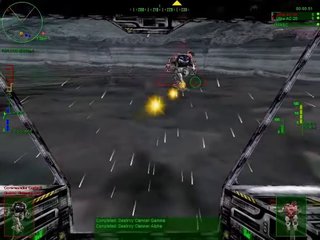 Best time, High difficulty: 0:42:53 by Janis 'Pendrokar' Lukss on 2008-12-01, done in 20 segments.
Get Flash to see this player.
Author's comments:
Done on high difficulty for better entertainment!
Operation 1 Mission 1: First mission is simple. I don't even try to take out the mech.
O1M2: All APC's are needed to be destroyed to get the first objective done. Fortunetly I didn't encounter the dissapearing second platform glitch!

Mech - Bushwhacker: 3 (5 LRM) + 1 AC10 - Speed 97

O1M3:There is no real quick way in this mission. I send the MFB at the start and shoot all mechs while MFB travels along the route. Well I got lucky that no vehicles blocked their way though!

Mech - Bushwhacker: 2 (LRM 10) + 2 ER Lasers - Speed 97 - Destroyed all mechs

O1M4:Use LRM to destroy the greenhouses by shooting over the buildings before it. I don't really know how much the Orion is worth in time consumption in the future. But It might have been worth it!

Mech - Bushwhacker: 2 (LRM 10) + 1 (LRM 5) + AC 10 - Speed 94 - Destroyed and captured the Orion mech

O2M1:Forgot to add the MARC to the Orion. But I didn't redo this segment because of that + it would save around 5 seconds! I was lucky that the Thor didn't fire a single shot leaving more ammo for the ULTRA AC 20!

Mech - Orion: 2 AC10 - Speed 80 - Destroyed three mechs salvaging Thor.
Wing - Bushwhacker: 1 (LRM 20) + 4 (LRM 5) - Speed 91/60(run/walk)

O2M2:This was very hard on hard. There wasn't any real reason for destroying the rocks this time. I had tried to destroy them when the Shadowcat comes. But it is too hard to do if not impossible. Jumping on one of the shuttles to destroy them saves either ammo or speed depending on heat. Not sure about the usefulness of the convoy. But other users had said it is a must! I didn't know I had still one shot left for Ultra AC 20 against the Orion.

Mech - Thor: 2 ER Laser (Clan) + 20 AC ULTRA (Clan)(Ammo 10)- Speed 89(MARC 110) - Destroyed convoy
Wing - Orion: 7 LRM 5 + 1 LRM 20 - Speed 72/48

O2M3:Two choices in this one. Having a heavy mech to destroy two pumas and the champion for weapon and ammo salvage or just going through the level with a medium mech at 160 speed! I chose doing this mission 50 seconds faster! Smiley

Mech - Shadowcat: LRM 20 - Speed 131(MARC 160) - 2 mechs destroyed by Dom with no useful salvage
Wing - same as previous

O2M4:I destroy the owens and puma just for the missile salvage. My wingman is too slow to do anything useful!

Mech - Thor: 2 AC10 - Speed 91(MARC 110) - Owen and Puma destroyed(for missile ammo)
Wing - Orion but wasn't used

O3M1:I destroy the HQ while my wingmen guard the Front MFB. Last two seconds were required to take out the Madcat. But I needed to shoot without fearing a shutdown though!

Mech - Orion:4 ER Laser L (clan) - Speed 86(MASC 108) - 5 Mechs destroyed(Madcat 2 seconds after completing mission)
Wing Dom - Thor: 8 (LRM 5) + BAP + MASC - Speed 87/58
Wing Epona - Thor: 2 (LRM 20 (Clan)) + BAP - Speed 92/61

O3M2:Jump behind a mech and shoot the legs. Did that against two mechs(Both have dreaded autocannons). This could have been faster only due to luck that Alan destroys the last mech in his Sunder about the time when I take out the two mechs!

Mech - Thor:2 AC10 - Speed 91(MASC 110)
Wing Dom - Same as previous
Wing Epona - Same as previous

O3M3: That tree at start can destroy one of my wingmen that is why I burn it! Too bad there isn't a Attack Nearest Target like in MW4. Because of that I make the mechs hold position on the hill where they destroy the three striders. I then jump to the spot where there are 3 heavy mechs. Hitting or shooting at them makes them go mobile. So I need to take out them one by one. Lasers are the best weapons against Elementals. Though I am not sure if they even are needed to be taken out. Problem is I didn't expect those two Owens otherwise I would have said my Wingment to follow me! Yes, this could have been faster by around 20 seconds if I did the last statement.

Mech - Thor:2 ER Laser L(Clan) + ULTRA AC20 (Clan)(Ammo 10) - Speed 90 MASC(113)
Wing Dom - Same as previous
Wing Epona - Same as previous
Wing Alan - Madcat:4 (LRM 15 (Clan)) + 2 Artemis IV on all 4 + BAP - Speed 86/57

O3M4:No real need for lancemates in this map. Just so they wouldn't spend missile ammo. Lasers were chosen for their range and the presence of water in the map!

Mech - Thor:6 ER Laser L(Clan) - Speed 88(MASC 110)
All Wings same as previous

O3M5:I only need lancemates to stay mostly because of having MFB safe. I take a fast shadowcat to run through the main objectives. Enemy mechs fire the autocannons to point where I was not where I am going! TAG'ing the gate is faster than shooting with missiles! A little improvement might have been on the first main objective!

Mech - Shadowcat 2 (LRM 10(Clan)) + TAG - Speed 133(MASC 164)
All Wings same as previous

O3M6:Because I have to take out a mech I can't use a light mech. So I went for Thor with load of missiles.

Mech - Thor:3 (LRM 20(Clan)) + TAG - Speed 92(MASC 116)
Dom Alan Wings same as previous(Epona no mech)

O4M1:The last objective which is destroying the train can be done after first four objectives are completed and the train then spawns at the next third minute(3 or 6 or 9...). So the lowest time to do this is around 3:10! I went for a fast shadowcat, but while running through the map I still have about 45 seconds of free time. I didn't test but it is likely that I could have gone through the map with a thor. But it would still carry missiles because of splash damage(For the 3 towers on each nav). In any case I was lucky to still be alive at the end.

Mech - Shadowcat:2(LRM 10(Clan)) - Speed 129(MASC 160)
Wing Dom - Annihilator: 3 Gauss Guns - Speed 55/36
Wing Epona - Same as Dom
Wing Alan - Madcat: 4 (LRM 10) - Speed 54/36

O4M2:Well there is not much use to shoot mechs in this map. Lancemates take out the village slowy so I have to shoot most of the buildings myself! PPC can take out each building with one shot. I think I had too few pulse lasers to be any real use in this map!

Mech - Annihilator: 4 Clan ER PPC + 1 ER PPC + 21 double heat sink - Speed 61(MASC 77)
Wing Dom - Same as previous
Wing Epona - Sunder: 8 ER Laser + 24 double heat sinks - Speed 56/37
Wing Alan - Thor:2 AC10 - Speed 88/58

O4M3:I go for Baker while my lancemates go for Able. Because I need to take out elementals-> hitscan lasers are the way. Otherwise I would take autocannons to take down the annihilators, but then again autocannon range would be a problem!

Mech - Thor:7 ER Laser + 11 double heat sink - Speed 87(MASC 108)
Wing Dom - Thor:8 LRM 5 - Speed 88/58 + MASC
Wing Epona - Madcat: 2 Gauss Rifle - Speed 80/53 + MASC
Wing Alan - Thor:2 (LRM 20(Clan)) - Speed 92/61

O4M4:People most likely though that you need to take out everything in this mission. Nothing like that just two Daishi's and that device between them. Snow is even better than water and there almost no heat when you're shooting from water, but I don't use that! Finally I take loads of medium pulse lasers which are better than having a load of ER Large Lasers!

Mech - Thor:11 medium pulse lasers + 5 medium pulse lasers (Clan) - Speed 81(MASC 101)
Wing Dom - Same as my O4M2 Annihilator
Wing Epona - Same as my O4M2 Annihilator
Wing Alan - Sunder:11 ER Laser - Speed 57/38

O4M5:Here it was either having a thor with autocannons or a annihilator with lasers(pulse lasers in this case). I went with an annihilator because with a Thor it would be required to go around the map to take out the mechs and it is hard to shoot elementals. Well the elementals are the biggest problem in this map because you have to take them out! With their jumpjets it is hard to hit them. This mission can be done under 2 minutes but that is hard while recording!

Mech: Annihilator: 7(Clan)+8 Pulse Lasers - Speed 63

O4M6:Must be though as hell on High difficulty. Not if you go after mechs that have a few missiles and autocannons with which they still can't shoot to position where I AM going. I go after Supernova and Commander Corbett who is in a Daishi while my lancemates take out the others. My mech has 2 ULTRA AC 20 with total 10 ammo. My lancemates are all equiped with 10, 15 and 20 LRM's. From what I heard they are dumber in this mission. But they still know how to shoot with missiles. I jump over the cliff at start to evade any damage which I would take when going straight to the Supernova and the Daishi. Thank you for watching. There will be a full video of the speedrun in SDA with all mech setups included.

Mech - Thor:2 ULTRA AC20 (Clan) (10 ammo)- Speed 89(MASC 108)
Wing Dom - Orion: 4 (LRM 15)(Clan) - Speed 84/56 + MASC
Wing Epona - Madcat: 3(Clan) + 1 (LRM 10) - Speed 82/55 + MASC
Wing Alan - Thor: 3 LRM 20(Clan) - Speed 88/58