Released in February 2001 for the PlayStation, Mega Man X5 features X and Zero working together to stop a space colony from crashing into Earth and spreading the Sigma Virus throughout the population. Stopping the colony isn't necessary, however, and thus the eight Maverick stages are optional. Unfortunately, you get interrupted way too much by Alia, who thinks you're so stupid that you need Gamepro-esque protips to beat the game.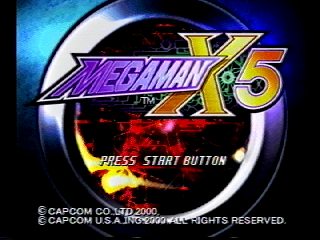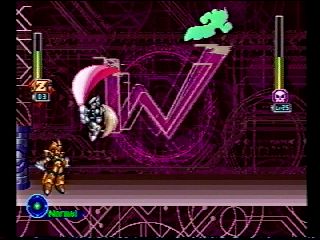 Return to the Game List, the FAQ, or the Home Page.
0:10:12 by Patrik Salonen in 6 segments.
Get Flash to see this player.
Author's comments:
I made this run basically because I wanted to show the runs on the site are improvable (referring to X5 runs in particular), which I pointed out earlier on the SDA forum. Not too many X5 runners out there, and that's a shame. Or even Mega Man X games in general, excluding the first two. I'm hoping this run inspires others to try and beat existing runs.
So let us get started then.
Intro: After being repeatedly interrupted by Alia who wants me to grab a rope I crawl my way up to the top. The showdown is far from epic.

Filler: I get lucky, and the unenhanced Enigma actually manages to blow the Colony instantly. This is basically unheard of. I kill myself in Grizzly's stage so that I can save the game.

Virus Blue: The drop could have been smoother. The Dark Devil fight was so great that I couldn't believe my eyes, and the stage was at least 15 seconds faster than I assumed it would be.

Virus Purple: Getting lucky and maintaining skill at the same time isn't my forté. This is unarguably the worst segment of the run, but I get so incredibly lucky that it's still faster than I could achieve with my best performance and bad luck.

Virus Red: I get the Ultimate armor. The fact that Zero didn't go maverick makes things faster even here. Zero's AI isn't as easily abusable than Maverick Zero's, but that doesn't mean it wasn't easy and practical thing to do.

Sigma: McWhalen requires some luck to be beaten fast. This was not the most optimal outcome, but comes very close to it. Izzy Glow resists a bit at first, but crumbles under the pressure quickly enough. I have some strange obsessions with the energy capsules and such, but otherwise fluent performance. Sigma's second form starts a bit awkwardly, but he could have been much worse opponent.
Single-segment 0:10:21 by 'Luiz Miguel'.
Get Flash to see this player.
Author's comments:
Thank you Cremator and Satoryu, your runs inspired me to get into Mega Man X5 speed running.
Also thanks to Yabu, a japanese runner who did some really good strategies I use.
... e um beijo pra você, Xuxa.
-Opening Stage
Really good, except for the bad luck in Sigma Head. But after resetting so much because Enigma or Shuttle, hope you understand.
-Enigma Shot
Finally! After countless attempts... I'm glad it worked at this good run.
-Origin
It was good. Shadow Devil gave me bad luck though. I could do nothing about it.
-Grief
Something went wrong here. After the platforms I was supposed to do a big jump over everything, but for some reason I got hit by an enemy's projectile. I had to improvise. As I got low health, I just stand and get the last virus earlier. This made me get an extra hit after the invincibility was over. Rangda Bangda gave me the perfect luck and I missed the first hit in the green eye. This is not a big deal though, at least I survived this fight.
-Awakening
Zero fight was bad, I missed the second charged shot and got hit.
-Birth
At the boss rush, Skiver really scared me and almost killed the run. Also I tried to make it faster, but missed some Nova Strike. In the last Sigma fight, destroying the hands at start prevents it from disappearing. I got luck he started the purple cubes before bringging the hands back.
It was a good run. I'll improve this in the future for sure, hopefully with better luck in Shadow Devil.
For now, my next goal in X5 is a good "All Stages" run in single segment.
8 bosses beaten 0:25:03 by Chris Kirk in 16 segments.
Get Flash to see this player.
Author's comments:
I'm not afraid to admit it. My previous run was craptastic. This game desperately needed an improvement. So I did it, and I'm damn proud of it.
Three things that made this run possible: Speedster ain't worth getting, use of Saber Dash Cancel, and Cremator's 100% run. Cremator's run was what in part inspired me to go back to X5 again, and I copy many of his strategies. If he hadn't done that run, you might not be seeing this run right now.
Like my X6 run, I have Disc Speed on my PS2 set to Fast. While it does lessen load times, it does have the same quirks as X6. Music is always delayed by at least a second. And sometimes the load times like to take longer than usual. But there is no effect on gameplay.
INTRO STAGE: My time is a second slower than Cremator's, but it's still more than acceptable. It kinda quirks me that the pause screen takes so long to open and close in this game.

BURN DINOREX: This was actually a second or two faster than I had planned, so that's good.

A note on the cannon/shuttle sequences. While the cannon does add boss levels, the shuttle doesn't. So I could have gotten the cannon to work, and Grizzly would still be at Level 8. I didn't, though, cause it doesn't affect game time.

CRESCENT GRIZZLY: Aside from the music delay being pretty funny to me, I don't have anything to say here.

DYNAMO 1: A full second better than I planned, and a personal best. And to think it could actually go a fraction of a second lower. While getting Hyper Dash, I forgot to reset my controls. It pisses me off, but it didn't have an effect on my performance in Rosered.

SPIKE ROSERED: This place was giving me problems. Usually I'd be in critical health during most of the fight. He caught me in his vine attack at the end, but this is still a personal best and I survived with 1 HP. It looks cool and only cost a fraction of a second.

BLACK DEVIL: Oh, do I have a story to tell. Most of the retries here were due to fudges in stage, actually. I didn't make to the Devil half the time. Most of the frustration during the fight comes from trying to get his eye on his foot or crotch so I can SDC. I found a sweet spot that makes him do it about 1 out of 3 times. If he was a few levels lower, it might be possible to kill him in one go. I don't have that luxury, and there's an added problem afterwards. most of the time after SDCing him, he would do the blob thing from each side of the arena, a run killer. Once he did the Wily tank, which was my plan of action.

But this playthrough surprised me. Instead of doing either attack, he did his regular eye routine. Amazingly enough, the eye was on his foot again! I did not expect that at all, so there was a delay in my second SDC. Beautiful. To quote Angerfist, "Satoryu is back with a vengeance!!"

TIDAL MAKKOIN: No real comment here. I will say that Cremator's technique of fighting Makkoin with Danchien is surprisingly effective.

RANGDA BANGDA: Much like the Black Devil, this place was giving me all hell. There were a ton of little things that would screw me over. Hisuisho is a lifesaver, as is the virus. The ideal setup on RB would be to kill the red and blue eyes with SDC, get the green eye down to its last hit, then kill the nose and finally the green eye. Luck was not on my side in this fight, so I settled with killing the red eye after the nose. Cost maybe a second and a half.

X vs. ZERO: Despite having Hyper Dash, my time is three seconds slower than the current any%. This is due to Zero's level being five times larger. Quick Charge would be nice here, but that means doing Kraken's stage without Messenko. I'm not sure which would be faster, but I'm leaning towards this. Big thanks to whoever discovered the Zero AI bug.

SHINING HOTARUNIX: The delay before the first set of spike traps actually worked out, cause the spikes were all in the perfect positions. The final set of stairs had some problems, but didn't really cost too much. Had a miss on Hotarunix, but it's forgivable.

VOLT KRAKEN: As far as I can tell, shooting the orbs at the door does not count towards game time. So during the air bike segment, I tried to air dash more often to speed things up. I might've been able to do more. Had some delays on the first few locks, but the rest went really well. The Reploid I got was real cheap, so I was in a low health situation during the Kraken fight. Maybe that's why I Hisuishoed twice unintentionally.

DYNAMO 2: Just like the first fight, this is a personal best. It could be better if I didn't get hit by the Giga Attack, but so be it. I'm not even sure how the hell it hit me... This is the last of Zero you'll see in the run.

SPIRAL PEGACION: Had a hiccup after the first bomb. Missed once on Pegacion, but I got an extra hit in before he started dive bombing, so it evens out.

DARK NECROBAT: The close call after the Wing Spiral part was completely intentional. The stage itself was actually pretty flawless. The fight would've been quicker if he stayed up top, but this is still passable.

FINAL STAGE: Fighting Makkoin with Nova Strike sucks. It's hard not to miss. And I fudged up his return trip. Goddamn hover. Missed once on Rosered. Same situation with Pegacion as before. Did not miss once on Hotarunix. Again, Necrobat didn't want to stay up top. And I missed once on him, which is probably the worst mistake in the run. Hell, that might have cost me sub25. The rest of the repeats went very well. Sigma didn't go as planned, but the time was roughly the same. Gamma Sigma didn't let me get two hits during his first phase, and the purple blocks slowed me down slightly.
Took me about six hours to get this segment acceptable, and I'm still not too happy with it. I know under 25 minutes is possible. It's just that it's so hard for everything to go the way I want them to. But I digress. 25:03 is still very impressive. Besides, that whole subXX thing is just in our heads.
There are about 5 to 10 seconds worth of mistakes in this run. 15 if I'm underestimating it. But I see this run staying for a while. I doubt an improvement will ever come, at least not from me. I think with this I'll retire from X5. Getting this done has lifted a heavy burden off my shoulders, as my old 30:59 was just not good. There are a lot of nifty things here. Some of which actually still surprise me (Black Devil.)
Watch and enjoy.
100% 0:34:12 by Patrik Salonen in 21 segments.
Get Flash to see this player.
Author's comments:
I'm not good at making comments, I'm afraid. I do them after I do the run, so all I can see is the mistakes I made, or how horrible I was when I started the project, which results in a highly negative tone. I usually notice it when I overdo it, and try to balance it a bit. Needless to say, the result is an incomprehensible, useless mockery of a comment text. Suffer.
I aimed for creative use of weapons and interesting route while maintaining the fastest possible speed I could think of. Whether I succeeded or not is up to you to judge. I go through my run, part by part, explaining what's going on and pointing out the biggest things that bugged me, or that need attention for some reason.
Intro: At the time, I thought getting this time would be a humongous feat of skill, but well... it's not. Looking back now I almost can't understand why I settled with this, especially because of the slight jump in the very beginning of the segment; that happens because of a bug in the game. If the game has to wait because of something (loading usually) the game recovers from it by speeding up the game to an unplayable mess. Mostly this happens when entering a stage, but because my computer is good enough to load everything on the fly, this usually doesn't occur. Usually. Sometimes, however, the happens some ingame loading (I'm just guessing), which leads to a pause and a sped up part afterwards. Fortunately, this only occured while I was in mid-dash, and there were no nearbly enemies to collide to. So basically, there's a slight twitch in the recording, that hopefully doesn't get my run rejected. Most of the level went fine, but I still hadn't mastered the saber dash cancel move fully. Also, there are some slight stupidities in the climbing part.

Filler: I needed to get the shuttle working, and raise the boss levels to get parts from stage bosses. I get two game overs in the Grizzly Slash stage.

I thought an ideal way to raise the boss levels was to get through the virus stages first, and as a bonus, I got my hands on the Ultimate and the Black armors. I was a bit unsure at first, because doing the levels now would be slower. Fortunately, not too slow, and my little risky move paid off nicely.

Virus Blue: I grab the walls a couple of times than was necessary, and air-dash too soon when reaching the bottom, but otherwise this went well.

Virus Purple: I figured that the fastest way to get past the big hoverers with the shields would be through them, so I gain virus Zeros to gain invincibility and full health recovery, which allowed me to keep a moderately fast pace. I had some problems with the first virus, as I didn't get it for some reason. Fortunately I gained the extra one almost immediately afterwards, but it still might look rather odd, jumping around like that. Rangda Bangda doesn't act exactly like I wanted it to, but everything still turned out rather well.

Virus Red, part 1: I get the Ultimate armor and kill myself, repeatedly.

Virus Red, part 2: The stage is alright. I get the Black Armor I hadn't mastered the SDC at that point yet, so the boss battle probably could have gone better. Personally, I like it how I happened to collide with X the same time I gave him the finishing blow.

Mattrex: I get the heart tank and the armor part. I have some troubles getting up the lava and the ropes. The boss fight looks a bit stupid, as Mattrex refuses to stay still. I would have used X in this stage, but the boss level is too low for him to get any parts from Mattrex.

Grizzly Slash: I get the extra heath tank and the armor part. The stage is short but challenging nonetheless, mainly because there's so much junk scattered about. SDC'ing is still a bit edgy, but otherwise, not bad. Too bad the boss fight consist of nothing except SDC.

Dynamo: SDC starts to get in shape. That's all there is to say. I exit out of Grizzly to get the Hyper Dash.

Izzy Glow: I get the extra life tank and the armor part. I use Ultimate Armor to pass through enemies while maintaining a good speed, get lucky with the cannons, only to be out-maneuvered but Glow. Ah well...

Squid Adler: I collect the armor part. Here's the reason I tackled Glow first; Crush Flasher is quite the asset on this stage, as you'll probably soon see.

Duff McWhalen: This stage is, mostly, one big autoscroller. Excluding few key points it doesn't matter what you do, as long as you stay alive. The key points went well, but I was hit multiple times on the autoscroller, and all of them were completely unnecessary. I probably could have avoided them, too, by cowering in a corner, destroying all the projectiles coming at me, but where's the fun in that? I get the heart tank. The boss fight went as I planned.

Izzy Glow & Duff McWhalen revisits: Fighting the submarine with X isn't fun. I get the heart from Glow and the armor part from McWhalen.

The Skiver: I should have started using the Tri-Thunder immediately... the part when I meet the first stationary turret is just stupid. I miss the Skiver a couple of times, too. I get the heart tank, the W-tank and the armor part.

Dynamo mk.2: It isn't going to get any faster than that.

Grizzly Slash revisited: I'm very proud of this segment. The only thing I can think of to save time is quickly change to Squid Adler's weapon to prevent the (intentional) hit I took. I get the heart tank. By doing this now I gain access to the Jumper part.

Axle the Red: Although you can't really see it with bare eye, it struck me (after watching it in slow motion) how I take a half or one steps each time I hit the ground before the next leap. I wanted to do this with Zero because it just looks so cool when he gets to the capsule. Yeah, it's a lot faster this way, too, mainly because Falcon X just has firepower that is next to none.

Dark Dizzy: There are some things I'm eager to point out in this segment. Firstly, I skip Alia's second tutoring by air-dashing below a platform. Neat, eh? Secondly, Cauldrath tipped me off of this great trick, which allows you to fly with the Skiver's weapon. Big thanks to him, it's a huge time saver. Then there's the third thing: The execution of all of this is far from optimal. I use Nova Strike some times even when it's faster not to, I didn't quite pull off the flying part, and I even miss the port to armor capsule once and hesitate a bit with Dizzy. These things didn't take as much time as one would think, however, and I was sick and tired of this stage. In addition to the normal chances of failure, you can fail at timing in the first part, botch the flying, die while taking the heart tank (or use excessive amounts of time getting it), fail getting the armor, and as the last straw, the very last thing that pushes you over the edge, is Dizzy's draining attack that looks like he starts french kissing X. On normal play this a laughable attack that deals very low damage, but in a speed run it's infuriating, because Dizzy takes his sweet time doing it, and it's usually almost impossible to avoid. So, I take the energy tank, the heart capsule and the armor part, and move on.

Axle the Red revisited: I take the heart tank. The Gaea armor has the same speed no matter whether you walk or dash, but oddly, dash jumping is faster, so I use that. The later part of the segment may look bad with all the taken damage, but it has never about the style anyway.

Squid Adler revisited: I equip the Ultimate Buster for the Ultimate Armor to ultimately face the ultimate challenge that is Sigma. Well not really, but it saved me the pain of equipping it every single time I try to nail the Sigma stage. I use dashing as much as I can when I have the Ride Chaser. There's some hassle with the fourth locking system, and the last port blocked me because I jumped too early. I only shoot one block instead of two, which hurts the style more than the time, but it hurts the time nonetheless. There's also some weird bug near the last lock; my shots stop in mid-air if I approach the locking mechanism at the same time.

Sigma: I took slightly different approach to the stage than normally; I have the Ultimate Buster, so might as well use it as much as it is reasonable. I start with Squid Adler, because Izzy Glow is my biggest threat. The fight can drag on and on if you don't get lucky. I miss the teleports more than I should, the McWhalen fight could have been more accurate, but on the other hand, Axle the Red was very nice to me. The disappearing blocks weren't cooperating, but Sigma, on the other hand, was. No MEH rank for me.
With improvements to certain levels, especially near the beginning, and with more luck, sub-34 is guaranteed to be possible, maybe even sub-33 if you're both really good and very lucky. Not by me, though, my luck isn't up to that. So I represent you, Mega Man X5 100% speed run, which turned out to be quite possible and even of feasible length. Enjoy.