Metroid Prime was released in November 2002 and is the first Metroid game to be 3D, in a first person perspective. Many nicely placed ledges and some glitches allow a vast amount of sequence breaking and speed running opportunities. There are several version differences between the NA and EU (PAL) versions that make the EU version slower and more difficult for speed running. The North American "Player's Choice" version is an even further butchered version.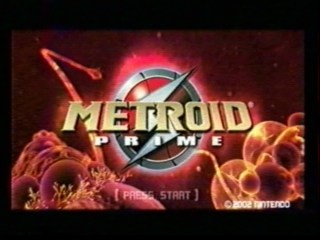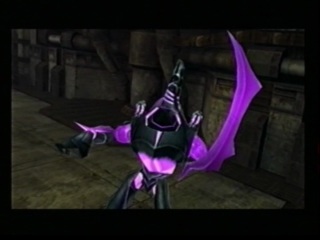 Runs using the original 0-00 North American version:
Runs using the European [PAL] version:
Return to the Game List, the FAQ, or the Home Page.
Single-segment 0:56 by Charles Griffin.
Get Flash to see this player.
No author's comments provided.
Hard-mode 1:15 by Besmir Sheqi, done in 18 segments.
Get Flash to see this player.
Author's comments:
First of all i'd like to thank kip, Stefan van Dijke and pirate109 who helped me with their 1:04, 109, and 1:11 Any% runs. Also thanks goes to Ekarderif who made the previous 1:24 run and who also helped me with the item collection. I didn't want this run just to be a kip 1:04 on Hard mode but i tried to use my own style getting through the game.
I think the hardest part was the final segment. Getting a good segment was a little hard and i ended up with many 1:16s. Finally i was very happy that i got the Final time 1:15. I also died a lot at Prime. It wasn't that easy to survive at metroid prime with only 2 energy tanks. Well first the final segment was hard for me but later i got better and better and in the end the final segment was easier for me, and i also barely died then.
The segment with the second mines trip was kinda hard too and it was the hell to survive with only 1 energy tank; especially because i wanted to get through the room with the artifact of warrior without killing the mega turrets but i wanted to ignore them. Well finally i couldn't ignore them because they always killed me again and again. It seemed like it was impossible to ignore the mega turrets and the power Trooper with only 1 energy tank on hard mode. And so i did the same what smilingjack13 did in his hard 22% 1:28. i just left the room again and came back again when the turrets disappeared.
I think there is a good chance for 1:14, maybe a very high 1:13. I doubt anything much lower is possible.
As always i would also like to thank Nate for processing the run, and Radix for getting it up.
enjoy
MPzoid
100% 1:24 by Besmir Sheqi, done in 21 segments.
Get Flash to see this player.
Author's comments:
After i heard about the terrible news i would like to dedicate this run to Mark Haigh-Hutchinson, R.I.P. First of all i feel constrained to thank him for these awesome games Metroid Prime, Metroid Prime 2 Echoes, and Metroid Prime 3 Corruption. In my opinion these three games are the greatest games ever made, especially the first Metroid Prime (especially because it was the first 3-D Metroid), and after that comes Metroid Prime 3 Corruption. Then i would also like to thank the whole Retro Studios team for its great work through all these years. Also special thanks to retro's David "Zoid" Kirsch (the original Zoid). Some of you might have noticed that i named myself after him, and of course David Kirsch is the main reason why i named myself zoid so i am very honored to bear the same nickname as him. David "Zoid" Kirsch was also the teammate of Mark Haigh-Hutchinson since they were both senior engineers of retro studios.
This is definitely my best Speed Run of my life, it's even better than my 1:03. There is barely any error in this run. It is four minutes faster than the probably most popular 1:28 breakthrough by bartendorsparky and according to my time it has to be a great speedrun. Though sparky did his 1:28 in only three weeks so his 1:28 is definitely very good for doing it in only 3 weeks. Well there is not much to say about this run cause there is no mistake in this run, it's really my most beautiful speedrun and if someone asked me: "which of your own runs is your favourite?" i would say it's definitely this one. I am not sure whether this is the most optimized Metroid Prime speedrun ever but i am sure my 100% 1:24 and pirate109's PAL 100% 1:30 are definitely the two most optimized Metroid Prime speedruns ever. With all the random stuff in Metroid Prime it is impossible to do a perfect speedrun but the job of us speedrunners is to drive the time as close to perfect as possible. I think the perfect time for a TAS (tool-assisted) Metroid Prime Single-segment 100% speedrun would be maybe around 1:20. That's the time a programmed bot could get, but for us humans 1:20 is impossible.
I started this run at the same time when i started my any percent 1:03 and you will notice that the first three parts of my 100% 1:24 run are the same first three parts as in my any% 1:03. I did that to save time and effort. But i finished the 1:03 much sooner because i was mainly working on the 1:03. After i finished the 1:03 i started working more intensely on this 100% run. Well this is almost an up to date-run; as far as i know the only minor speed tricks i missed in this run are the faster Flaahgra method with the dashes and the ghetto jump in Geo core to get to the ice beam door which leads to the plasma beam in plasma processing. At the time i was working on those segments (in the any% and in the 100% run) i didn't know about those two speed tricks yet so i think it's not my fault and nobody can blame me for not doing it. Being a speedrunner means you must always try to stay up to date and this is not so easy because there are probably a million people out there in the internet who visit those sites and theoretically everyone of them could discover something new. And nowadays there are still being discovered plenty of minor speed tricks every month (if not every couple of weeks) in Metroid Prime so there is no chance for me to stay always up to date especially when i don't get online often. And by the way those two speed tricks i missed are minor ones, especially the ghetto jump in geo core is a very minor one. As far as i know the faster flaahgra method saves only about five to seven seconds, and the ghetto jump in geo core even saves only about two or three second, and both together would add up to ten seconds so it doesn't matter unless those 10 seconds would be the difference between 1:24 and 1:23 which (i'm pretty sure) isn't. Unfortunately my 1:24 was just too far away from 1:23:59 (I timed it being at least a 1:24:40) so there is no chance for me to get 1:23.
Thardus was really fast done with five power bombs and i also did the Meta-Ridley's fly-by skip again in this run but Luckily this time i didn't suffer as much as in my 1:03 and i got the ridley's fly-by skip-segment much sooner. I think the best boss fight of all was definitely the metroid prime fight; in a 100% run it would be fastest to fight prime only with the Ice Spreader during the first form fight and that's what pretty much happened in this run. Metroid Prime was cooperative and he always used his ice form so i could always use the Ice spreader as the fastest weapon agains prime's first form, allowing me to save plenty of time and get the optimal five minute final segment. I have estimated the optimal final segment for a 100% run would be around 5:00 (5 minutes) and i timed my final segment as being about 5:02 or 5:03 so it's almost as close to perfect as possible. I would have to get a 4 minute final segment for 1:23 and that's not possible, the current fastest time for the final segment is 5 minutes, and as far as i know this is the first time that the final segment has been done in five minutes.
Now this year is over and when i look back to this year i think the year 2007 was definitely the golden year and the highlight year of metroid prime, with more prime runs than any of the other previous years. For me 2007 was my golden year and my Metroid Prime 100% 1:24 speedrun clearly is one of the best speedruns of 2007. When i started my 100% run i would have never believed that i would break the 1:25 mark. I am very satisfied with my 100% 1:24, i am so happy with my 100% 1:24 and i am very proud of it. Maybe you think i have only done Any% and 100% runs but no low% run yet. Yes i have done a 22% 1:34 run which can be seen at archive.org so with that one i should have done all categories this year.
Without Sparky's famous 100% 1:28 i probably would have never been able to do such a great 100% 1:24 run. His 1:28 was the guideline for this run and so i would first like to give a huge thanks to Bartendorsparky who supported me a lot with his (3-week-rushed) 100% 1:28; sparky is my favourite speedrunner, in my opinion he is the best and most talented metroid prime/3D-Metroid player and speedrunner in the world and he is also a very friendly and modest person and he always helped me and gave me advices for metroid prime and i find it really kind of him :) so thank you so much Sparky. Further i would like to thank pirate109 who also supported me a lot with his awesome pal 100% 1:30 breakthrough, and also thanks to Stefan van Dijke who also helped me a lot and gave me advices for metroid prime and who is also one of my favourite speedrunners. Thanks also to nate who always likes my runs, who always cheers me on and who is also a very friendly person and who received and processed all my runs through all these years. Thanks also to DjGrenola for making it possible and still giving me the space for this record at SDA. Also thanks to Radix who brought me to Metroid Prime and who sympathized especially the 100% category for me with his famous and legendary 100% 1:37 breakthrough, and thanks to all those i forgot to mention.
Finally thanks again to Nate, DjGrenola and Radix for processing my runs, getting it online and for these awesome websites Speeddemosarchive and Metroid 2002. I hope you like and enjoy this run and i hope you see lots of new stuff in it.
Cheers!
MPzoid
Single-segment 100% 1:29 by Besmir Sheqi.
Get Flash to see this player.
Author's comments:
Finally the 1:30 mark has been broken in the Single-segment 100% category. This is the first Single-segment 100% run that enters the 1:2x range, and it's only 1 shy minute slower than sparky's famous segmented 100% 1:28 breakthrough, and it's only 5 minutes slower than my very optimal segmented 100% 1:24 run so it surely has to be a great speed run. When i started this category for the first time my goal was sub 1:40 so i am glad to see finally i got sub 1:30. This category is my most intensive of all my Single-segment categories; it took me far more attempts and much more time than any other single-segment category. Finally i have decimated the time difference between a single-segment 100% and a segmented 100% run down to five minutes. Sure the difference between my segmented any% 1:03 and my single-segment 1:06 is only 3 minutes (2 minutes less than for the 100% runs) but usually a single-segment 100% run has more errors than a single-segment any% run because a single-segment 100% run is way harder and longer than a single-segment any% run so you can't really say that my single-segment Any% 1:06 is better than my Single-segment 100% 1:29 just because it has less errors. They are both great runs each one for its own category. And with all the random stuff in metroid prime i think my single-segment 100% 1:29 did very well being only 2 more minutes slower than the segmented run compared to the Single-segment any% 1:06.
There are about four errors in this run; the first one was in Research Lab Hydra when i missed a few jumps to get onto that narrow pipe thingy. The second error was in Tallon Overworld in Transport Tunnel B just when i returned from the Phendrana and Magmoor Cleanups; as i was boosting over that little bridge i tried to avoid a crash with those barbed creatures that look like black hedgehogs (forgot their name) and then i sliped or somehow lost control and then fell under the bridge, which cost me a few seconds. The third error was in Fungal Hall A just when i entered the room; as i moved towards the hunter metroid i did a combat dash accidentally and fell in front of the mushroom insead of onto it and then it got even worse and i missed some additional jumps trying to get onto the mushroom. It was really annoying me cause it cost me important seconds. The fourth and last error was near the end of the run in Landing Site just when i made my way up to Ridley and missed a few ghetto jumps towards the ledge in front of the door. There may be some more mistakes which i forgot to mention here but these are the worst mistakes, the rest of the run was quite good enough.
I have noticed in phazon mining tunnel that on ntsc version you lose more energy than on pal version. On ntsc the phazon damages samus faster so in an ntsc Single-segment 100% run the early newborn is harder and riskier than in a pal single-segment 100% run. Some of my Single-segment 100% attempts were ruined near the end in phazon mining tunnel when i died at early newborn. There were even some very good runs that were ruined by early newborn and that was especially painful. But thankfully finally i got a very good run that wasn't ruined by early newborn but was finished. :)
There are some good chozo ghost fights in this run and most of the boss fights were also good, especially prime's first form was very good. Unfortunately i failed trying to kill prime's second form in 3 pools so prime's second form took me 4 pools but it was still quite a fast second form battle since prime wasn't hesistating with the pools but he laid the pools very quick.
With avoiding all the four major errors i did in this run it would be possible to get 1:28 but that would be just too incredibly hard as i would have to do a single-segment 100% run that's as good as sparky's segmented legendary 100% 1:28 run in order to get 1:28 and i don't want to do that. Sure there will always be some fellows who aren't satisfied with this run and i know there are some people out there in the world who dislike me for any reason i don't know so they automatically don't like my speedruns regardless how good my runs are and after all these runs i have done for Metroid Prime and for SDAm2k2 it makes me feel sad to see there are still some people who don't like me. They wouldn't like me even if i get the mythical 0:59 in Metroid Prime, they will never change their mind about me no matter what i do so it doesn't make sense for me to work any more on metroid prime. But i don't care about it cos i know this planet is dark. I would just like to say those who have never really seriously tried speedrunning Metroid Prime on their own can't really appreciate and they can't understand how much work such a speedrun is and how much patience, energy and effort it takes out of you and they will never be able to understand it. So that's the reason why that sort of people disrespects your runs/your work, but those who have never really tried it on their own can't really judge about my work so they better shut up their mouth.
I would like to thank sparky, stefan, pirate109, nate, and all the other ones i forgot to mention for their support and help for this run. I would especially like to thank Nate who kept cheering me on through all these years with this Single-segment 100% category, and probably also thanks to him finally i got such an awesome time. Again thanks to Nate, DjGrenola and Radix for processing the run and for having these awesome web sites.
Enjoy the run!
MPzoid
Hard-mode 100% 1:37 by Besmir Sheqi, done in 22 segments.
Get Flash to see this player.
Author's comments:
I think when people will see this run first they'll think that it's strange that the time of this run is 1:37. Yeah i think it is very bizarre that this is the second time that the time 1:37 triumphs again right after Radix's famous 1:37. But this time it appears to be on Hard mode.
I think this run was very good done. IMO the worst part was part 18 (second mines trip) which includes a few minor mistakes and i think the part with the final boss was especially good done. I was expecting the final part to be done in at least 11 or 12 minutes. In the end i was very happy to see a final part done in 10 minutes.
I think a 1:36 is indeed possible. Anything sub 1:35 should be out of reach.
Huge thanks goes to Radix who brought me to Metroid Prime with his legendary 1:37.
Also thanks to kip who inspired me with his famous 1:04 and who helped me a lot in Metroid 2002.
Then i would also like to thank Bartendorsparky and pirate109 who supported me a lot with their 1:28 and 1:30 100% runs on normal mode.
Finally thanks to nate for moral support and for encouraging me and for processing the run.
And again thanks to Radix for getting it online.
enjoy
MPzoid
22% 1:18 by Robert Nobles, done in 18 segments.
Author's comments:
After my 23% run I did a while back, I thought I would be done with speed running Metroid Prime. That still proved to be the case when the 22% game was finally nailed down. I personally confirmed 22%, though it didn't really need it; everything worked. Within a few weeks, I found myself wanting more. I told myself, "anyone that will speed run a 22% game is insane." That soon turned into wandering thoughts of actually doing it myself. Because people were so interested in doing 23% runs, I figured, "why not run 22%?" and got to work. This was late December '03.
I'm sure there's a date on this somewhere, but just in case, it's November '04 (I actually finished October 27th). That's 10 months of my life dedicated to this game (some months more than others; in fact, it took me 2 months to get the Geo Core segment alone). I know some of you are asking, "why put yourself through that?" That's easy; I knew I could do it. I didn't know if I could get a good time, but I knew I could at least finish it (I had done one before, but I wanted to get it on tape). In fact, I joked around with kip that I would get a 1:19. I honestly had no clue I would come even close. As you can see, I beat the guess by a solid minute.
Now, for the beatability (a word? I think not) of this time. While I'm sure my judgement is biased, this is a solid run. It can definitely be beaten, but not a lot has changed route-wise or strat-wise since I started. I see 1:17 as a good possibility, and probably even 1:16. Not sure about anything lower, but feel free to prove me wrong.
If you don't have a lot of experience with 22%, the hardest parts about the game are not the lack of life, as would be expected. The Geothermal Core segment (segment 8) has the nastiest trick in the game, which you will see. The timing has to be so precise. If it's off just a little, the segment is botched and you have to try again. Right behind Geo Core follows Vent Shaft and Life Grove, the other members of the 'big three.' Vent Shaft requires a nasty bomb jump, and Life Grove requires some tricky spinner manipulation. Aside from the three above examples, there are other difficult segments not directly related to tricks. The segment that involves the Artifact of Warrior (Segment 11) is an ass-kicking waiting to happen. There are so many ways to die in that segment it isn't even funny. There are more examples, but why should I ruin it?
It's no coincidence this run was finished near the release of Metroid Prime 2. The original intent wasn't to take this long, but that was an implied goal I've always had; at all costs, finish before then. I realized this run was in jeopardy on August 29, about 2 months before I finished. I had been working on Geo Core for 2 months and going nowhere. I woke up that morning and looked at the calendar; I had to knock out 11 segments in a little under 3 months. I then made a decision: quit complaining because the game is screwing me over (in all fairness, it was). From that point on, I put all emotion beside and let a higher power take over. All I simply had to do was get up each day and try. If I was supposed to finish, I would finish; no worries if I didn't make it. Well, we all know what happened. In fact, I did the rest of the segments so fast, I had time to take breaks and play other games. A little food for thought, you might say.
Now, for the vids you are about to download. There was a problem with a couple segments. Because I recorded to a VHS tape, there was always the possibility of recording over a previous segment. I am obviously not above this, because I did it during the Flaahgra segment (segment 4). Nate and Radix have worked their asses off to fix this, and I want to thank them for it. See, I captured the segment before I recorded over it just so I could show my progress (the capture had no audio to conserve file size). Those two have replaced the corrupted video with a 'patch' of the previously captured video. I'm sure you'll notice this in the run because of the lack of audio, but do not fret, nothing fishy went on during those few seconds. Of little consequence is the fact that I recorded over the save cutscene of segment 10. This was fixed rather seemlessly, again from my capture.
Well, I know I've gone on too long. In fact, I'm pretty sure most of you either didn't read this at all, or stopped after the first paragraph or so. Therefore, I'll stop holding you up with my rambling. I hope you like the run; I worked my ass off for it.
Single-segment 22% 1:41 by Shawn Jones.
Author's comments:
I started trying single segment 22% runs almost a week ago. At the time, I just wanted to finish a run; time was a secondary objective. I changed the route to ignore Geo Core the first time you reach it. I was going to do Life Grove and the wave pirate battle, then return for the plasma beam. However, I wasn't having much trouble getting deep into runs and Geo Core was cooperating, so I decided just to go back to the normal 22% route. I did take the long way back to Chozo Ruins after getting the wave beam, but that was only to avoid the crashable elevator. Also, I didn't do the Thardus dash, but that shouldn't be too surprising.
Anyway, a good time became a slightly bigger goal as I was trying more. I am pretty pleased with this time, despite some unnecessary mistakes. The only part of the run that I am really disappointed with is Vent Shaft, which took me an embarassingly long time. I was even more disappointed because I had gotten it on my third, fourth, and first tries on my previous three runs. Oh well. Geo Core was fast enough to make up for it.
I didn't spend very long on this run, so I might try single segment 22% again in the near future. If I did, I would either try to get a really good time on normal, or I would try one on hard... I'm undecided. And I will buy a longer tape and record the next one on SP. Sorry about the poor quality in this run.
Enjoy!
Hard 22% 1:28 by Shawn Jones, done in 17 segments.
Author's comments:
I started this run shortly after I did my single segment 1:13 run. I really wanted to do a multi segment run so that I could polish it and make it enjoyable to watch. I basically wanted to do the "coolest" run I could, so naturally, I chose hard 22%. At the time I had no idea that I could get below 1:30, but that's how it turned out.
If you're wondering how long this run took me, it took almost 8 months. However, all of that was not solid playing time. I did take some long breaks throughout that period. The average segment took me two days or so to do. A handful of the tougher segments took me about a week. The two segments that took an extremely long time were #5 and #11. Those are definitely the two best in my opinion. Segment 11 was brutal, because surviving a fast wave pirate battle was very difficult. Then, even if I did get past the battle, the segment was just starting. There were still tons of tricks and enemies after that point, and not dying was the biggest challenge. This segment frustrated me so much that I did single segment 22% to cool off. Segment 5 was a huge pain just because of its immense length and all the lucky factors that can repeatedly screw you over. Segment 8, Geo Core, also took a while, so it's worth mentioning. We all know how rare the bomb slot stall is.
When I got to the Ridley segment, I was really hoping for a final time of 1:30 or 1:29, but I wasn't sure if I could go that low. I figured since the last two bosses would be very hard, or impossible, to do perfectly, I just wanted to have solid battles that were good enough to get the time that I wanted. That's why Ridley could definitely be done 10 seconds faster or more; the no-damage glitch wasted some time. However, Ridley is almost pure luck, and it would be quite a challenge to get luckier than I did on this run. After the Ridley segment, I was confident that I could get 1:29. I had a couple of 1:30's where I used ten pools on the last boss, so I figured a solid run with nine pools would be 1:29. Therefore, when I did my final segment and had a nine pool battle, I expected a 1:29. To say the least, I was pleasantly surprised to see 1:28 come up. It's as if the game wanted to give me a parting gift as I finished my run.
To conclude, I am extremely pleased with this run. I worked very hard on it and I will look back on it for a long time to come. I really don't know if I, personally, could do any better than this. Maybe I could get 1:27 if I threw in the handful of little tricks that I missed, and polished out the few mistakes that I accepted. Regardless, it's pretty spiffy, and there are a few new dashes and tricks in here (they were new to me anyway), so hopefully you're willing to watch one more Metroid Prime run.
Enjoy!
Frigate Escape 0:04:30.05 remaining by Paul Evans.
Author's comments:
The point of this run was just to get over 4:30, to confirm that it was indeed possible. This is still far from perfect, however. The parasite dash in particular was pretty horrible, as well as some small mistakes that added up over time. But as this run still broke 4:30, it was good enough for me.
PAL version 1:07 by William Tansley, done in 17 segments.
Get Flash to see this player.
Author's comments:
I found myself with more free time than usual earlier this summer, so I thought: why not get back into speed running the best game ever? In addition to this, I was so impressed with sparky's 1:01 from last year that I again felt motivated to try and create something just as impressive (just like way back in 2003 when I discovered Radix's famous 1:37 100% run).
I'm not sure if I managed that, but this run is certainly very good. It's definitely a tighter run than my old 100% 1:30 run, which itself is still decent. I would say there are about 15-20 seconds of errors on my part in this run. However, the random elements can definitely be considerably better. Incinerator Drone is 1:04, which is very good, but I've got 1:00 before and I know even faster is possible. The ghost battle for Artifact of Wild can be around 10 seconds better, but that's extremely rare. You need to be able to chain each ghost using partially charged shots until it dies, but I only manage to do this for one of them. As sparky said in his comments for his 1:01 run, ideally you'd just fire completely charged shots over and over at each ghost, but in practice they will never appear at precisely the right time. The powerbomb maze can be about 4 seconds better, but since the segment was flawless otherwise I decided to accept it. Finally, Metroid Prime's first form can be at least 8 seconds better with lottery-winning luck, and the 2nd form can be a huge 27 seconds better if you manage to kill it in 4 pools (I didn't bother to keep trying this, since the time I have got is 1:07:58 and it wouldn't be nearly enough for a final time of 1:06). For more detailed comments on each segment, you can listen to the audio commentary. Anyway, 1:06 is definitely possible, and I think I could do it with enough time. I'm thinking of making it a long-term project, and by long-term I mean that with the optimization of both random and non-random elements that would be required, I could see plenty of segments taking months on their own. I'm not sure that I'd want to put myself through an ordeal like that anyway. I'd forgotten how gutting it is to play a 12-minute segment perfectly until right at the very end where you mess something up that you usually never would, when you've spent the last week trying to nail the part. Now that I've finished this run I look back and I'm not sure that the feeling of accomplishment upon recording a great segment is worth all the frustration. As a result, if I do another speed run in the future, I'll try hard to be a bit more relaxed about it and not get addicted to it. It's really not a good state to be in.
Now that I'm finished with that terrific advert for speedrunning this game, I'd really like to thank Stefan for his 1:09 run which was the previous record in this category. I stole absolutely everything from it that he came up with to improve on my old 1:11 run. Awesome tricks that I owe to Stefan include the idea of activating the bomb slot in Hall of the Elders before finishing off the ghost (part 7), shooting the ice door from a distance in the room after Frigate Crash Site (part 10) to avoid unmorphing/remorphing, and demonstrating how much faster Ridley can be killed if you interrupt his attacks at the right times. I would certainly not have been able to finish with 1:07 without the use of Stefan's 1:09 as constant reference. Hell, I'm not even sure I would have got 1:08. I think it's cool how in his comments for his 1:09 he mentioned that he used the tricks from my 1:11 and added a few of his own to get 1:09, and now I've used all the tricks from his 1:09 and added a couple of my own to improve the time by a further 2 minutes. It's healthy progress.
I'd also like to give a big thanks to Mr.X from the Metroid2002 forums for giving me tons of help and encouragement. His contributions include telling me how to perform rapid fire missiling with far more speed and ease, telling me about the Ghetto Jump that can be used at the top of Geo Core to get to Plasma Processing about 4 seconds faster than the usual method (it also looks really cool!), and making me realize that Metroid Prime's second form takes more damage from the phazon pools if it's hovering very close to Samus while you shoot it. Again, I would not have achieved 1:07 without his help.
Thanks also go to everyone who watched the run on my youtube channel while it was in progress and left supportive comments. Knowing that people were watching and enjoying it gave me the motivation to continue and finish it off. Finally, thanks to Flip for accepting this run, nate for processing it and anyone else who may have been involved with getting it on to SDA.
Enjoy the run!
PAL version Single-segment in 1:16 by Stefan van Dijke.
Get Flash to see this player.
Author's comments:
I would like to use this opportunity to thank all the guys at metroid2002. I have had a great time all these years. I think back sometimes to the moment when I was introduced to Metroid Prime's sequence breaking. This was when I was watching kip's 1:04. I can still remember segment 2, space jump first. I have never been so surprised, seeing samus fly towards the spacejump. I could not believe what I was seeing. From that moment on Metroid Prime has been something completely different to me. I loved to play it just how the game was, find all items, beat all bosses, and play it again. I might have never become a speedrunner if I hadn't downloaded kip's world record at the time. It might have been a compleet coincidence that I found it. In the end I still don't know if that was a good thing, or a bad thing. I have wasted a lot of time on this game but the future will tell me, when I look back at this if it was a good choice. Its time to move on to the more important things in live and I will stop speedrunning. Oke, thats it.
Huge thanks to you guys!
PAL version 100% in 1:30 by William Tansley, done in 19 segments.
Author's comments:
This run took me far longer than any of my previous ones - I actually began it pretty much right after finishing the 1:11, IIRC. This is partly because IMO 100% runs are far harder than any% ones (can't really say with low%s, since I've never done a 'proper' low% run), but mainly because I had to spend what felt like half of the total time taken doing pre-runs of two possible routes (I also had to run each one to the ship near the end before ridley, since unfortunately they didn't meet at any point prior to that). The other route I was considering turned out to be a whole five minutes slower than the one I took, contrary to what I thought before hand (the one I did choose is just Radix's updated route, with a few minor PAL-modifications - it seems that he pretty much hit the nail on the head with it).
One change that I did make to the route (suggested by sparky) was to not fight thardus on the first time I saw him; instead, to bypass him using the 'thardus jump' and come back later once I had another PB from Phen's edge. This is because I ran out of patience waiting for 2 PBs refils from the previous segment (ironically, my impatience probably ended up saving time ;p). Anyway, I ended up having a total of 5 PBs for thardus, enabling me to get a totally badass fight. :)
It was very frustrating when I got to ridley near the end, because I'd tried and tried to get the trick to make him skip his fly-by that kip does in his 100% (discovered by Red Scarlet) happen, to no avail. It was particularly annoying because it looked as if the trick would be the difference between 1:30/31 at the end. After many hours of trying, I was obviously getting more and more impatient, so what I did was copy my save before ridley on to another card and temporarily ditched the trick. This meant that if I found that the trick would be required for 1:30, I could go back to before ridley and keep trying for it. As expected, getting a good enough final segment for 1:30 was TOUGH. After a few days of failed attempts, kip suggested sending a 1:31 finish and to just continue going for 1:30 at my leisure - I thought this was a good idea, so I went ahead and made the copies of the run (I always do this, just in case the originals get lost in the post or something). However, the very day that I was going to mail the 1:31, I got like the luckiest first form ever (3 seconds quicker than Radix's 1:37 one, according to my timing), and a kickass second form to boot (MP finally was obediant and stayed away from the first form's corpse), resulting in 1:30.
Still, I'm pretty certain I only just scraped it - I won't bore you with all the various timings I did to find this out, but i think it's likely to be a very high 1:30 (at least 1:30:50), which is quite pleasing because it kinda proves that even if i'd ruled out any errors in certain parts it wouldn't have affected the final time (including the ridley trick, which saves around 22 seconds). I didn't keep a record of the time lost due to mistakes or anything, but IMO the theoretical limit for PAL 100% would be 1:28, perhaps a very low 1:29.
It may look like i'm saying this just because some of the other runners do ;P, but i'd genuinely like to thank the guys from the m2k2 irc channels (you know who you are) for encouraging me during the run and congratulating me after, especially sparky for the suggestion about slightly changing the route to have more PBs for thardus, Ekard for helping me with where to find the all too elusive PB refills, Miles for giving me the idea to use rapid fire on ridley's flying form and, as always, Nate and Radix for getting it up online. :)
Enjoy the run.
PAL version Single-segment 100% in 1:39 by Besmir Sheqi.
Get Flash to see this player.
Author's comments:
This is a very good speedrun, i am very proud of my pal ss 100% 1:39, it's only 9 minutes slower than pirate109's very good segmented 1:30. This is my fastest 100% run for PAL so far and it was my first time in a 100% run on PAL version that i broke the 1:40 mark. I remember when i started doing Single-segment 100% runs on NTSC version my goal was sub 1:40 and at that time sub 1:40 was known as a pretty hard goal for a single-segment 100% run on ntsc, so to see it even done on PAL version is quite an accomplishment.
There are about five errors in this run; one mistake was in hall of the elders when i took four or five attempts to be successful on the 3-bomb jump. Another one was in Metroid Quarantine B when i failed at the plasma trooper dash; i had to choose for one method to pass through mqb and i chose the faster and cooler method, obviously it was the wrong decision which cost me some important seconds. This was the worst error of this run. Another errror was in Metroid Quarantine A when the Metroids were latching onto me. Thardus is always a pain when you do a Single-segment 100% run regardless of the version because the Thardus battle is just so damn random and when you lay your power bombs it is random and you would be very very lucky if all your power bombs would hit him. And sometimes he wastes your power bombs by starting to roll much faster after he got hurt during his regeneration phase. And that's exactly what he did in my run, he started rolling much faster and managed to cost me many important seconds. And since that happens very rarely it hurts me especially a lot that he decided to do it now of all times. Worst is you can't even prevent it. So error number 4 goes to Mr. mischief-maker Thardus. The last (though very minor) one was in Reflecting Pool when i failed twice climbing the right side of the room and then cancelled the attempts to avoid additional time loss by switching over to the other and easier side. Those were the worst parts of this run, the rest was very good.
Everyone who has ever played PAL and especially with 100% knows how hard it is to get power bomb refills on pal version because on PAL version the game always refuses to give enough power bomb refills while on ntsc version the game always tends to give enough power bomb refills. And as anyone knows in a 100% run you need a lot of power bombs so it is conceivable that i had to suffer a lot in my PAL Single-segment 100% run about the Power bomb refills. Some of my PAL Single-segment 100% attempts were ruined near the end (second mines trip) because i had no power bomb when i needed them.
Maybe there are some who say: "there are errors in it, i don't like it.". Hey! This is a Single-segment run! And it's especially a very hard one because it's PAL plus Single-segment plus 100 percent so this is the optimal combination for a very hard category, and if you don't like it then don't watch it. This run was so hard for me to get, this is as good as i can get, it's almost my perfect, and it was very hard and very stressful for me so i don't think i can get 1:38 and i won't bother trying to get 1:38. In my opinion i did very well and it's a beautiful speedrun. Oh and by the way it's only one minute slower than Ding Chavez's NTSC Single-segment 100% 1:38 which was quite a good speedrun. So if there are some who say it's not good they surely prove that they have never really seriously played Metroid Prime otherwise they wouldn't gab bullshit.
Now to get to the bright parts of this run, i had a very good Metroid Prime battle, first form was very good, but especially his second form was very good. I got a 5-pool prime fight which is as much as stefan and pirate had in their segmented runs so it's definitely very good for pal. The Chozo battles were also not bad, the Ridley-battle was really good for a pal single-segment run. And I also had quite a good pal 4:20 frigate escape.
Thanks goes to pirate109 whose segmented PAL 100% 1:30 supported me a lot in my pal single-segment 100% run, while some alternate tricks were found by myself. Also thanks to Nate, DjGrenola and Radix for processing the run and the web sites it belongs to. I hope you enjoy my run and have fun with it because it's not only a pal run but imo it's a very good pal run.
MPzoid
PAL version 22% 1:26 by Stefan Van Dijke, done in 21 segments.
Get Flash to see this player.
Author's comments:
I started this run on 26-08-05. It was actually my first speedrun that I was going to do for metroid Prime. Once I finished segment 7 I figured I could start an any percentage run too. Notice that the first three segments are the same as my any % 1:09. I never continued my 22% run and finished my 1:09 first. I continued this run in late 2007 making it all the way to the geo core segment. I got stuck there as well but thats just because this segment is so damn hard. I won't mention it a lot, I wasted enough time on it already. When I finaly nailed the segment I progressed towards the great tree hall segment including the nasty spinner trick. And guess what, I got stuck again! This time it was serious and I didn't touch the run in a very long time. I actually thought I was never going to finish this, but Metroid Prime has something that always pulls you back in, I cannot explain it. When I finaly completed the segment in 2009 it went very fast and I completed the run in a few weeks. Before I started this run I was unaware of how extremely difficult speedrunning 22% is, I underestimated it. If I knew this beforehand I would have never started this run, anyone who does this is insane.
I will include a list of dates of when the segments were completed. I started this run on 26-08-05 and finished it on 03-03-09.
| | | | |
| --- | --- | --- | --- |
| Segment | End time / % | Description | Date |
| 1 | 0:02 / 0 | To savestation before parasite queen | 26-08-05 |
| 2 | 0:05 / 0 | Parasite queen and frigate escape | 26-08-05 |
| 3 | 0:05 / 1 | Space Jump | 02-09-05 |
| 4 | 0:10 / 4 | Missles, Morphball, Morphball bombs | 04-09-05 |
| 5 | 0:15 / 6 | Varia suit, artifact of Wild | 08-09-05 |
| 6 | 0:24 / 9 | Artifact of Nature, wave Beam, Artifact of Lifegiver | 15-09-05 |
| 7 | 0:28 / 10 | Ice beam | 04-12-05 |
| 8 | 0:33 / 11 | Power Bombs | 02-07-07 |
| 9 | 0:36 / 11 | Vent Shaft | 06-07-07 |
| 10 | 0:39 / 12 | Plasma Beam | 27-08-07 |
| 11 | 0:40 / 12 | Frigate Crash Site | 27-08-07 |
| 12 | 0:42 / 13 | Artifact of World | 27-08-07 |
| 13 | 0:44 / 15 | X-Ray Visor, Artifact of Chozo | 17-02-09 |
| 14 | 0:48 / 16 | Artifact of Warrior | 18-02-09 |
| 15 | 0:51 / 16 | Metroid Quarintine A, Metroid Quarintine B | 22-02-09 |
| 16 | 0:53 / 16 | Phazon Suit | 23-02-09 |
| 17 | 0:56 / 17 | Artifact of Newborn | 24-02-09 |
| 18 | 1:01 / 19 | Artifact of Elder, Artifact of Spirit | 24-02-09 |
| 19 | 1:06 / 21 | Artifact of Sun, Artifact of Strength | 25-02-09 |
| 20 | 1:14 / 22 | Artifact of Truth | 28-02-09 |
| 21 | 1:27 / 22 | Metroid Prime | 03-03-09 |
edit: Redid segment 18, 19, 20 and 21. To be honest these segments were quite sloppy in the 1:27 run. They now have higher quality in video and gameplay. Enjoy!
PAL version Single-segment 22% 2:00 by Stefan van Dijke.
Author's comments:
First of all, I want to thank Nate for compressing the file and radix for hosting. I captured it myself but you will notice that 60 hz capture is new for me ;).
I got interested in 22% single segment after seeing smilingjack's run. After I finished my hard mode run I decided to give it a try. Before I started working on the run I had to practise the hard parts. I tried the vent shaft bombjump but noticed it was too difficult, using it in a single segment run would take me forever. I tried the dash method but got to the conclusion that every attempt takes too long cos of reloading rooms. If I hadn't discovered an easier way of getting through vent shaft I would have probably not continued trying this run. Geo Core is random but for some reason my succes rate went up once I got consistand with the first part of the run. It still takes ridiculously long though especially in this run so prepare to skip through the run if you like. Last runkiller is life grove, I messed up here in the run and got unlucky too. Luckily after practising I got consistant with the bombjump out of life grove tunnel, and I needed it. The runs through the mines are tough so I took the easiest way, killing almost all enemies along the way. Ridley was eisier than expected because of his predictable movements. Prime one and two are definitely the toughest.
Hope you enjoy the run, its definitely the most intense run I have done so far.
PAL version Frigate Escape 0:04:25.40 remaining by Besmir Sheqi.
Get Flash to see this player.
Author's comments:
This is my new Frigate escape world record speed run for the european [PAL] version of Metroid Prime with a time of 4:25:40 remaining, played in 50 Hz mode and done on February 13 2009. This video is proof that it is indeed possible to get over 4:25 on the european [PAL] version. i know i have done this escape run some time ago but i didn't post it earlier because i wanted to keep at it and try to get 4:26. I have found out that a 4:26 pal frigate escape is definitely possible, though it would be awfully hard and i would need tons of luck to get it. it is theoretically possible but it is practically near impossible. i would probably need to work one entire year on the pal escape in order to get 4:26 and this is something i am not about to try since i like to have a sane life. and by the way playing through the entire game is definitely more fun than just playing through the escape again and again. I am satisfied with this 4:25:40 remaining and i will just stick with it.
btw do you think my time could have been faster if i played with 60 Hz mode?
i don't think so because in 60 Hz when i move faster the time will also be displayed faster.