Ninja Gaiden was released for the Xbox in March 2004 after many years in development. Ryu Hayabusa of the Dragon Lineage must prevent the power of the evil Dark Dragon Blade from being used to take over the world. Excellent control coupled with a high degree of difficulty made Ninja Gaiden a critical and commercial success. Black, released in September 2005, is essentially a Director's Cut, with more difficulty settings and new skins for Ryu, his friends and his enemies.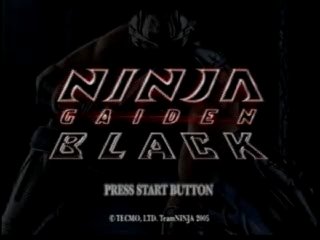 Runs on the Xbox NTSC-US version:
Runs on the Xbox 360 PAL version:
Return to the Game List, the FAQ, or the Home Page.
Single-segment: 1:55:05 by Josh Mangini
Get Flash to see this player.
Author's comments:
I decided to do this run just before I finished my multi segment run. With all the time I put into doing each chapter quickly, the SS run was actually fairly easy to do. It serves as a nice distraction from the semi tedious nature of shaving seconds off of a nearly perfected segmented run. I took several attempts at completing this. This was my best completion time, but I know it could be faster. When I first recorded a multi segment run for submission to SDA, my time was 1:53:29. In just under two months I developed enough skill to nearly match that in one sitting. So I'm very pleased with this run, despite its flaws, and I hope it will be as enjoyable to watch as it was to make
Segmented: 1:34:43 by 'JTB123' done in 33 segments appended to unknown files.
Get Flash to see this player.
No author's comments provided.