Released in 2011, Ninja Sneaking is an Xbox Live indie platformer. You're a ninja! Go fast and don't get caught.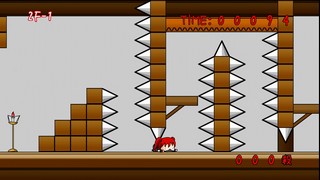 Best time: Single-segment 0:05:38 by David Heidman Jr. on 2012-08-31.
Get Flash to see this player.
Author's comments:
I dont know why, but I love Indy games. This game started out very similar as DLC Quest did for me, but this time it was not the comedy. I really enjoyed the art style (as simple as it is) and the music was fun as well. This game has some great controls and just was flat out fun. And due to how the game functions, I was speed running it before I knew I was... If you fail, you start over. No checkpoints. So going threw the same areas over and over I got fast. And after I beat it, I began to find new ways to be faster and faster. This is the end result. Hope yall enjoy.