In 1994, Pitfall: The Mayan Adventure was released for almost every console known to man at the time, including Jaguar! Pitfall Harry Jr., son of the original Pitfall Harry from the Atari 2600 game, sets out to rescue his dad from WARRIOR SPIRIT (game developers always have to be the literary type).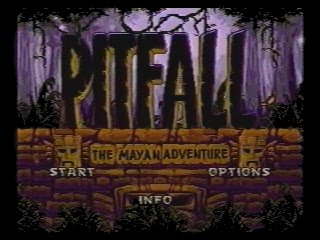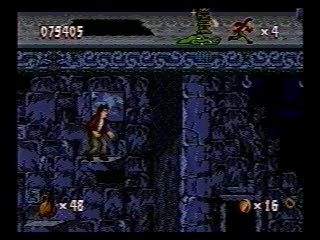 Category note: The Super Nintendo and Genesis versions are considered separate categories because there are level layout changes and the Super Nintendo version has boss skip glitches.
Best time, Super Nintendo version: hard 0:13:09 by Ruben 'Fliperotchy' Villegas on 2008-11-19.
Best time, Genesis version: hard 0:18:12 by Tommy Montgomery on 2006-07-05.
SNES version hard difficulty: 0:13:09 by Ruben Villegas.
Get Flash to see this player.
Author's comments:
I played this game a lot as a kid (I finished the run on the actual copy I've had since then) but never touched it until recently when I saw that Tommy had done a run of it. I was intrigued and of course instantly motivated to do a run of my own due to the awful sound effects and music of the Sega version that Tommy ran, and because I knew a few tricks on the SNES version.
Level by Level Breakdown:
Level 1 (Jungle): Some people might criticize my running to the left right at the beginning of the level, but I assure you it wastes no time because had I not went there, I would have gotten to the first vine too early, and would have had to wait anyway. I missed the vine at the top of the level costing probably 3 seconds, and some of my dignity. I kept going anyway. I nearly miss the next spiderweb. Haha. The cheetah fight was nearly ideal, and I only got hit once, and it was kind of a fluke. This level can't be done much faster.
Level 2 (Waterfall): Again, people might criticize me for not doing the long jump all the way down right at the start, but it only saves MAYBE a second, and I hate long jumps in this game. After the breakaway platforms, I long jump to the left and miss not only the top platform, but the middle as well. The rest of the level went perfectly.
Level 3 (Mine): This would have went flawlessly if it weren't for that stupid mine cart. I always either jump early or get ballsy and jump late. I also missed the firecrackers right before that. I didn't need them anyway.
Level 4 (Ruins): I use the first firecracker to avoid getting hit by the snake and statue guy, and I waste all of those stones to the left because I wanted to kill those annoying rats. Apparently they found some cheese and stopped bothering me. I throw a stone (or whip) before I land sometimes to avoid falling lag. The rest of the level went by without a hitch. I skip the boss fight by using the pepper to jump all the way over the "trigger" that starts the boss fight. If the fight isn't triggered, the level exit is technically open.
Level 5 (Temple): My only mistakes are missing the first spiderweb, crawling before falling into the last pit, and failing to cancel my falling lag a few times. I execute the wall glitch quickly by sprawling right into the wall. (Pressing down and jump while running)
Level 6 (Rain Forest): I use boomerangs to kill a single enemy normally because they don't cause any lag when thrown like the firecrackers. IE: The snakes. I use a firecracker to kill the warthog AND the snake, because the hogs just piss me off. I jumped to the right after the firecracker to avoid getting hit by the monkey poop (or whatever they throw) but i ended up getting hit anyway. It's also REALLY hard to land on that tree branch after sliding down the vine. The rest of the level went perfect.
Level 7 (Waterfall Revamp): I can't count how many times I've missed that first vine and fell into the water. Lady luck was on my side this time. No mistakes other than almost giving myself a heart attack by nearly missing the long pepper jump.
Level 8 (Mine Ride): This level is cake for anyone with a brain stem.
Level 9 (Blue Ruins): This went perfectly. I lost no time, and took no damage. I kill those eagles with the boomerangs because I don't need them on Warrior Spirit, and because I just hate those eagles. I did the same trick to skip this boss fight, except without the pepper. That long jump is WAY harder than it looks.
Level 10 (Temple Revenge): This level went perfect. I let the bats hit me because they don't do much damage, and it wastes time standing still and shooting them. This can't be done much faster.
Level 11 (WARRIOR SPIRIT): I just basically AI bug him into walking back and forth like an idiot while I pummel him. The boomerangs aren't very strong so I don't use them. Great fight.
My main goals for the run were to have no deaths, skip both boss fights, and to take as little damage as possible. I think this run went very well.
For improvements, I think maybe 10-15 seconds could be saved with a perfect run, and a faster cheetah fight, but no more unless other glitches or tricks are found.
I hope you enjoyed my run (and my long comments). Thanks a lot for watching!
Genesis version hard difficulty: 0:18:12 by Tommy Montgomery.
Get Flash to see this player.
Author's comments:
Differences between Normal and Hard:
the bags of sling stones give you 8 instead of 10
most enemies take more hits
the disappearing fire-throwing wizards in the temple stages can only be killed by the exploding stones
WARRIOR SPIRIT (the greatest name of any boss ever) takes more hits (all other bosses take the same amount of hits)
Other than that, everything is identical. Make sure to watch the end credits, as this game boasts the greatest ending sequence of any game ever. Also, the sound effects in this game are pretty sweet. Enjoy!