Released in April 2003, Postal 2 was known for its one-note offensive humor. The game received poor reviews as most reviewers wrote off the game as a poor joke. You play as "The Postal Dude", who is merely trying to survive until the end of the week.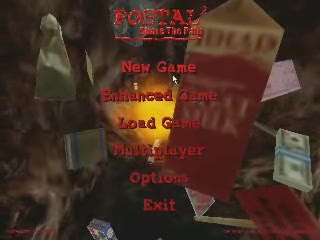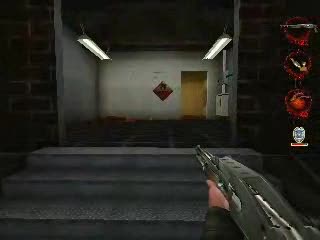 Best time, Insane-o difficulty: 0:49:46 by Aleš 'Ewil' Horák on 2007-01-02, done in 17 segments appended to one file.
Author's comments:
First of all, I'd like to thanks to SDA crew for keeping such cool site and to these people: NeoKamek, TheVoid and Pweisger for their tricks and shortcuts.
Great thanks belongs especially to Pweisger, who did the first speedrun on Average difficulty. In fact, his run made me to make my own, because I could see many improvements just by looking at his run. In the end, I shaved-off whole 16 minutes and brought the run to the sub-1 hour "category".
Not only my run is faster, but it's also on much higher difficulty, better recorded and with better graphics settings. I initially wanted to run on They Hate Me, but this difficulty would require different strategy since everybody who's got a gun starts shooting when they see you and you can withstand only about 5-6 bullets.
The game had some issues with my EAX causing some voices to sound like "chipmunk", but as far as I know it doesn't affect the gameplay since everything is controlled with timed triggers (I'm talking about petition particularly).
List of all tricks:
Duck jump: Classic jump known from Half-Life games allowing you to jump little higher than normal.
Accomplished objective skip: Everytime you accomplish an objective, the Dude takes out the map and talks some bull*****, but that talking can be skipped by pushing Use item button.
Kicking doors: Kicking doors is slightly faster than just wait 'till they open.
Kicking people: I was having a problems, which I personally call "active dead body hitbox", which makes every dead person or animal to keep their hitboxes active. The problem is when that dead body is in front of doors or such things, because it blocks the way. Fortunately, I had to use this trick only once in Underground Taliban Base, but I still don't know why somebody has this and other don't.
Petition skip talk: When the Dude says a short phrase after somebody told you "I'm sorry", you can skip the Dude's phrase just by clicking on the person again, but he must start saying the phrase.
Petition time-saver: When you hear signing sound, you can immediately walk away and it will count, but if you're too fast, it won't.
Attack boost: Everytime you get hit by a bullet, dog or even a cactus, you gain a small boost, which is even bigger when in mid-air. It doesn't give you a really big boosts like in Doom3, but it's still significant.
"You got stuck": Postal 2 is probably the only game with a function, which transfers you away if you get stuck between two solid objects thus it can be used to completely skip few areas. There are only 2 areas, where it can be used to save some time and it only works on second attempt.
Weapon trick: Every policeman has a 2 weapons, close-range one and some gun. If you have felony, they decides which one to take out by your weapon. If you're empty-handed, they only take out close-range weapon, which is far more better to your health.
Piss on yourself: If you're on fire, just unzip your pants, aim for the sky, start pissing and you instantly extinguish yourself.
Monday:

1:36 - Took a shortcut to get faster to the bank via glass roof, then robbed a bank instead of waiting in queue.
3:50 - Stole a milk :)
5:14 - Since in this moment you just need to get to the closest transition, I took the backdoor leaving everybody behing then went to right transitition (left is blocked).

Tuesday:

7:21-11:00 - I was very lucky with petition signing, almost everybody signed on first attempt.
9:09 - There are 2 shortcuts in Library. First shortcut is just going up ignoring everybody, take armor and jump over balcony. For second shortcut, you need a motolov, 50+ health and no armor at the end and since Gary's autograph can be done very quickly, but you lose a lot of health, I took the first one. However, second one is about 2 seconds faster.
10:38 - I asked a priest, but then I realized he would take out gun and start shooting at me.
11:19 - Because of my full health and armor, I could just take out the rifle and give a headshot to the lady with autograph, then run outta there. But I must admit I was lucky and didn't lose much health like in every attempt before.
13:16 - There's a big shortcut that I might have used, but the problem is that you need a rocket launcher and the fastest way to get it was actually about minute slower than just going thru the entire church and kill the priest.

Wednesday:

16:00 - Choosed to vote first, so I didn't need to go back there, because I skipped Pickup Laundry mission.
17:10 - Going thru the Taliban base is risky, but it saves more than one minute than going the normal route.
19:49 - That oddly looking jump allows you to skip entire Pickup Laundry mission.
20:10-20:27 - In order to apply "You got stuck" trick, you must kill everybody on upper floor to be able to survive further.
21:11 - That shotgun guy must die, otherwise his shot will knock you back a little and you end up on the floor instead of the catwalk.

Thursday:

28:08 - That poor guy is supposed to die there and activate those 3 guys below, but it didn't happen, so they just stand there doing nothing :) This bug happened to me everytime, so I guess it's probably a bug in the saved game.
29:23 - Another "You got stuck" trick and also sucessful only on second attempt.
31:13 - Killed a woman to quickly get 300 bucks for Pay Ticket mission.
35:00 - Jumped over the pipe to save quite a time.
37:10 - Another very cool shortcut. Instead of fighting to get the Krotchy, I simply bribed the mascot with a cash (he takes all the money you have).

Friday:

39:42 - Didn't have the time, so I just picked up the package myself and from now on every postman hates me. Took another shortcut on the way back.
45:50 - Took some healthpacks, because I was never able to survive way back to home, but in this attempt I didn't even get hit. Luck was really on my side.
46:12 - Huge shortcut, which makes this last mission to be the easiest from the whole game. I crouch to the tree to avoid triggering cutscene.
46:45 - I wonder who found this trick...
Hope you enjoyed this run.