Famous for, among other things, being the third Quake game, this might have been 1999's primary arena shooter experience. Hey, no secondaries here! The AI was a few leaps and/or bounds ahead of the curve and starting to live up to the 'I' of it. Few understand how much TLC was poured into the bots' Turing test readiness. They make more agreeable company than that present on the typical public server.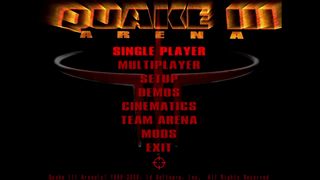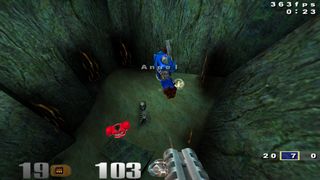 I Can Win Difficulty Individual Levels: 0:15:49.67
Nightmare Difficulty Individual Levels: 0:21:49.46
Return to the Game List, the FAQ, or the Home Page.
I Can Win Difficulty: 0:15:49.67
Author's comments:
Few words before each level dive:

- "I can win" diffuculity is the easiest and hence fastest for speedrunning. Important thing about it is that while usually player in q3 spawns with 125hp, bots can't get their health above 100hp on that difficulty, so bots spawn with 100, which allows them to be fragged by a rail or a direct/nearly direct rocket. Splash damage on rocket is rather large as well, so a rocket placed under /nearby enemy's feet will most likely deal 100 damage too.

- V1.32 is version of the game that was used in this run (also, the latest version available at the time). Earlier versions of the game probably could be found somewhere on internet and may have certain benefits for speedrun purpose, for example different bot spawn mechanics, but overall consdirered not worth the trouble getting to.

- Q3A speedrun is heavily dependant on RNG of enemy spawn locations as well as bot behaviour which might change based on situation around the map (weather certain item is up, or if bot dropped a weapon on his death before and so on). Behaviour usually consists of bots being attracted to one specific area/item on a map.

- For "I can win" difficulty: Individual Level WR combined time at this moment is more than 6 minutes faster than current SS WR of the game on same difficulty, which tells a lot about nature of the RNG and luck in this game. Perfect execution and aim won't cut it for fastest time, but nevertheless it is important to have good movement and aim mechanics in order to beat the game quickly. "Nightmare!" difficulty can share traits and tactics of easiest difficulty run, but the fact that bots are harder to frag and they deal way more damage back - makes it quite hard to beat fast. IL for "I can win" was chosen personally because it highlights the game mechanics & engine and pretty much leaves everything up for good RNG without the complexity of hardest difficulty

- "map_restart 0" command is binded to key that is (for most of the levels) triggered on map loading screen (message/announcment of "Fight!" can be seen/heard on first second of map gameplay). Without this restart player would be forced to wait for each bot to respawn on the map in their intended order (first being player, then followed by bots in predefined order), while map_restart 0 will force all arena clients (player + bots) on the map to appear instantly. This command is also used for luck manipulation before some levels in order to get better initial spawn, which allowed for faster level completion. For those rare instances where map_restart is not used - I find slight delay in bot spawn is beneficial.

- "sv_fps 333" / "com_maxfps 333" settings were used in all of those runs. Reason being is that 333 fps gives you jumps of slightly higher altitude and a bit faster movement. More on FPS value and how they affect the game can be found in this video: https://youtu.be/he02vJvKaRs

- "bot_nochat 1" command was used to cut down some time of programmed "trash talk" by bots during match.

- As far as I know Q3 enemy respawn system works in a way that the further you're away from the spawn location - the higher chance for it to be activated, so you'll sometimes see me stepping away from some spawns that I want enemy to appear in. Also I think it was set to have some priority over the spawns in most distant from frag location places (meaning if you were fragged in one side of the map, chances are that you'll most likely gonna appear in the opposite side of the map, even if this spawn is visible from frag location).
DM0: Introduction (0:00:16.05)
DM1: Arena Gate (0:00:30.00)
DM2: House of Pain (0:00:39.41)
DM3: Arena of Death (0:00:38.29)
TOURNEY1: Power Station 0218 (0:00:31.09)
DM4: The Place of Many Deaths (0:00:40.20)
DM5: The Forgotten Place (0:00:32.83)
DM6: The Camping Grounds (0:00:32.81)
TOURNEY2: The Proving Grounds (0:00:36.58)
DM7: Temple of Retribution (0:00:39.65)
DM8: Brimstone Abbey (0:00:49.21)
DM9: Hero's Keep (0:00:44.86)
TOURNEY3: Hell's Gate (0:00:23.16)
DM10: The Nameless Place (0:00:46.48)
DM11: Deva Station (0:00:46.70)
DM12: The Dredwerkz (0:00:47.05)
TOURNEY4: Vertical Vengeance (0:00:27.21)
DM13: Lost World (0:00:44.69)
DM14: Grim Dungeons (0:00:47.58)
DM15: Demon Keep (0:00:42.34)
TOURNEY5: Fatal Instinct (0:00:33.98)
DM16: The Bouncy Map (0:00:28.15)
DM17: The Longest Yard (0:00:32.81)
DM18: Space Chamber (0:00:34.50)
DM19: Apocalypse Void (0:00:42.71)
TOURNEY6: The Very End of You (0:00:21.33)
Nightmare Difficulty: 0:21:49.46
Author's comments:
"Nightmare!" is hardest (fifth) difficulty for single player in Quake 3 Arena. Bots don't have any handicap compared to the player (starting with 125hp as well). Map restart (map_restart 0 binded) is used in the beginning on most maps.


DM0: Introduction (0:00:16.62)
DM1: Arena Gate (0:00:38.58)
DM2: House of Pain (0:00:45.53)
DM3: Arena of Death (0:00:53.81)
TOURNEY1: Power Station 0218 (0:00:37.05)
DM4: The Place of Many Deaths (0:00:52.30)
DM5: The Forgotten Place (0:00:45.53)
DM6: The Camping Grounds (0:00:51.01)
TOURNEY2: The Proving Grounds (0:00:47.58)
DM7: Temple of Retribution (0:00:58.09)
DM8: Brimstone Abbey (0:01:11.50)
DM9: Hero's Keep (0:01:03.55)
TOURNEY3: Hell's Gate (0:00:34.61)
DM10: The Nameless Place (0:01:17.02)
DM11: Deva Station (0:01:04.23)
DM12: The Dredwerkz (0:00:58.26)
TOURNEY4: Vertical Vengeance (0:00:35.11)
DM13: Lost World (0:00:58.15)
DM14: Grim Dungeons (0:01:05.66)
DM15: Demon Keep (0:00:52.85)
TOURNEY5: Fatal Instinct (0:00:37.89)
DM16: The Bouncy Map (0:00:41.98)
DM17: The Longest Yard (0:00:57.04)
DM18: Space Chamber (0:00:52.33)
DM19: Apocalypse Void (0:01:03.60)
TOURNEY6: The Very End of You (0:00:29.58)