Rune Factory: A Fantasy Harvest Moon has been described by its producer as 'Harvest Moon where you wield a sword', which seems rather impractical for harvesting potatoes, but I'm no farmer so who knows.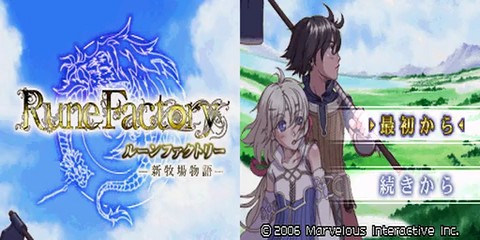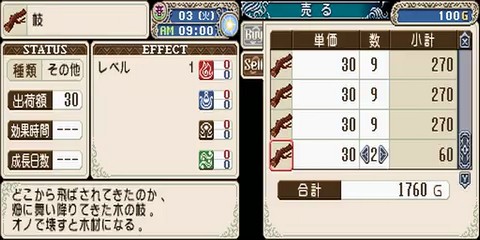 Best time with large-skip glitches: Single-segment 0:54:08 by Alex 'Anwonu' Morinaga on 2013-07-30.
Get Flash to see this player.
Author's comments:
Thanks to ButtersBB for the audio commentary =p
About the game
Rune Factory games are basically Harvest Moon with RPG elements. Speedrun-wise, the biggest difference is that RF has a main story, so it's easy to define the ending.
In this game, there are 8 dungeons, each with its boss. However, by using a glitch, you just need to beat the first and the last ones.
To be able to enter a dungeon, you need a permit from the mayor. Each one has a different requirement, but it's usually "beat last dungeon's boss" and/or "plow x squares in that dungeon".
Explaining the glitches
There are 2 glitches used in this run. (None was found by me.)
Greed Cave early: the biggest glitch. To do it, you need to tame a mount (earliest is a wolf in 2nd cave, that's why beating the 1st is necessary). By using it and pausing at the right moment while trying to enter the last dungeon, you can bypass the "no-permit wall".
Invicibility/Invisibility: without this one, the run would actually get much harder. To do it, get hit by the fairy's attack while teleporting. Her attack makes me able to move again; and if I use the stairs before being teleported, I cancel it and become invincible, and either very small or completely invisible.
By the way, they work in US version as well; J only has the text speed advantage.
Other stuff
Some things for people who haven't played, or don't remember.
To open the 1st cave, I need to plow 100 squares in my farm
On the 1st day, I can't meet many people, so I sleep after plowing a few squares
To open the 2nd cave and get the hammer from Leo, I need to plow 50 squares in 1st cave
To get Pet Gloves from Tabatha, I need to have entered the cave
The other item got in the mansion, as well as the item in Mist's house, is an empty bottle
To open the door to the boss, I must destroy all machines
The festival on Summer 26 gives a prize depending on how fast I get the hidden item (which is always in the same place); the prizes are 100000g, 1000 wood (which I choose) or an empty bottle
To get to next floor in the 2nd cave, I must destroy all machines in the 1st floor
After taming the wolf, I get some more exp for an extra level up, which is useful
Wolf is used to destroy the machines because he's faster than me and I need to save RP for the last boss