Released in April 1987, one of the poorest communism-related puns was ported from the arcade with the inclusion of 2-player simultaneous play. Your mission is to destroy a top secret weapon the enemy holds (no prizes for guessing who the enemy is supposed to be). To accomplish this you shuffle slowly to the right while color-coded enemies leisurely jog (or jump kick) at a slightly faster pace.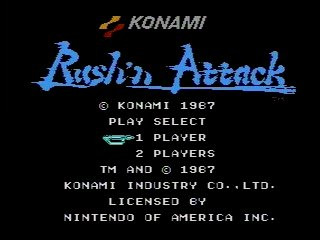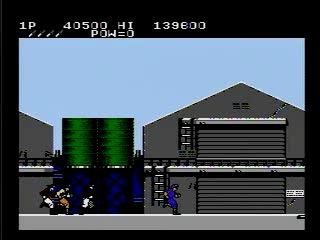 Best time: 0:09:41 by Jim Hanson on 2009-09-26.
Get Flash to see this player.
Author's comments:
For this new run of Rush 'n Attack, I practiced on an emulator for about three weeks and then started making attempts. After about 90 minutes of attempts, I achieved this run.
This is the thirteenth run I've had posted on SDA, the first being my 9:53 run of Rush 'n Attack that I did on January 21, 2007.
For this run, I wanted to beat the best time at Twin Galaxies and did so by five seconds. The best time at Twin Galaxies is listed as 9:57, but the time would be 9:46 by SDA's timing.
I lost two or three seconds during the second boss fight and the final boss fight, so 9:35 is definitely possible for this game. (For reference, the two-player TAS is 9:23 by SDA's timing.)
I messed up on a ladder at the beginning of stage five. I unintentionally jumped at the top of the ladder and grabbed another ladder. Ladders are annoying in this game and have been the reason for many of my failed attempts.
The biggest improvement in this run happens in stage five. I get the grenades, which allows me to kill the boss about five seconds faster.