Released for the Playstation and N64 in 1998 by Climax Group, San Fransico Rush: Extreme Racing is a port of the popular arcade racing game. To say the home version was poorly by critcs is a bit of an understatement, but it did have a wind control feature to set it apart from other titles in the genre.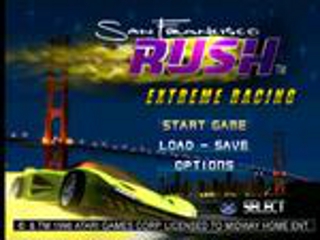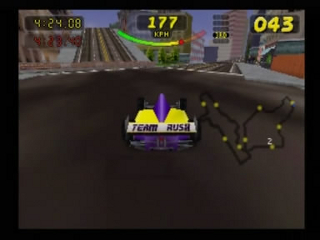 Individual-levels run in 0:34:26.55:
Get Flash to see this player.
| | | | |
| --- | --- | --- | --- |
| Level name | Time | Date | Player |
| Level 1 | 0:03:18.51 | 2010-11-16 | Wouter M. 'WMJ' Jansen |
| Level 2 | 0:04:45.98 | 2010-11-18 | Wouter M. 'WMJ' Jansen |
| Level 3 | 0:07:18.14 | 2010-11-20 | Wouter M. 'WMJ' Jansen |
| Level 4 | 0:03:49.14 | 2010-11-18 | Wouter M. 'WMJ' Jansen |
| Level 5 | 0:04:55.23 | 2010-12-19 | Wouter M. 'WMJ' Jansen |
| Level 6 | 0:06:49.73 | 2010-11-19 | Wouter M. 'WMJ' Jansen |
| Level 7 | 0:03:29.82 | 2010-11-21 | Wouter M. 'WMJ' Jansen |