Serious Sam: The First Encounter HD, a 2009 remake of a 2001 PC game developed by Croteam, is the first game in the Serious Series. There's a plot involving an alien overlord named Mental, but really, it's just an excuse to shoot large numbers of ridiculous enemies. The game pioneers the series trademark: dumping you in huge arenas with hordes of enemies, and then sending more enemies against you at once than many other games have total.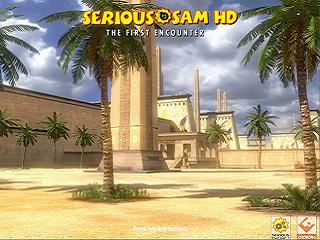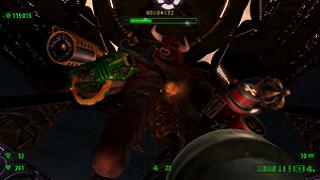 Tourist Difficulty Individual Levels: 0:23:05
Get Flash to see this player.
Author's comments:
For information about tricks and a list of changes compared to the original game, visit the SDA Strategy Wiki. I've been running this game on and off for over three years now, and a ton has changed since my original runs on SDA. I've been running most of the Serious Sam games since then but HD TFE is still my favorite one. The HD versions are actually quite different from the original games and contain way more bugs, which makes some cool tricks possible. The most recent one, strafe jumping, was found by rayvex and increases your movement speed by up to 10%, which means every level had to be worked on once again. Luckily, after rayvex started running the game and beat pretty much all of my times with the new trick and other improvements he found, I realized that I could optimize some of my runs even further.
Hatshepsut (0:00:31)
Valley of the Kings (0:01:24)
Moon Mountains (0:00:52)
Oasis (0:00:41)
Dunes (0:01:38)
Suburbs (0:00:50)
Sewers (0:00:55)
Metropolis (0:00:49)
Alley of the Sphinxes (0:03:42)
Karnak (0:02:15)
Luxor (0:01:03)
Sacred Yards (0:01:00)
The Great Pyramid (0:05:27)