The third in the series, Settlers 3 sees three gods: Jupiter (Romans), Horus (Egyptian) and Ch'ih-Yu (Chinese), battle each other in order to escape eternal punishment. An expansion pack added the Amazons as a 4th side. Unlike previous games it added Multiplayer and changed some of the game mechanics, such as no longer needing to build roads so that all units can now travel anywhere.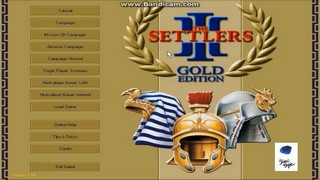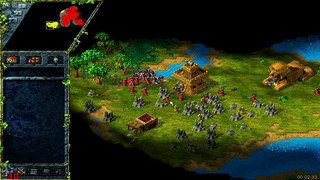 Individual Levels with Romans: 2:17:23 (on Normal Difficulty settings)
Get Flash to see this player.
Tigger77's comments:
Mission 1 - First Steps (0:01:26)
Mission 7 - The Traitor's Wrath (0:04:19)
knoll3's comments:
First of all I want to thank you - the SDA owners and all people who are involved with this fantastic form of playing games! Winning a game and play it till the end as fast as you can is sometimes science without cheating, but at all when someone gonna made it, really interesting to see how it works! Don't lose this confidence and I wish you the best in the next months and years!
The Game - The Settlers III -, not a game which is made for a good speedrun, but i had played this game a thousand times and thought about a good, fast run to the romans campaign – so here it is.
***General***
Normally you don't have more soldiers than your enemy does. But with the trick of attacking a tower and waiting with your army around the tower for the army of your opponent it is possible to kill more soldiers than you have without loosing much. The thing is, that when a tower is under attack, all units will come to help, but they must be hit a "checkpoint / point" at the tower, maybe the door or one side of it. If they don't reach this point the don't fight. So you only have to build a wall around the tower and kill all of the army from your enemy.

Yeah that's all, that's the magic of settlers III romans campaign. Nothing special, but a way to do this in a faster way most of people were playing it. Maybe there is someone out there who is faster than me and got maybe other tactics to be much more faster. I am looking forward to this.
At least I wanna thank the producers of the settlers III, my family and some supporters like Lucas 'luke' Renners to go further and get this thing to an end. Maybe see you in another game next time.
Greetz
Robert 'knoll3' Steinigeweg
Mission 2 - After the War (0:13:52)
Mission 3 - Northern Meetings (0:16:41)
Mission 4 - Trouble on the Western Front (0:28:48)
Mission 5 - The Race (0:37:29)
Mission 6 - Volcano Island (0:16:44)
Mission 8 - The Merchant's Last Orders (0:18:04)