Star Ocean: Till the End of Time was released in August of 2004 after numerous delays befitting its subtitle. tri-Ace put this time to good use, creating a deep epic spanning two DVDs, featuring a remarkably action-filled yet strategic combat system. The story follows a young man named Fayt. After being forced to evacuate from the recreational planet of Hyda IV, he must fend for himself on an underdeveloped world. But that's only the beginning of his journey...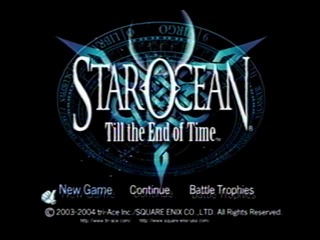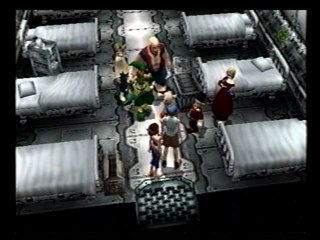 Best time: 3:28 by Harvey 'drkhades' Nguyen on 2007-05-27.
Best 4D time: 3:50 by Harvey 'drkhades' Nguyen on 2007-09-23.
Return to the Game List, the FAQ, or the Home Page.
3:28 by Harvey Nguyen, done in 29 segments.
Get Flash to see this player.
Author's comments:
Part 1: I did notice how I could improve this time by a minute but it was already too late as I heard about the sequences about Helre when I was on Part 4. Norton's goons gave me a bit of a ride by dodging Fayt's Long Major. I turned off the battle voices to save around ten seconds and the battle against the Giant Crab was flawless. Things went downhill with the Earth Smasher as I should have saved there. Also, I got the two Ripe Berries before leaving Airyglyph for the first time and found that it was a waste since I had a lot of berries in my stash by the end of the game. I got the chest at the Caves of Barr for the Holy Sword. Blade of Fury cancelled into Aerial did its work on the soldiers at the Kirlsa Training Facility.
Part 2: Shelby was easy with the same setups I used on the soldiers. The Grapebinds were annoying with their random attacks but I tried to use Cliff as a decoy while Fayt was slashing the tree up. I got one Triple EXP chain here but it was shattered later on.
Part 3-4: Blazing Sword on Mudman for the MP kill but my battle against the Legion Dragons was horrible. This is the part I want to redo badly but I always mess up in the dungeon due to the darkness of the vicinity.
Part 5: Blazing Sword took care of the Cockatrice but I ran into some trouble against Demetrio's soldiers and Demetrio himself. Against Albel, I went for the MP kill on his minions and chained Hammer of Might against Albel until he fell. Was it pure luck that Hammer of Might that cause Albel to fall down?
Part 6: I chained Aerials and Hammer of Mights against Vox and also, a triple EXP chain. I didn't get caught in any randoms on the way to Kaddan. I swap Maria in for Nel and gave her the Warrior's Bracelet and the War God Symbol for attack boost against the Flying Knight along with the Decrepit Tome. I chained Aiming Device and it went down fast. Maria leveled to Level 21 and learned Power Up. I didn't use it against the two crystals because it's a big risk if Maria gets attacked. I accidentally ran into a random battle near the end.
Part 7-9: Fayt was taken out and I gave Cliff the two accessories from Maria. Cliff already learned Berserk and also the passive skill Increase HP Damage. I equipped those and spammed Short Major with a Power Up boost. Maria was on Manual doing nothing. I placed Fayt back in for the fight against the four Vandeeni Soldiers. I didn't chain a lot of Hammer of Might because of their Anti-Attack-Aura. I got the Warrior's Bracelet at the shop in Paterny. Schweimer was a joke battle. There's nothing besides sightseeing Elicoor II and getting Albel. Also, I used Power Up on the character I'm controlling throughout the game except for a couple battle.
Part 10-11: I forgot to turn off Fayt's Symbology until now and assigned Scatter Beam on all slots for Maria. The Blue Dragon Zombie took a while to kill but I managed to do it. I got the Magical Berries and the two armors in the Ruins of Barr and you probably noticed that my time was one minute slower because of that. The battle against Robin Wind was flawless. You just have to see it! I used a Jewel of Refuge in the Urssa Lava Caves here to obtain Cliff's Gauntlet and to prevent any inescapable randoms from occurring.
Part 12: I got the Ring of Disintegration from Vanilla and used another Jewel of Refuge before fighting Crosell. Scatter Beam chains sort of took care of it but I should have improved this fight since I wasted quite a bit of berries but getting Cliff past level 25 was a miracle. Thank you triple EXP chain.
Part 13-16: I followed DexTepa's advice on the Diplo here which helped me save a lot of time since I would usually talk to everyone. Aerial Assaulted the Vandeeni Soldiers, Biwig, and Proclaimer. I only went to get Cliff's Gauntlet at the store in Moonbase. I was considered to use Peppita but I didn't since I have no experience to use her abilities in battle at all. The fight against the Arkives Soldiers went alright. I got the Laser Weapons for my party and the healing items from the shop also.
Part 17-18: The four soldiers before Azazer was a big pain to deal with. Azazer was easy by using Hammer of Might in melee range while using Fiery Tackle to reach him from the escape formation. Also, Azazer is weak to fire attacks. Belzeber and Berial (aka Mr. Kinkywhip and the Rocket Dude) is another battle I went to remake but this was my best since I died a lot or I accidentally ran into some randoms at Sphere 211. I'm aware of Belzeber's fire resistance but I really have no choice to keep him safe from Berial at the start of the battle.
Part 19-20: The three fights were amazingly short except for the last one. I used Aerial Assault again and finished the first two quick but the final part of the three battles gave me a bit of trouble because of that minor Whirlwind attack. I used a Jewel of Refuge here to avoid all of the randoms along the way at Planet Styx. Is it even possible to get through Styx without running into an enemy? Thanks to DexTepa again since I avoided the unnecessary long Private Action here. I got the final weapons for my party along with a Battle Armor and a Battle Chain Armor for my other male member (Fayt or Cliff) and Maria.
Part 21-22: Lesser Eye gave me a lot of trouble since it likes to fly up to the ceiling and stay there while casting those red or white circles. I hate this enemy the most in Valkyrie Profile but it's a same I couldn't face them in VP2. Anyway, I tried using Scatter Beam but I always get targeted. So I used Sphere of Might cancelled into Aerial Assault here. For the Dark Armors, I chained Aerial Assaults while my Fayt was occasionally letting out a Side Kick and Maria was surprisingly chaining Scatter Beam.
Part 23: I swap Scatter Beam with Aiming Device and controlled Maria for the whole battle against the Crystal Statue. I placed Fayt and Cliff on Manual during the fight while chaining Aiming Device. I used the same strategy as I did with the Lesser Eye on the Dark Eye and it was pretty much the same. I ran into one of those moving blocks here but I made it up by using my last Jewel of Refuge to prevent one of those Crystal Statue from randomly running at me when I headed back to Castle Aquaria.
Part 24-25: My first savepoint that is sort of out of the way but it was needed since I'm not going to fight those two battles again if I died against the Chimera. Its Anti-Attack-Aura was full so I couldn't do anything with Maria besides depending on my AI to help. After they help out, I started chaining Scatter Beams. The Stone Golem fell with Scatter Beam chains and I got a triple EXP chain here. That's a huge help here but Fayt didn't get Air Raid in time against Pseudo Blair. The Firewall was one long dungeon and I only got into one random here. I used the Ring of Disintegration reset effect here to save a couple seconds and I used a couple of it also at the Caves of Barr on disc one.
Part 26: Battlecopter = dead with Fayt's Ice Blade and Increase HP Damage on Short Major. I kept spamming it until it fell. Fayt was one level short of 40 though.
Part 27-28: Pseudo Blair was annoying with its fast minor but Cliff's Fist of Fury kept her immobilized while I got another triple EXP chain here. Ruktogias annoys me with Chain Smash since my AI can't dodge those. I was chaining Scatter Beam but both Fayt and Cliff died twice consecutively. I got the raging anger effect though but it was a bit light for that. The Chimera Hawks are one of the most annoying enemies in the game ever. I could use Hammer of Might here but its Anti-Attack-Aura is too annoying and I'm doom if I let them get into their Heat Impact mode. I took a risk and used Scatter Beam chains and it worked out fine other than losing my triple EXP chain. The other miniboss battle was way too easy with battle skill chaining. Part 28 is boring so it's nothing interesting besides solving some puzzles and getting to the final savepoint of the game.
Part 29: Luther Must DIE here. I defeated Luther just under three minute which is more than what I expected. Scatter Beam chaining wasn't a great idea in the first battle but it took care of him. For the second form, I took control of Fayt and started using Blade of Fury as a cancel folder into Air Raid. I defeated him easily but I had way too many berries in my inventory and healing items.
My first attempt in this speedrun ending with a time of 4:59. My practice one which is posted on my Youtube was 3:59. However, I gotten even better and obtained of a time of 3:28. My time could be reduced by a bit because I remember having a few of those long loading times and some of the fights weren't optimized well. I shouldn't have gotten that many berries and the battles in disc two could have been shorter if I used Peppita in disc two. I might even do another one in the future but doesn't expect any attempts unless someone defeated my record. Even if it isn't defeated, I'm still willing to beat my old record one day if I'm motivated to do so.
I hope the person reading this will enjoy my speedrun.
Special thanks to Dragondarch for his old speedrun record. Also, I would like to thank the following from GameFAQs: Marty81, DexTepa, Enhasa, Ladyissoalluring, Velari, ArcadiaLegend, and EnigmaGamer for motivating me, providing some suggestions, and making my stay at GameFAQs an awesome place.
I would like to thank SDA for hosting my speedrun, nate and ballofsnow for helping with my encoding problem. I would also like to thank tri-Ace for making this game, Square-Enix for publishing, my friends, family, etc, and of course you for watching this.
4D 3:50 by Harvey Nguyen, done in 50 segments.
Get Flash to see this player.
Author's comments:
I never thought of starting a 4D speedrun since I thought it wouldn't be possible. So why did I start it? I wasn't satisfied with a Galaxy Speedrun because it wasn't challenging enough and speedrunning 4D would be one of those insane challenges in my opinion. In this speedrun, I used Item Creation so I can easily plow through the game once I'm able to synthesize some Orichalcums. I didn't pick up any Ripe Berries because a 30% HP recovery is basically a one hit insurance. So here's the brief blog:
Segment 1: I altered the configuration to the ones I desired and there's nothing to watch unless you want to see my 285 BT collection.
Segment 2: The three battles may potentially be the hardest but it went pretty well. A few seconds could have been saved in the third battle and I should have restarted after Sophia died in the first fight. I saved the Mayor's house before venturing out to fight Norton's Henchmen.
Segment 3: This is where I wanted to quit so badly. Norton's Henchmen randomly runs away when you get their HP low enough and I didn't want that to happen. Unfortunately, I had to restart this segment many times not just to destroy all three, but to survive.
Segment 4: My main objective was to juggle Norton but it didn't work out very well. I still got a decent time but I regret a little by not restarting this segment. I saved before boarding the ship for the Inquisitor fight.
Segment 5: This is probably the most the hardest fights in 4D. You see how others get through this. It's either abusing the NMG with Nel's Firebolt or with Fayt's Aerial. I didn't use any of those at all! I forgot to switch Nel to Manual but luckily, she didn't get herself killed in the beginning. Cliff was a goner even if I didn't want that to happen. Just see it to believe how I did it.
Segment 6: A perfect battle against the Giant Crab. Cliff was there for AAA baiting while I hacked away with Blade of Fury canceling into a 200% Aerial. I upgraded my equipment a bit at Kirlsa but it's a bit unnecessary though.
Segment 7: Another roadblock here. Earth Smasher is brutal in 4D mode. HP kill is not a good option because of its enormous HP. I MP killed it with Fayt's Aerial of course. You might be wondering why I targeted the Earth Smasher's left shoulder right' It's because once I attacked him, he will use a back minor most of the time but it doesn't reach that specific area =D. I heard about choosing another Hauler to pass through the puzzle from DexTepa but I'm satisfied with this segment.
Segment 8: I got the money chest at the Mountains of Barr and the Perfect Berries at Arias. I may have messed up a bit by my slow navigation in the menu when I was in the shop. I got the Holy Sword for Fayt and saved at the inn at Kirlsa.
Segment 9: Fayt's Holy Sword was needed for this battle. Blazing Sword would have helped though.
Segment 10: I went into one random battle so that Fayt will be sufficiently leveled for Blazing Sword before fighting Shelby and the soldiers when you get Nel back.
Segment 11: Fayt soloing here while Nel is there healing Fayt when Shelby is alone. I messed up a bit in the Shelby battle but it wasn't a fatal mistake.
Segment 12: This is where I begin my IC. I was able to invent a Damask Gauntlet, Power Blaster, and 5 Tricky Duck Bomb all in this segment!
Segment 13: 'What do we do, burn 'em down?' That's right! With Fayt's Blazing Sword, I was able to burn down those monstrous trees but I'm disturbing nature =/. Anyway, there's nothing really to watch here.
Segment 14: I was able to get Fayt angered (Double ATK) which enabled me to finish this battle fast. I saved at the inn at Arias for the following few segments.
Segment 15: Nel's Aerial actually worked here. This battle went better than I intended. The 5 Trick Duck Bombs were used in the random battles to reduce the risk of dying. I'm lucky to get a good pair to fight against and I'm glad it wasn't the bats in my Galaxy Speedrun.
Segment 16: The Giant Chicken wouldn't cooperate with me since it decided to use its major attacks. I got Fayt angered at the end I believed but overall, it's an okay segment.
Segment 17: Sigh, this is one of the segments I wanted to redo many times. I attempted this around 35 times and out of all of those tries, only 2 were successful. This would have been a lot easier with Full Active Mode. Just watch it since I don't want to explain it.
Segment 18: Nothing interesting. Someone in the GameFAQs board told me that the Warrior's Bracelet was available in Paterny but it wasn't.
Segment 19: I don't remember what happened but I could recall that Nel was using Aerial while Cliff was chaining Hammer of Mights. I got a Triple EXP chain here, which is just enough for Cliff to learn Berserk.
Segment 20: Maria's SSCC is underway. This segment could have been a bit faster but being parried numerous times may have prevented me from reattempting it.
Segment 21: With Maria at Level 21, I can cast Power Up on Cliff and let him solo the Crystal Cerberus. I immediately saved afterwards because I didn't want the puzzle to be against me later on.
Segment 22: Boring segment with no fights. Skip it if you want to.
Segment 23: The Vandeeni Soldiers didn't put up a challenge. I used Cliff's Major Hammer of Might to break their guard and started chaining it.
Segment 24: Another boring segment. This segment ends at the savepoint at the Paterny Inn.
Segment 25: Why does Schweimer gives me a problem all of the time? I think this segment ended after meeting up with the King at the Ancient Ruins of Mosel.
Segment 26: I picked up the Alchemist Stone for ICing later. Other than picking up Albel, there's nothing really to watch.
Segment 27: Using Sphere of Might against the Blue Dragon Zombie is a risky strategy. However, it worked so I'm glad with it.
Segment 28: Nothing besides a boring segment. I got the Spirit Stone so that I can recruit Misty Lears later.
Segment 29: My Fayt and Maria combo doesn't work here so I decided to just spam Cliff's Hammer of Might. Robin Wind decided to Thunder Flare Maria while taking a pounding from Cliff. I used a Jewel of Refuge to get through the Urssa Lava Caves safely and picked up the 200 ATK Damask Gauntlet for Cliff. I recruited Misty Lears and placed her at the Airyglyph workshop.
Segment 30: I was able to invent an Orichalcum easily and synthesized it to Cliff's newly obtained Damask Gauntlet.
Segment 31: Cliff's Electric Fists plowed through Crosell's huge HP easily. In the second battle, I was trying to get a Triple EXP chain but was that worth it?
Segment 32: This is probably a perfect segment but it's a boring one also.
Segment 33: Biwig didn't even stand a chance at all with Cliff's broken weapon. Aerial Assault chains rocks!
Segment 34: Before I hear the complaints, Cliff's Aerial has a use! As you can see, it whiffs against the Proclaimer but I can use it as a cancel fodder to start my chain. I think I got into one random battle but I'm cool with it.
Segment 35: IC time. I was able to get five ATK+500 factors on my Laser Weapon. This segment could have been faster but refining weapons have a random success rate. Also, I invented two more Orichalcums from the start since I had two spare Synthesis Materials.
Segment 36: I believed I gave the Laser Weapon to Fayt for Side Kicking the enemies.
Segment 37: The Power Up for the first battle is unnecessary but it was a good segment despite that mistake. Hammer of Might is too good.
Segment 38: Mr. Kinkywhip and The Rocket Dude didn't pose a threat due to the sheer brokenness of IC.
Segment 39: You gotta love that funky looking Aerial of Cliff. Did you notice I have been using Cliff as my main damage dealer since around the battle against Albel'
Segment 40: Boring segment so skip it. I used a Jewel of Refuge to get through Planet Styx untouched.
Segment 41: Was Cliff a good decision to use for this fight' Maria's Scatter Beam (Shrapnel Shatter from VP2 <_<;) may have been a better choice.
Segment 42: The Dark Armor didn't put up much of a fight. Next segment please.
Segment 43: The Crystal Statue also didn't pose a threat but I think I messed up a bit in that fight. I had to resort to Maria for once against the Dark Eye since the strategy I used for the Lesser Eye didn't work out that well.
Segment 44: Boring segment. I was lucky to find some stunbombs at the shop. It's going to useful later on. I saved in the Inn at Surferio.
Segment 45: You guess it. Side Kick spamming! Besides that, there's nothing interesting afterwards.
Segment 46: The typical strategy of trying to immobilized the Stone Golem. I think I got a Triple EXP chain going but Maria hogged it all for herself =/. I got into two random battles I didn't expect in the Firewall but it's a nice segment.
Segment 47: 'Ice Blade!!!' Fayt got the angered effect, allowing me to deal the maximum damage per hit in the game HP wise =D.
Segment 48: I guess you can say I'm cheap for using stunbombs but it worked against Pseudo Blair. The other three battles consists of Scatter Beam chains so nothing interesting. The Chimera Hawks are a b**** to fight against like always.
Segment 49: The last segment before the final battle. There's nothing intriguing so skip it.
Segment 50: At last, the final battle. Luther's first form is nothing. His second form poses a huge threat. Cliff's Fists of Fury wasn't able to stunlock Luther so I decided to use the alternative strategy. I believe Wolfwood824 demonstrated this exploit in the second battle in his video. Luther likes to abuse minor attacks so I might as well put up an AAA bait. I never think that a time under 4 hours was possible at all. I'm also amazed that this run was faster than my practice speedrun on Galaxy Mode, which is on my Youtube in ten long segments. A time of 3:50 is pretty decent I guess but it can be reduced even further to around 3:40's. So what's next' I might even do a SS run but playing for 4 hours straight without breaks is over-killing for me. I'm intrigued to see Marty's run if he's going to start it xD.
Special thanks to veterans of the SO3 GameFAQs board (Marty81, DexTepa, Enhasa, Ladyissoalluring, Velari, ArcadiaLegend, Ptsygnh, Neo_Zeromus_X, -ramzacloud-, rock1644, CrossTrigger, Deathbringer21, masterstraat, twilightultima, crate3333, Foxhound3857, ICSTARS77, blackfeather_58, emeraldweapon, EnigmaGamer, etc.*Just look at Velari's Skip Cancelling FAQ or ArcadiaLegend's CPU tourney Topic*)
Also, I would like to thank my viewers on my YouTube who have been watching this speedrun (BradRY, Krelian89, triAceFan (aka tri-Ace_fanboy), etc.).
In addition, thanks to nate for allowing me to upload these huge files, ballofsnow for his help earlier on my other run, obviously SDA for hosting it, the makers of the knowledge board, and mike (that Mega man guy xD) for helping me through the process of verification.
Another thanks tri-Ace for making this game, Square-Enix for publishing, my friends, family, etc, and of course you for watching this.