Tatsunoko vs Capcom: Ultimate All-Stars is a re-release of a Japanese exclusive version of the game, Tatsunoko vs Capcom: Cross Generation of Heroes. It was released on January 28th, 2010, and had 5 new characters including Zero and Frank West, and stars many other characters from our favorite Capcom video games to our favorite Tatsunoko Anime. A very combo intensive fighter with the potential for some serious comebacks.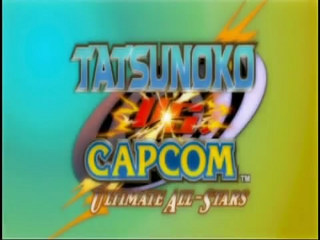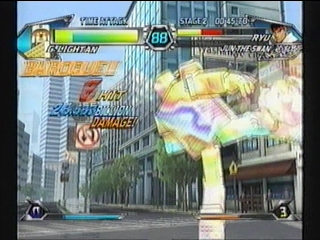 Best time, 8-star difficulty (hardest): 0:03:04.68 by Jeff Cohen on 2010-11-24.
Get Flash to see this player.
Author's comments:
For this run, I use Gold Lightan which I believe has the highest damage per second ability out of every character in the game. If timed just right, characters will accept resets which will allow me to continue combo strings for more damage nullifying the damage scaling. There are a few characters in particular (Polimar, Alex, and Tekkaman to name a few) that are really good at blocking regardless. I feel I can still improve the run, but this was a very difficult time to reach.
Stage 1: Two low health characters. Went very smoothly. (22.31)
Stage 2: two more relatively low lifed characters. Resets went as planned, and got a little bonus meter with a Ryu assist coming in and getting hit. Not perfect, but good run. (46.40)
Stage 3: Another round with a low health character, but a very sneaky one. He snuck away, but only lost a couple seconds. (1:15.52)
Stage 4: Extremely solid run vs the first giant. PTX is always easier, but still hard to get a run this good. (1:32.01)
Stage 5: Two of the three speedrun killers in one round. Thankfully, I dealt with the second very quickly, and only had very small problems with the first. (2:00.15)
Stage 6: Two lazy blocking characters. Solid round, couldn't do much better. (2:21.82)
Stage 7: Another low life character, fantastic! Minor mistake that lost minimal time. (2:44.21)
Stage 8: Started out clunky with a couple of missed attacks completely, but then finished strong for a 20 second run on this giant. Very solid time for this one, very happy with it. (3:04.68)
Final time: 3:04.68
Like every speed run, there are obvious improvements that could be made, but getting as lucky as I did with matchups and resets doesn't happen as often as this video makes it seem. Almost every time I run in to polimar I have to reset because he blocks everything. It will be a while before I will be able to break this time.