Released in November 2007, Trauma Center: New Blood continued with the popular gameplay mechanics that were successful in Under the Knife and Second Opinion. Driven to eradicate another supposedly medically legitimate disease, doctors Markus Vaughn and Valerie Baylock work together to perform a number of surgeries. New to the series is the opportunity to work with a partner simultaneously, allowing you to either get the work done twice as fast or, well, not.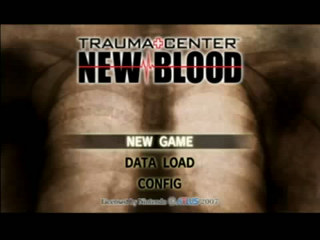 Category note: Completing all missions with an XS rank is an 100% run.
Best hard difficulty 100% time: single-segment 2:47:09 by 'szsk' on 2010-05-23.
Get Flash to see this player.
Author's comments:
XSランクを取得する為のスコア条件が全体的に厳しいので、とにかくミスをしないようなプレイを心掛けました。
少しでも早く確実にクリアする為に、ステージによって使用するキャラクターを変更しています。
なお、Single-Segmentのプレイですが、ゲームの都合上ステージクリア毎にオートセーブされてしまいます。
そこで、セーブデータのロードはエンディング後にエキストラステージをプレイする為に一度だけセーブデータをロードしています。これ以外ではセーブデータのロードは一切行っていません。
Author's comments translated into English:
Since conditions for an XS rank are overall strict, I put my heart into this run so I wouldn't make mistakes.
I changed characters on certain stages so I could get a faster clear.
Even though this is a single-segment play, the game autosaves every time a stage is cleared.
Therefore, I loaded my post-ending save data after I cleared the game in order to play the extra stages. Aside from that one moment, I did not load the save data at any other time.
I thank Mike for translating my Japanese comments into English