Vendetta (Crime Fighters 2 in Japan) was released in 1991 by Konami to arcades in the US and Japan. A side-scrolling beat 'em up, it put you in control of the small but mighty Cobra Gang who lay waste to the much more numerous Dead End Gang to rescue the damsel in distress. The game features larger, more detailed sprites than its predecessor, as well as unique move sets for all four characters, but is not as polished as its descendent Violent Storm.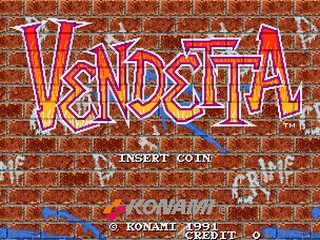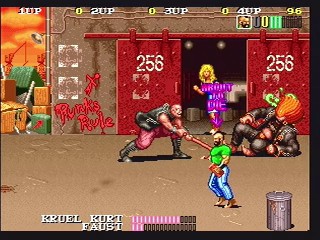 Return to the Game List, the FAQ, or the Home Page.
Very Difficult Difficulty with Blood: 0:15:18 by Sean 'MURPHAGATOR!' Murphy
Get Flash to see this player.
Author's comments:
For general gameplay mechanics, see the Boomer commentary

Blood (modeled after Mike Tyson) has an odd mix of advantages, and I would generally put him as the 2nd strongest character. Blood has very fast attack animations, and tends to have decent range with most of his attacks. His attacks also tend to hit very high above him, which is a minor advantage in the Missing Link and Rude Brothers fights. His attack against grounded enemies takes a long time for him to crouch and start punching, but once he has started, the following punches animate the fastest of any characters, which allows him to do some really abusive stuff against Faust. Blood's main weakness would be that his toss throw is absolutely horrible for grouping enemies, since it strangely knocks other enemies towards you instead of the direction of the enemy you throw into them. It also sometimes just drops enemies right in front of Blood for reasons I don't understand. His striking throw also tends to leave enemies very far away from Blood, which makes it harder for him to take down bosses quickly in some situations.
Very Difficult Difficulty with Sledge: 0:15:21 by Sean 'MURPHAGATOR!' Murphy
Get Flash to see this player.
Author's comments:
For general gameplay mechanics, see the Boomer commentary

Sledge (who appears to be a very sick Lawrence Tureaud (better known as Mr. T)), is probably the weakest character in the game, although he does get through the game faster than Hawk. While his attacks animate quickly, especially his grounded attack, they completely lack any real range. This is especially problematic with his strong (punch+kick) attacks, which are extremely important for despawning enemies and generally making it through the game. His throw also has a very high tendency to miss enemies but animate anyways, which can cause some confusion and bad situations.
Very Difficult Difficulty with Hawk: 0:16:13 by Sean 'MURPHAGATOR!' Murphy
Get Flash to see this player.
Author's comments:
For general gameplay mechanics, see the Boomer commentary

Hawk (who is very clearly Terry Gene Bollea/Hulk Hogan) ranks 3rd in terms of overall strength, but for a speedrun his striking throw creates a major disadvantage. Other characters can repeatedly strike throw bosses for 18 damage, but Hawk's normally 40 damage headbutt does a lousy 4, and can even just be blocked. Additionally, his attacks are not notably fast or far-reaching, and he has an odd property that his finishing kick attack pulls enemies to him instead of pushing them away, which removes the primary strategy used to fight Missing Link. Finally, his elbow drop against grounded enemies is extremely slow. It makes up for its speed by doing 6 damage instead of 2, but the DPS isn't any better overall due to its speed, and missing it due to an enemy standing during the animation puts Hawk in a great deal of danger. Hawk's main advantage is simply that his headbutt allows him to clear normal enemies instantly when other characters may have to do a bit more to get rid of them, but it doesn't make up for his lack of damage on bosses.
Very Difficult Difficulty with Boomer: 0:14:32 by Sean 'MURPHAGATOR!' Murphy
Get Flash to see this player.
Author's comments:
Vendetta (known as Crime Fighters 2 in Japan) was released in 1991 by Konami. It features the 4 of the 5 members of the Cobra Gang fighting against the significantly more populated Dead End Gang to rescue their 5th member, Cute Kate. A 90's beatemup about rescuing a girl, who'd have thought of that? Oh also the characters strongly resemble some rather famous action stars of the era.

This game operates on two buttons, punch and kick, with special actions done by hitting both buttons at once. There's also a grappling system that's fairly unintuitive compared to many other brawlers, but for the most part getting grapples is a function of your range from the opponent. Knowing how to position yourself to get specific grapples is a critical point of getting through the game quickly since the most damaging attack in the game is the strike throw, which is the single most finicky of the possible grapples.

Attacks in Vendetta can only do 2, 4, 6, or 40 damage. Attacks that hit hard enough to knock enemies off their feet are generally 4 damage attacks. Attacks using bottles, bricks, shotguns, or Hawk's face do 40 to normal enemies, but will still only hit bosses for 4. The close striking grapples do 6 damage per hit for everyone but Hawk (who does the single 40 damage hit), as well as Hawk's elbow drop on grounded enemies. Anything not specifically outlined in the other categories does 2 damage. Another important "damage" technique is that hitting enemies off the left edge of the screen will remove them from the game entirely. This doesn't work on bosses, but it is fantastic for getting rid of big enemies who tend to have around 56 health.

Boomer (who is modeled loosely off of Jean-Claude Van Damme) is the strongest of the 4 characters. His attacks have extremely good range and favorable properties, his close striking grapple leaves enemies near him to setup more damage, and while his kick against grounded enemies is actually the worst in terms of DPS, it is very simple and reliable. In addition to those strengths, he has the unique property of his throw being able to despawn enemies by throwing them off the left edge of the screen. His only notable disadvantage would be that his attacks in general animate a few frames slower than the other characters, but the hitbox advantages plus his extremely powerful throw more than make up for those weaknesses.