The off-the-wall sequel to Katamari Damacy was released in September 2005. Fulfill the requests of numerous wacky Katamari Damacy fans by rolling up yet more cows into yet bigger balls. Katamaris ... is there anything they can't do?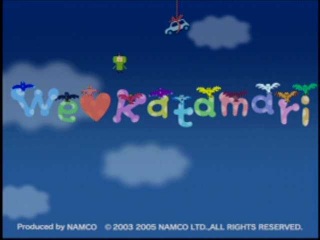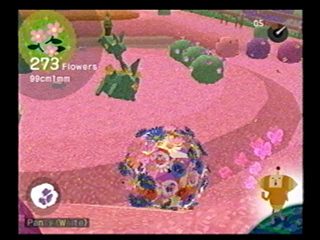 Best Single-segment time: 1:05:31 by Tom 'slowbro' Batchelor on 2005-12-25.
Individual-levels run: table.
Single-segment 1:05:31 by Tom Batchelor.
Author's comments:
Looking for a skilled, big-money play through the popular Save The Pandas stage? Sorry, you won't find one here.
After learning most of the stages well enough to do the individual-stages run, the single-segment run took relatively little effort. I just had to learn each stage's exact requirements to advance, learn a good route through the select meadow (map screen), and of course practice. This attempt is one of my few so far without any huge, glaring mistakes during any of the normal stages. But then again that might make it more boring; maybe it would have been best to submit a run with some horrible, exciting mistake in the middle. Or maybe not. So overall I am satisfied with the run (though I will try to improve on it :) )
But, in this attempt, the one that I eventually submitted as my single-segment run, I did the most pitiful, most pathetic thing that I ever did in any of my attempts. During the playable ending, by accident I let the King roll me up!
I'll be the first to admit that this is a rather weird speed demo. I guess a weird game deserves a weird video. It is strange because of how absurdly little is required to complete some stages. In Clouds I only had to get 50 clouds, in Cowbear I just picked up the first little cow-or-bear-thing that I saw, in Snowman I just dashed to the center, in Sweet Meadow I didn't have to get very big to roll up the fans, and you won't believe how little I had to do in Save The Pandas. I didn't even roll up all the available planets in Roll Up The Sun. And in Saturn with the goal of exactly 20cm, I just played until I reached at least 10cm, the minimum size when you can finish the stage. Another strange thing is that I had to visit (and lose at) Roll Up The Sun early in the game just to advance to later stages.
I am fortunate that the Underwater level becomes available early; quite a few attempts died when I got hooked on a fishing line. Racetrack was also often a run-killer.
One big factor speed-running this game is which of the random spawning locations the game puts me in at the beginning of each stage. In some stages I have learned to be flexible as to which ones I can use, but in other stages I stubbornly restart again and again until the King puts me right where I want to start. In Saturn I have learned the hard way to make sure I do restart if I am put up on the high ledge. Generally this time through I was very, very fortunate to have to restart only a few times.
A few stages didn't go that well this attempt. In Underwater about halfway through it looked like I totally got lost in the deeps. Yeah ... looked like ... yeah. In Room Cleaning I picked up cousin L' Amour, and in Zoo I picked up the Royal Present. Both of those, especially the present, mean that the results screens after the stage will take a little longer to skip through than they otherwise would, so in this speedrun I tried to avoid collecting cousins and presents. In Stage 5 I ran into a lot of cars early on, and after picking up the desert I looked rather pathetic desparately looking for pieces of islands I could pick up. In Clouds it took me even longer than usual to pick up the first few clouds. But some stages went well too - Stage 1 was very smooth, in Snowman I was given the easiest position to roll for the center, Stage 4 just went awesome (except for the ugly-looking accidental pause at the start), Racetrack was a little ugly but smoother than usual for me, for some reason Campfire always goes smoothly and this time was no exception, and I just think Fireflies is a fun one to watch.
And then the ending. The second time the King dashes to try to catch me, you can see that I leave the lower left corner of the screen WAY too early. Because of this, no matter how far into the upper right corner I retreated, the King still got me. And I made anybody who watches this whole video have to stare at nothing but credits for a whole minute. But, fortunately, in my opinion watching and hearing the next scene with the baby Prince is worth waiting through the boring credits for.
Thank you so very much to Arrow, whose support, teaching and ideas helped immensely in completing my WLK runs. And thanks to Radix for choosing to examine and then accept my runs, and just for his awesome website. Thanks to Dr. Thinker, khfan1, Frig1d, Yoshifan, Vix, Aaron, Snapdragon, Nate, my cats, anybody that watches my runs, and everybody that I forgot.
Individual-levels run in 0:33:41:
Get Flash to see this player.
| | | | |
| --- | --- | --- | --- |
| Level | Time | Date | Player |
| As Fast as Possible 1 | 0:00:31 | 2006-02-05 | Maria 'The Prince's Bride' Risher |
| As Fast as Possible 2 | 0:00:27 | 2005-11-10 | John 'Dr. Thinker' Masteller |
| As Fast as Possible 3 | 0:00:21 | 2005-10-22 | Stephen 'yoshifan' Chan |
| As Fast as Possible 4 | 0:00:25 | 2005-11-05 | Stephen 'yoshifan' Chan |
| As Fast as Possible 5 | 0:04:56 | 2006-06-17 | Matt 'matthew69' DeMoss |
| As Large as Possible 1 | 0:00:20 | 2006-05-30 | Matt 'matthew69' DeMoss |
| As Large as Possible 2 | 0:00:57 | 2006-05-20 | Matt 'matthew69' DeMoss |
| As Large as Possible 3 | 0:02:15 | 2006-06-08 | Matt 'matthew69' DeMoss |
| As Large as Possible 4 | 0:03:21 | 2006-05-24 | Matt 'matthew69' DeMoss |
| As Large as Possible 5 | 0:04:55 | 2006-06-15 | Matt 'matthew69' DeMoss |
| Campfire Small | 0:00:43 | 2006-05-23 | Tom 'slowbro' Batchelor |
| Campfire Medium | 0:01:38 | 2006-05-23 | Tom 'slowbro' Batchelor |
| Campfire Large | 0:01:33 | 2006-05-28 | Tom 'slowbro' Batchelor |
| Cousins | 0:01:23 | 2006-07-01 | Matt 'matthew69' DeMoss |
| Flowers | 0:00:39 | 2006-06-03 | Matt 'matthew69' DeMoss |
| Racetrack ALAP | 0:01:08 | 2006-04-21 | Tom 'slowbro' Batchelor |
| Racetrack AFAP | 0:00:24 | 2006-05-31 | Matt 'matthew69' DeMoss |
| Room Cleaning | 0:00:36 | 2005-10-27 | Stephen 'yoshifan' Chan |
| School ALAP | 0:01:20 | 2006-07-29 | Matt 'matthew69' DeMoss |
| School AFAP | 0:01:03 | 2005-11-10 | John 'Dr. Thinker' Masteller |
| Sumo Small | 0:00:40 | 2006-06-24 | Matt 'matthew69' DeMoss |
| Sumo Medium | 0:00:56 | 2006-07-09 | Matt 'matthew69' DeMoss |
| Sumo Large | 0:01:20 | 2006-07-29 | Matt 'matthew69' DeMoss |
| Underwater ALAP | 0:00:56 | 2006-06-27 | Matt 'matthew69' DeMoss |
| Underwater AFAP | 0:00:26 | 2006-02-03 | Aaron 'khfan1' Surette |
| Zoo | 0:00:28 | 2006-07-08 | Matt 'matthew69' DeMoss |
My gosh, looking at stages done by my partners in crime, I start to wonder if the videos I did can measure up. You've got to see khfan1's 0:26 run in Underwater AFAP; until recently the best times on the scoreboards for that level were in the 40's. Dr. Thinker's two Stage 2 videos leave most of mine in the dust.
Our We Love Katamari project had humble beginnings. When I began this project, my whole purpose of making the videos was to try to get my As Fast As Possible 5 video, which was the only stage I could do really fast, hosted on Speed Demos Archive (SDA wants a whole set when doing individual level runs, not just one stage). At that time my AFAP5 video took over seven minutes! But we worked on it and now we've got 26 different stages run well. We've come a long way, and now I'm glad that the four of us stuck to it and got all our videos done.
We Love Katamari's control of its dash is easier and much more accurate than dash control in Katamari Damacy or Me and My Katamari. Just two or three wiggles of both sticks, see and hear your ball spin and you've got a 100% chance of a dash. You even have a choice between two speeds of dash, unlike the other two games. Plus there's the fact that many WLK stages are short. These two things together mean that there is a potential for super-polished, almost perfect-looking speed videos in We Love Katamari, a potential that isn't really there in Katamari Damacy or Me and My Katamari. Hopefully the vids up now are only the tip of the iceberg of the things people will accomplish.
One of the things that make We Love Katamari so good is that there are so many ways to play it. There are a lot of stages, like Campfire and Sumo, that are probably not meant to be speed-run, but that are very good for speed-running nonetheless. So if you've played the game a lot, gotten every cousin and present, gotten all 2900+ items, rolled up the King and the roses, gotten most of the super-clears (or all), etc. etc., and you want a new way to play it, you can try speed-running stages like Sumo and Campfire. I recommend it.
I would have never gotten the project done had I tried to do it all by myself. I am just not good enough at some of the stages. Thanks to Arrow for teaching me a ton about Speed Demos Archive and for his work on this project, to Dr. Thinker for supporting me in this project, to khfan1 for coming through for us late in the project, to Vix and her site's mods for letting me take over a thread and abuse it for months, to Neboke and Ben and ReverendTed for encouragement, to Nate for picking through my cluttered tapes and capturing the video, and to Radix for hosting my videos. Thank you to Yoda for all his help. And a monstrous thank-you goes to Anwonu. He let me watch his videos, and he discussed strategy; he basically taught me my routes for Campfire Small (0:43), Medium (1:38) and Large (1:33). Thank you to Matt Demoss for the work he is presently doing on this project.
Soon there will be very few or no WLK videos up by Arrow, khfan1 and Dr. Thinker. But don't downplay the importance of their contribution; it was essential to this page's existence. If it weren't for them, either I would have submitted much slower videos of the stages they did, or I wouldn't have managed a complete set of videos and I would have submitted nothing at all. So their contribution was a very big one, even though Matt Demoss will likely have nearly all their videos bettered very soon. We Love Katamari on SDA has been entirely, delightfully, a group project. Thanks to all! :)
SHAMELESS PLUG: If you want to watch more We Love Katamari videos, with goals besides pure speed, check out Aaron's website at www.vgmr.us
If you want to e-mail me about anything I am at sloobro@yahoo.com.
Records are made to be broken. I look forward to downloading the videos once people start submitting improvements to my runs. Until then, enjoy our videos ;)