X-Men: Mutant Apocalypse was released in 1994 by Capcom for the Super Nintendo. This was one of many X-Men games to be released over the years. In this installment, you control one of five X-Men at a time in an attempt to save captive mutants on the island Genosha, resulting in a showdown with Apocalypse and ultimately Magneto.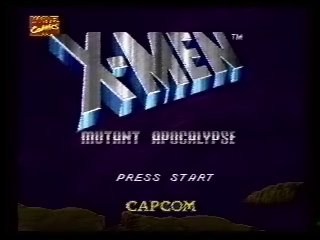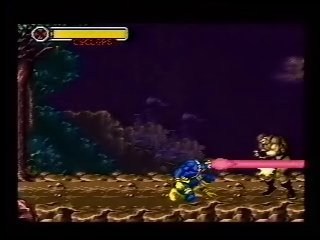 Best time: 0:19:06 by Jeremy 'DK28' Doll on 2008-10-22.
Get Flash to see this player.
Author's comments:
First off, thank you to SDA and crew for creating and maintaining a forum for these speed runs. Also, a big thank you to Mike for walking me through my first run submission, having lots of patience with me and basically making this possible. Also, thank you to my friend Shawn for suggesting I speed run this game in the first place and to my wife Carmen, for indulging me in this little quest.
Note - I am now a firm believer that a game knows when it's being recorded. In my years of conquering this game, I have never faced computer A.I. of this quality.
The intro missions -
Cyclops -Funny story here, I almost started over after the aircraft knocked me down at the start. I stood up to go reset, but the Gamer in me won't let me restart until I have destroyed those responsible for ruining my run, so I killed both remaining soldiers. After a quick calculation in my head, I realized I only lost about one second since you have to wait for the last soldier to fly in anyway. So I sat back down and kept playing. The rest of the level went according to plan.
Wolverine - Not much to say. Perfect run and a quick Sentinel fight.
Beast - One thing this experience has taught me, is the power of Beast, I used to never use him after this first part. Great run except for the last Sentinel getting that cheap shot in.
Gambit - A classy, charged card, intro. Am I the only one who looks for the card to land in the middle and blast the guards in opposite directions? Anyway, level was perfect.
Psylocke - Fear the psychic blade of 1,000 hits. Probably my best run here. Great except for getting hit twice. I can't complain.
Brood camp - I was stoked about this level, I just started using Psylocke here and she is great. Stupid hit on the first truck, but slid the rest of the level, a couple errors on the eggs. I blame Psylocke, I did the correct input, but she wasn't listening. Got a little chewed on during the Queen, but the better woman prevailed. I always wonder why the Queen is a living being, but has an exploding death. Moving on...
Tusk lava pit - Had a great run down the hall. Then Beast and Tusk proceed to fight for the heavyweight title. And it's Beast with the junk-punch FTW, and he celebrates in the lava.
Apocalypse compound - Level portion was mostly flawless, still tweaking the last set of columns at the start. I combo Apocalypse nicely, but misjudge his power bar and have to get one extra hit. Never fear, the Junk-Punch Master strikes again for the ultimate in Pwnage.

Now, we're in the middle of saving mutant-kind, but who cares? Let's take a time out for some danger room exercises. Sure thing Professor.

Omega Red - Annihilated
Juggernaut - Decimated
Avalon station - Absolutely sensational all the way through Exodus. I get a little ahead of myself and headbutt some electricity. However, I come through with the perfect Boss fight. Beast then celebrates in the electricity.
Magneto - The boss of the game, even though it's named after Apocalypse, anyway... He draws first blood and then I dish out a couple combos. He catches me a few times flying around, but I still land on the platform, so no big deal. It's over from there. I proceed to work him over so bad that I walk out with his watch and wallet.
Best... Magneto fight... Ever!
I hope you enjoy run!