Released in June 2004, Four Swords Adventures includes 'Hyrulean Adventure' which is the portion that can be speedrun. It is a return to the classic 2D gameplay, in which our hero Link now comes in the power of four in his quest to save Hyrule once again. Link makes his way through various stages by collecting 2000 "Force Gems" in order to progress forward.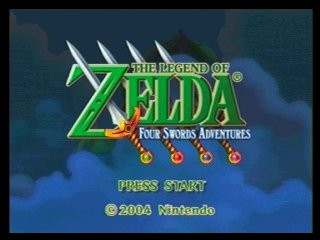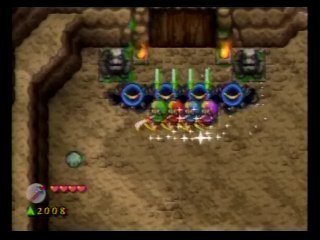 Note: Runs should be done after the game is already beaten so that the owl is avoided and maiden conversations can be skipped.
Individual-levels run in 2:31:20:
Get Flash to see this player.
Level #/name
Time
Date
Player
1-1
Lake Hylia
0:04:09
2009-05-20
Philippe 'Wak' Brisson
2-1
The Coast
0:05:14
2004-07-03
Derek Kisman
2-2
Village of the Blue Maiden
0:07:04
2004-07-23
Derek Kisman
2-3
Eastern Temple
0:09:13
2004-07-23
Derek Kisman
3-1
Death Mountain Foothills
0:05:08
2004-07-24
Derek Kisman
3-2
The Mountain Path
0:05:24
2004-07-24
Derek Kisman
3-3
Tower of Flames
0:05:55
2004-07-25
Derek Kisman
4-1
The Field
0:06:53
2004-07-25
Derek Kisman
4-2
The Swamp
0:07:02
2004-07-27
Derek Kisman
4-3
Infiltration of Hyrule Castle
0:05:48
2004-07-27
Derek Kisman
5-1
Lost Woods
0:05:27
2004-07-28
Derek Kisman
5-2
Kakariko Village
0:07:26
2004-07-28
Derek Kisman
5-3
Temple of Darkness
0:09:23
2004-07-29
Derek Kisman
6-2
Desert Temple
0:06:54
2004-12-31
Philippe 'Wak' Brisson
6-3
Pyramid
0:09:43
2005-01-02
Philippe 'Wak' Brisson
7-1
Frozen Hyrule
0:06:38
2004-12-29
Philippe 'Wak' Brisson
7-2
The Ice Temple
0:08:54
2005-01-05
Philippe 'Wak' Brisson
7-3
Tower of Winds
0:10:35
2004-12-29
Philippe 'Wak' Brisson
8-1
Realm of the Heavens
0:06:40
2005-01-05
Philippe 'Wak' Brisson
8-3
Palace of Winds
0:17:50
2004-07-16
Nolan Pflug