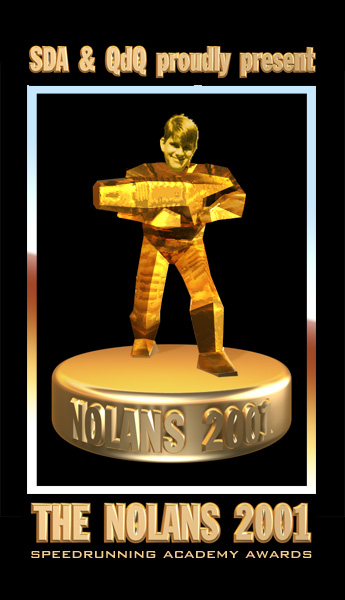 Finally, It's All Over!
Well, we've come to the end of the long road that was The Nolans. The presentation is all over and done with. Big thanks are due to everyone who turned up, our guest presenters Pappy-R, Jube, Nolan and Will, our security crew, Amrik and Thomas, our behind the scenes crew Jesse and Stefan and, of course, Stubby for support, encouragement and an excellent job of co-host.
All nominated demos are available here.
The results are all below, and the logs from the IRC channels are available here.
id demos
Best id Easy Run id Easy 100% id Nightmare Run id Nightmare 100%
Custom level demos
Best Custom Run Custom 100%
Coop and Marathon demos
Best Coop
dm3_010 by Carl Tholin & Johan Nilsson
e1m1_025 by Ilkka Kurkela, Aleksander Osipov, Will Marsh & Marlo Galinski
e3m7_111 by Thomas Stubgaard & Mads Peter Stubgaard
Best Marathon
Player awards
Most Outstanding Runner
Jozsef Szalontai
Markus Taipale
Peter Horvath
Rookie of the Year
Amrik Kochhar
Anders Nordensten
Timo Neiminen
Fool of the Year
Amrik Kochhar
Arturo Garcia Lasca
Jonny Andersson
Other awards
Favourite 'Run of the Week' contest Quake/SDA/QdQ Event of the Year
Demo 5000
Morfy Joins SDA
QrdQ (Quake redone Quick)
Best New Map on SDA
czg07 by Christian 'CZG' Grawert
n3sp03 by Necros
The Pit by Attila Csernyik
Favourite Mapper
Attile Csernyik
Christian 'CZG' Grawert
Tim Elek
Best Quake Related Site
Ingmar 'Nagasaki' Poerner for Illmind Moves
Chris 'Fern' Ploran TeamFERN
Shambler for TeamSHAMBLER
Best SDA Update
Lifetime Achievement/Living Legend/All Time Great Award
Ilkka 'Mineral' Kurkela
Nolan 'Radix' Pflug
Yonatan 'Zem' Donner
Ilkka and Yonatan were both ONE VOTE behind Nolan!