Super Castlevania IV is a platform game developed and published by Konami and the first Castlevania game for the Super Nintendo Entertainment System, as well as the fourth in the series overall. It was released in December of 1991 in the US. It was also released on the Wii's Virtual Console on December 25, 2006. It is a retelling of Simon Belmont's foray into Dracula's castle, first told in the original Castlevania. The game has all new levels (several featuring areas outside of the castle), 16-bit graphics featuring SNES Mode 7, and the soundtrack consists mostly of brand new pieces including a handful of remixes of previous Castlevania songs.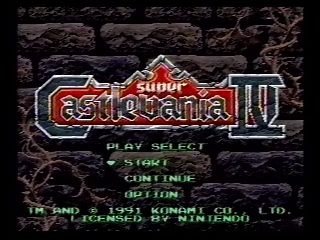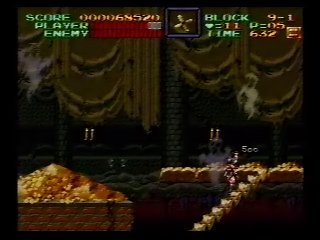 Best time: single-segment 0:35:13 by Josh 'Funkdoc' Ballard on 2011-01-26.
Get Flash to see this player.
Author's comments:
This game has long been a favorite of mine, and while learning it for Awesome Games Done Quick I decided to record a new run for SDA after that was finished. I definitely think this is the best speedrun I've done yet; although my record for the original Castlevania is closer to the theoretical best time, there is far more skill and less luck involved in this game, and I think it's much more fun to watch. There are just enough small issues here and there that I think sub-35 could be done, but that would require CV1-level attention to luck and I'm not sure I'll ever be in the mood for that with a game this long! As for strategies, I'm not going to go into too much detail here. Just listen to the audio commentary, sit back, and enjoy.
The biggest thanks go out to Bablo, who worked on this game for a long time himself, found most of the cool-looking tricks that aren't seen in the current TAS, and basically taught me this game as well as CV1. Also thanks to DK28 for being the first to tackle this game and being supportive, and of course to everyone who's watched my streams! If you are unaware, I frequently stream my speedrun practice and attempts (with live commentary and responding to stream chat) at http://www.justin.tv/srkfunkdoc , so check it out if you want more old-school CV or fighting games or random bad games!