Apparently released in December 2009, you are an angel flying around trying to touch as many cat heads as possible. Basically everything you need to know is here.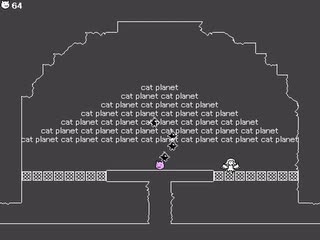 Return to the Game List, the FAQ, or the Home Page.
With Deaths: 0:02:40 by 'liopoil'
Get Flash to see this player.
Author's comments:
A very clean run! No unintentional deaths, only a few movement errors. There are three intentional deaths, one of which is a glitch where I go through one of the ceilings in the factory, saving several seconds.
100%: 0:04:25 by Tad 'RabidJellyfish' Cordle
Get Flash to see this player.
Author's comments:
The first time I saw this game (like most others who have seen it) was when I stumbled upon Raocow's hilarious Cat Planet commentary on youtube. I showed it to my friends, we all laughed about it, then a few of us decided to try to play it. It was difficult - most of us had at least 100 deaths on our first playthroughs, but after a couple more tries the number of times we died in the game decreased. Eventually it became sort of a competition among my friends and me to see who could beat the game with the fewest deaths. Slowly, the count made its way down into the double digits, then finally single. I finally beat my friends when I beat the game collecting all the cats with no deaths.
The death count wasn't the only thing that had decreased. I realized after a while that the time it took to beat the game decreased dramatically as well, so I decided to play some more to see how fast I could beat it. Eventually, I managed to get a deathless, 4 minute and 25 second run. So here I am, making my first SDA submission :D
This game doesn't have any major glitchy time savers, so the most important part about the run (other than going fast and not dying) was finding a good route. Other than that, there are several smaller mechanics that saved a few seconds:
- The cats' hitboxes are huge, sometimes bigger than the platform they're standing on. This means I don't even have to touch the cat to collect it. This is a timer saver in places like the first cat I collect in the jungle, where I bounce on the side of the platform to keep my momentum and still collect the cat, and in the lava caves where I can collect the cat from beneath the platform it's standing on.
- The angel is awkward and slow when changing directions, so I try to bounce around when I need to make a quick turn. I also use this to bounce against the ceiling in cat village to propel myself downward at a high speed.
- Jumping/Flying removes any vertical velocity I have. In other words, if I'm falling at a very high speed, I try to jump before I hit the ground so I don't bounce unnecessarily high.
I will admit, there are some minor mistakes in the run that may have cost a few seconds, but overall I'm very happy with how this turned out. Enjoy!