Released in December 1990 by Apogee and developed by id Software, Commander Keen: Marooned on Mars is the first installment of the Commander Keen series. While Commander Keen is exploring Mars, the Vorticon steal four vital components of his ship and hide them in Martian cities. The Commander is forced to take action.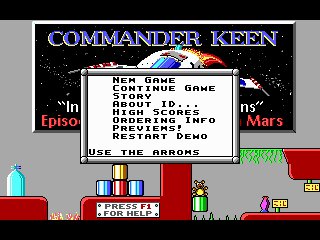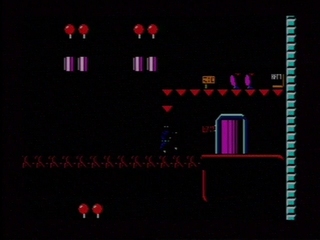 Best time: Single-segment 0:03:58 by Joseph 'Tranquilite' Schurig on 2011-11-15.
Get Flash to see this player.
Author's comments:
I'm going to keep my run comments short and sweet because I've already put off submitting this run long enough.
Level 1: Not much to say here. The Yorps' decided to cooperate and, for the most part, stay out of my way.
Pogo Shrine: Grab and go.
Car battery level: Everything went according to plan. I intentionally pause for a bit at 0:50 in order to get the off-screen Yorp moving my way so he doesn't mess me up later.
Joystick level: I make a miniscule mistake by firing at the first Yorp after touching the ground which takes away my momentum and causes me to stop. The third Yorp tries to cut me off at the pass to no avail, and everything else goes according to plan.
Cactus Level: This level was executed well, though the route could probably use some more optimization as I climb to the exit.
Ice City: That Vorticon is such a troll. He can do any number of things to completely ruin a run.
Final Level: This is where the bulk of this run's mistakes are found. The first one occurs when the robot guarding the blue key decides to troll me, the second when I accidentally fire a shot, this is easier to do than it looks because in order to jump high on the pogo, you need to press and release the pogo button then almost immediately hold the jump button. However, pressing both buttons simultaneously will cause you to shoot instead. I also make a couple more sloppy jumps before finishing the run.