Released in October 2011, Dark Souls is the sequel to cult hit Demon's Souls. Players traverse an open, minimalistic world and gain the experience necessary to take on gigantic bosses. The game's subtitle was Prepare to Die, and the difficulty was hyped, but really, the game just punishes mistakes by giving enemies about the same amount of power players have. In late 2012, the game received a DLC expansion titled Artorias of the Abyss, which added new areas and bosses.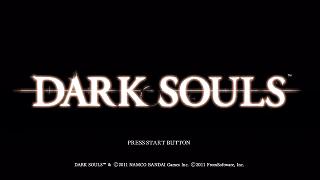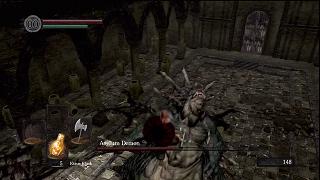 Best time with Resets: Single-segment 0:26:58 by 'Treynquil' on 2013-04-15.
Get Flash to see this player.
Author's comments:
This speed run uses the Kiln glitch to skip the boss souls. Since this has been patched out of the game, not many people run it any more but I thought it'd be fun to try to complete the game in under 27 minutes using the (underrated!) Black Knight Sword.
This run uses the in-game timer to measure the time of 26:58. The RTA time is 28:51 and is longer because you have to quit to the dashboard once and the IGT doesn't measure during loading screens.
This route is based largely on Fred "Thanatos" Vasquez's route from last year (Drake Sword / Crystal Halberd), with improvements from the great community of speed runners on twitch (Santzo84, Noobest, Otsunari, mk_darksouls and many others).
30 seconds or more can be shaved off of this with a better O&S fight and also fixing the mistakes I made along the way, or possibly with Black Knight Halberd + Red Tearstone Ring route.