Released in 1996 for PlayStation, ITaF is a 3D remake of/sequel to the original Track and Field games, in which up to four players can compete in eleven different Olympic events. That's about it. Yay.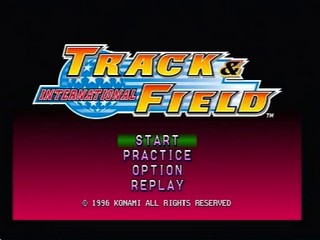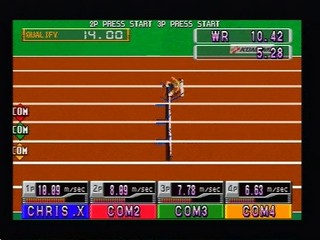 Best European version time on Hard difficulty: 0:08:31 by 'Chris-X' on 2013-07-01.
Get Flash to see this player.
Author's comments:
Hey people! I'm Chris-X. Welcome to my International Track and Field speedrun, completed on July 1st, 2013.
It's a single segment run on hard difficulty (that means you must have better results to qualify).
The goal is to complete all events by beating the qualification time/distance/height and win the championship.
The run was recorded with the Terratec Grabby Video Grabber directly on my PC.
100m Sprint:
This is very easy. Only have a good start and hit the run buttons as fast as possible.
I use a text marker to do so, most people use a lighter.
Long Jump:
I only need one valid attempt farther than 8 meters. The other two attempts are intentional fouls to save time.
Shot Put:
In this event a foul saves a lot of time, so it's important to beat the 21 meters in the first attempt.
100m Free Style:
It's not important to be that fast here because the computer opponents are very slow and you have to wait for them.
110m Hurdle:
I don't have to make it over every hurdle because I have to wait for my opponents again.
High Jump:
I choose the lowest height possible (2.20 meters) to save time.
Hammer:
Same tactic like shot put.
Triple Jump:
The first attempt is not an intentional foul, but I don't lose time there.
Javelin:
Nothing more to say here.
Pole Vault:
The first foul is not intended, I just don't have the right timing.
Discus:
Nothing more to say here.
Final stats:
100m Sprint - 8.02 s
Long Jump - 9.41 m
Shot Put - 26.00 m
100m Free Style - 45.20 s
110m Hurdle - 10.46 s
High Jump - 2.22 m
Hammer - 88.63 m
Triple Jump - 18.75 m
Javelin - 99.13 m
Pole Vault - 5.50 m
Discus - 82.07 m
Total points - 15403
Thank you for watching!