Released in 2001, Jak and Daxter is a 3D platformer for the PS2 set in a seamless world with enormous vistas and colorful, well-animated characters. Jak embarks on a quest to reverse his best friend, Daxter's, transformation into a furry Ottsel and in the process you end up having to save the world from twisted minds wanting to unleash dark eco, the most dangerous element in the universe.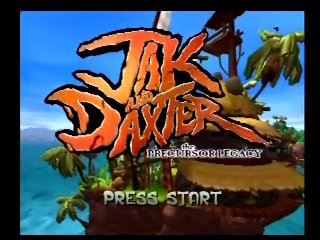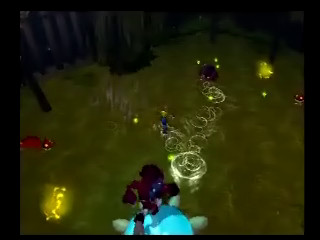 Best time: single-segment 1:40:11 by Tony 'ZenicReverie' Foster on 2009-04-26.
Get Flash to see this player.
Author's comments:
First I'd like to thank everyone at SDA. Those that posted encouragement in all of the Jak and Daxter threads helped to motivate this run into existance.
Ben 'Mkt2015' Fichter - For his original run, which inspired me to improve it.
Jake 'jtrbf' - For starting the thread that led me to a shortcut on Misty Island.
nate - for putting up with my constant worries over quality and technical concerns.
Mike Uyama - For being cool.
Enhasa - For the news.
And you, for reading this and watching the run.
I didn't think Jak and Daxter would be my first run. I just got the game in January, and didn't play it until March. I did my first test run near the end of March and matched Ben's time going from start to end, and thought, yeah I can do better. So, I planned to make attempts throughout April and see what happens. This is my second deathless run I've been able to record. The first was 2 minutes slower with a bad mistake in Spider Cave. This is a nearly 40 minute improvement over the last run.
Next some general notes about this run. The most time saving comes from not going out of my way to collect Precursor Orbs. When I do though, it's for 10 - 20 instead of 1 or 2. I actually collect less than I normally do, but still manage to get the 510 I need at the end. There may be times I miss a dive or a double jump. I don't know if it's the controller I used or the game, but sometimes it just didn't register what I wanted to do.
Starting: I get two warnings about no memory card, you'd think one would be enough. My first time-saving move is made before I even start the game by turning off the game hints. Most of those come on Geyser Rock, but quite a few occur in Sandover Village, and can save a good 2 minutes. Now we wait through the opening sequence that I've had to sit through hundreds of times. One minute of setup, then take a break for 6 minutes before you actually get to play the game. That's great!
Geyser Rock: Everything went well here, not much to say about the tutorial level. I miss a second or two by not grabbing the edge of the cliff before the last power cell, so I add an extra high jump. The fall down to the portal will hurt Jak, so a spin is necessary, although timing it closer to the ground is best. Lastly, landing on the switch via roll jump is best, so I lose a second here as well. I just tried a new technique where instead of breaking each box I grab the two blue eco and run back through them: 6+ seconds worth of savings for whoever wants it.
Sandover Village: Yak Herding can take a while if not done correctly. I've done it as quick as 40 seconds in my best runs, and as slow as a minute and 15. Over the previous run I try to group the farthest two by hitting them both on my way back to putting them in the hold.
Forbidden Jungle: I decided on this route after watching the previous run and finding it could flow a little better . First is the fishing game, I miss a fish, but since the last fish is big and I end with 203 it doesn't waste time. I try to take out the lurker near the first lens and get hurt. If I don't take him out, then he's off camera and usually hurts me anyway: 2 seconds off.

Inside the blue eco vent place, I do a series of jumps over the bottomless pits. The second jump usually goes better, as I can land on the other side most times. The third jump can go better by making a slight judgement call on where that platform will be and landing on it before jumping to the other side. Together that's a savings of 1 - 2 seconds.

At this point I usually take stock of my time. I'm overall doing the best I've ever done by about 10 - 15 seconds and so far 6 minutes ahead of the previous run.

Misty Island: Catch the muse first since he's right there. I found out it's possible to grab him right away with two rolling jumps and a punch timed right. The rest of this route is thanks to Jake "jtrbf" and his video on youtube. I get some bad luck with blimp placement, plus I hit one of their mines. So, about 10+ seconds that could be luck manipulated out in a segmented run. Misty Island done in 6 minutes, which is faster than the video thanks to catching the muse early and better blimp placement than Jake had, although still not ideal.
Sandover Village: Pretty much just running through here, but I pick up two of the scout flies.
Sentinel Beach: I use Mkt2015's route with some slight changes. I don't chase the pelican, and I don't uppercut those blocks. I blow up the pelican, and I use the blue jump pad to get on top of the cliff. Jak sure doesn't care for animals, slapping yaks, blowing up pelicans, chasing birds, pushing eggs off cliffs, and chasing lightning moles. Saved at least a full minute over the last run.
Sandover Village: I finish up the quests and head on the Fire Canyon.
Fire Canyon: Another place I check my time. I'm a good minute faster than anything I've ever recorded and 16 minutes over the last run. I miss a couple of cooling balloons, but no big deal. No beeping means a good run, but I've actually done about a second better.
Rock Village: Activate the Blue Sage's teleport gate, watch cutscene (ignore short pause), move on to the Lost Precursor City. I've tested not activating the gates, but things don't show up then, like the zoomer and Flut Flut, not to mention Keira.
Lost Precursor City: The first platform doesn't cooperate very well and is going the wrong way when I get there. There's a chance that taking the far path may have saved some seconds when that happens, but it's more dangerous. The roll jump over the dark eco could have been better, as it's possible to get the power cell with hanging on the ledge. At the lightning platforms I take a moment to make sure the dragon isn't too close, and then a couple of seconds when he is close, but he doesn't see me so I move on. That could have been better.

I smack the two part lurker, and get knocked back into the lightning water. That's never happened before. I move on and get hit again just as I'm coming down from a jump in the second slide. About 2 - 3 seconds lost for those two hits. Next is the first shortcut that I found, which saves 5 - 6 seconds. Activating the blue orbs is the quickest path I've found, then it's back up to Rock Village. You'll notice I skipped the scout flies; 5 minutes saved over the last run.

Rock Village: I need to talk to the Gambler and Researcher before heading to Precursor Basin; otherwise, the race isn't activated and the lightning moles aren't there respectively.
Precursor Basin: The lightning moles quest looks very easy in this run, but mainly it's just lucky. The race is 2 seconds slower than my best. Something to note is that blue eco increases your top speed. The more times you recharge with blue eco without slowing down, the more it increases. This is more noticeable in the mountain pass.

The dark eco plants could have gone better. I've done it in 2 passes before and 4 passes on my bad days. Everything else is pretty spot on. I hope you like zoomer because this level is a full 3+ minutes longer than the last run. Why? I collect 4 more power cells here; with the lightning moles, blue rings, dark eco plants, and throw in the scout flies on the way I make up for a few I've passed over.

Rock Village: Time to finish up the remaining orbs. I skip over the warrior, he really isn't necessary, and he talks a lot. On to Boggy Swamp.
Boggy Swamp: I usually miss that rat in the first alcove. So, let's add a 'that's never happened before' and lose a couple of seconds. Normally it's roll jump to the fly, roll jump back, get out. I do better at the next one. Getting hurt isn't such a big deal in the swamp, as there are four big green ecos to find, but it does slow me down by 2 - 3 seconds each time.

I think the ambush might be on a timer instead of based on the number of enemies you kill. The shooting gallery game is rigged! Shenanigans!! I mean I'm not very good at it, so I skip it. Plus, it's one of longer cells to get at nearly 3 minutes. Over the last run, there is 9 minutes to be saved, mainly due to the last run getting to the end and then turning around to go backwards through the level because he missed a scout fly. I've done it before myself, but that segment really should have been done over.

Rock Village: Just passing through. It's interesting to note that you can't talk to Keira right away. No loading sign, but you know what it is. Klaww could have gone better. I got hurt a bit, which doesn't slow me down too much, but he always threw 4 boulders instead of 3. That adds a good 10 seconds total, but it could have been worse, he can throw up to 5 each time.
Mountain Pass: Could have been better. I run into a tree that removes my blue eco boost.
Volcanic Crater: Activate Red Sage's gate, watch cutscene (ignore random pause), move on. I get the 2 oracle cells, and three from the miners since the fourth has a longer cutscene. On the mining carts, it's faster to jump ahead on the first two loops, but I didn't risk it. Back and forth it's possible to save 20 seconds.
Spider Cave: It's faster to collect four cells here than in the mountain. Climbing the precursor robot could have been faster. I noticed that it may be possible to jump right away from the turning platform instead of waiting a rotation. Also, I made a bad jump on one of the swinging poles that turned into a bad setup for the last jump. The spider tunnel jump happens like that some times, you have to be directly in the middle. More camera trouble as I make quick jumps to the top, but it passes and I get the last cell. I fill up on yellow eco and make the dash for the secret power cell. 5 minutes here compared to 10 minutes in the last run spent in the mountains is about 5 minutes in savings.
Volcanic Crater: Shoot the secret cell and collect, get the last scout fly and collect, then move on. I ended up collecting all the orbs without meaning too, not that it helps or hurts any, but I thought it added a little something extra.
Lava Tube: This is where the sprint to the end starts. It goes well, pretty standard. I have some bad luck with timing the second set of dark eco drums and need to wait a little. I hardly brake when shooting the glowing orbs, so I'm happy with this.
Gol and Maia's Citadel: The Yellow Sage's part could have gone better. Somehow I auto jumped on the third to last platform, which surprised me, so that's what caused this next mistake. That's never happened before. It's possible to skip over the second to last set of blue jump pads and go for the last, but it's close. I had to wait for some rotation here to collect more eco; overall, could have been 20 seconds faster just because I feel this attempt was so slow here. Something else that's never happened before happened in the run prior to this is I jumped while having blue eco, but I did a normal jump instead of the big jump off the platform.

The Blue Sage goes well. I don't get hurt by the first red beam as I run across the rotating block. It's possible to do some roll jumps, but I'm starting to get conservative here. Thus, the Red Sage part could have been better. I first miss the top quarter platform, but luckily land on the bottom. This adds another rotation to the time. I then take a slightly more conservative route to the colored platforms. But, I decide to add some drama to the run by getting hit twice. brining me close to death during the lurker rush. More bad timing luck with platforms slow me down as I finish up the level.

Jak's health is auto healed for some reason before heading up to the top, I show this in the run. There are four big green ecos at the top so it matters not. I have fallen off blue eco activated platforms, so I take a moment to time the jump, this is true for all of them in the run.

The final boss is cake, and I eat him too. I use the goggles to shoot the robot, as it's a few seconds faster than jumping and shooting. I don't want to jump too early and have to jump again, so I wait each time until I hear the bomb loading. This fight could be faster by getting luckier with white eco placement, and a better final phase fight. I haven't seen a video showing the fast credits before, so I show them off, it's done by holding down two buttons as the credits play.
That's it, I hope you enjoyed it. Feel free to beat it. I'll come back to the game in a year or so to plan out a segmented 100% run if one hasn't been done by then.