Released in August 2007, Knytt Stories is the sequel to Knytt set in the same universe. While gameplay mechanics were preserved, new ones such a double jump, an umbrella to float up/down and more were included. The base game came with a Tutorial level and a single scenario, and since then expanded to include a few more. A level editor is included to encourage players to make their own custom levels and stories.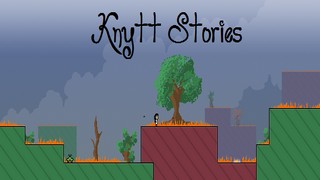 Best Tutorial time: 0:01:11 by Benjamin 'UraniumAnchor' Cutler on 2014-09-10.
Get Flash to see this player.
Author's comments:
Simple enough run. There's a couple handfuls of frames here and there that could be saved to push this to a high 1:11, but I don't think I'm missing any overall strats. Maybe this will encourage more Knytt Stories submissions.