Released on April 26, 1990, Magician Lord was released as a pack-in with the Neo Geo, much to the horror of those with 700 dollars to burn. As the last Magician Lord, Elta, you have to stop the evil wizard, Gal Agiese from resurrecting the god of destruction, Az Atorse with nothing but slippery controls and a shabby, 5-dollar wizard LARP costume.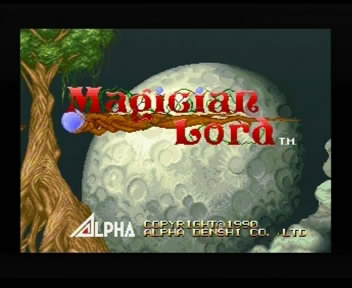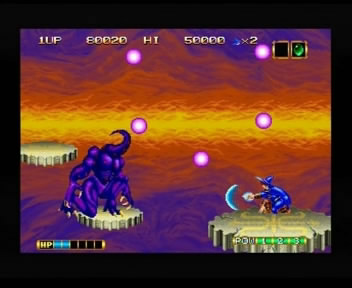 Runs on the PlayStation2 PAL version:
Runs on the PlayStation2 NTSC-US version:
Return to the Game List, the FAQ, or the Home Page.
Get Flash to see this player.
Author's comments:
I actually enjoy playing Magician Lord. Also, the engrish is too awesome.
General strategy for this run involved getting the Dragon Warrior in the first level to skip most of it and speed up its boss fights, playing as Shinobi in the next 2 levels and using regular Elta throughout the rest of the run.
The only non-obvious switch is from Shinobi to regular Elta at the end of level 3 or start of level 4, but, from what I tested, the time lost by Shinobi on bosses is not compensated by his faster walking and jumping speeds.
Stage 1 - the 2nd boss gave me the best pattern possible. You can manipulate him to do this, but I'm not very consistent at it.
Stage 3 - you have to take it a bit slow after the moving platform part like I did. I still made a small mistake, it's very hard to get this level to go perfect.
2nd boss fight was 5 seconds faster than expected, I didn't even know you could stand there and not get damaged. I did it because I wanted to get damaged to switch to regular Elta, so this (not reverting to normal Elta in stage 3) will cost some time in level 4's beginning.
Stage 4 - I have to damage boost off the floor to get regular Elta for the rest of the run. Net time loss here was 3 seconds (and not more thanks to the awesome boss fight just before) because of that missed jump. Also, I was so close to saving a few seconds on the level's 2nd boss.
Stage 6 - 1-2 seconds lost from being overly cautious at the beginning here. It is possible to skip the middle part of the 2nd boss but I don't think it's faster to do so, as you have to constantly dodge its bullets and the eye's laser.
Stage 7 - yes, I do have to go down and up the stairs just before entering the level's 2nd part to activate the zombies down below. You can go straight down the stairs but the chances of one of them walking into you and ruining your run are very high. I know I learned this the hard way.
Boss Refights and Final Boss - I came so close to a really fast 4th boss refight =( and boss 5 refused, yet again, to behave, as he always does when I make it this far. Then the final boss fight is very relaxing, it feels so good to have an easy boss at this point in a run.
I'd like to thank Uyama and Stanski for their bounty, mcdnol for his incredible high score run - go check it out on youtube, Persona for discussing strategies with me, DK28 for being always very encouraging, Tiki for his Mega Man 6 run - believe it or not, that is what got me into the site. And thank you very much SDA.
Get Flash to see this player.
No author's comments provided.