Marble Madness was originally released as an arcade game in 1984 and was ported to NES in February 1989. Take control of a marble in a set of six maze-like levels. Traps abound to delay your progress, including other marbles, acid pools, hammers, and vacuums.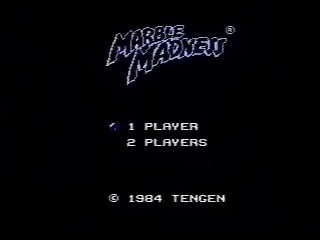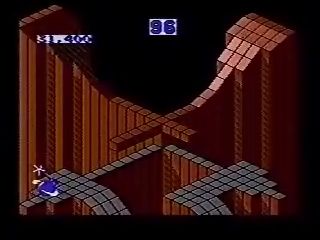 Return to the Game List, the FAQ, or the Home Page.
0:02:45 by Steve 'Elipsis' Barrios
Get Flash to see this player.
Author's comments:
Marble Madness Record History:

July 31 2005, 3:13, Elliott Feiertag
October 27 2008, 2:54.2, Andrew Gardikis
March 18 2014, 2:52.1, Steve Barrios
March 21 2014, 2:50.9, Steve Barrios
May 22 2014, 2:48.84, Big Walsh
July 24 2014, 2:48.68, Steve Barrios
October 9 2014, 2:47.51, Steve Barrios
July 24 2015, 2:46.930, Toad22484
July 25 2015, 2:45.530 Toad22484
December 5 2016, 2:45.465, Steve Barrios
October 21 2016, 2:44.998, Steve Barrios

This speedrun of Marble Madness times out at 2:44.998 in Yua, and has 0 deaths. It was done live on http://www.twitch.tv/elipsys and retimed afterwards. While it was once thought that the 2:47 SDA run was right around the upper limit of human optimized times, Toad22484 proved that notion wrong and delivered a stunning 2:45. It took a lot of grinding and practice, but I was finally able to knock another half second off of that time on October 21st, 2016. Individual level commentary is as follows:


Level Commentary:

Practice Race:

If you do this level right, you're playing the last half of it blind. I always shoot to finish this level with 55 seconds remaining on the in-game timer, and reset otherwise. Fractional gains or losses here distill down to three different possible frame rules that you can land on, the third being exceedingly rare.

This practice race went unremarkably, with the marble going offscreen and relying on muscle memory to complete the level.

Beginner Race:

The time saves in this level are barely perceptible. There is absolutely no point to any time saves prior to the draw bridge, as it forces you to wait for it to go to the down position before proceeding. In this run I had a very good draw bridge by approaching it nearly on the same frame that it moves down. The rest of the time saves here are from good movement and cornering on the section after the pipe. All of this amounted to me being just one frame rule ahead of my previous 2:45.4 record.

Intermediate Race:

The Intermediate Race really is a double edged sword. Every small time save greatly increases the difficulty of the run by reducing the amount of screen real-estate available to the player. Very aggressive runs can put the player in the position of having to input blindly after the pipe, similarly to the Practice Race.

This level was very clean all the way through, with some good execution on the blind cornering at the end of the level.


Aerial Race:

One of the big reasons I was able to improve my overall time versus previous efforts is this level. Starting with my older 2:45 run, the new strategy that I have been employing is called "early hammers" - which relies on a very fast pivot after the jump which gets the marble on pace to go past the second farthest hammer before it even drops. This avoids the neccessity for any hesitation, which was a part of the old 2:47 SDA submission. While I did accomplish the trick here cleanly, I actually lost a couple of frame rules compared to my 2:45.4 run, which had slightly better movement throughout. Still, this run demonstrates new tech which makes 2:45 and 2:44 attempts possible.


Silly Race:

Getting an optimal time in Marble Madness is tremendously difficult primarily due to this race. The Silly Skip shortcut is, optimally, a pixel-perfect frame-perfect endeavor... and the variability of the preceding birds mean that there is no consistent setup or approach to nailing the trick, which has now become mandatory. So not only do you have to go for it to have a shot at improving the world record, but the required inputs to execute it end up being slightly different every...single... time.

The gravity of the Silly Race is backwards, and so you start by rolling uphill. The little guys in the middle area give you +3 seconds as a bonus to the timer, but that is of no use in a speedrun. If you do the beginning of this race well, you get sucked up the pipe coming into the hardest cornering section of the game with little screen real-estate to work with. Slowing down at all means that the level's physics play hell with the marble, and worse yet a screen-bounce is pretty much always fatal. At this point, it has to be all muscle memory.

The bird section is extremely frustrating, as they often inferere with Silly Skip setups. My ideal strategy for this trick is to bounce exactly once off of the front wall, then the back wall, and take that horizontal speed with me diagonally along exactly the third grid-line towards the goal. There are a number of caveats to be aware of here. 1. As near as I can tell, the grid-line positioning has to be pixel perfect. 2. Sometimes the first bounce actually sends you back out towards the birds for whatever reason. 3. If you overshoot the positioning even slightly, the physics of the level do not allowed you to maneuver backwards.

In this run I ended up getting a very good 1-bounce Silly Skip. It wasn't THE most optimal because I didn't make contact with the back wall to accelerate my horizontal speed, but it surpassed the execution of the previous world record significantly enough that I found myself a half second ahead of any known previous run coming into the Ultimate Race.


Ultimate Race:

I call this level, not at all affectionately, the Choke Race. That is because while I feel like it is about tied for third (with Intermediate race) as far as executional difficulty, approaching it knowing that you are on world record pace can make it extremely jarring. Getting the Silly Skip to go off properly after everything else puts a ton of pressure on this final race to perform flawlessly. There is no room to hesitate or play safely on this level without losing time.

The acid has killed a number of promising runs, and the red floor section requires very precise movement. You also have to enter the blue floor section on the perfect vector, as you have NO control over your marble in this area until you get to the other side.

The final screen of the game restricts how fast you can progress, and though I have done this section countless times - it is always very nerve wracking to perform when your hands are physically shaking. The only time save here is to anticipate and shoot across the very last tile as close as possible to the same frame that it spawns... but to make a mistake here would be to lose a run on the final corner of the game and end up needing therapy. Thankfully, I avoided a case of Marble Madness and completed the section pretty much exactly on pace with my previous runs.


Final Time: 2:44.998

While I am very happy with this run, I am not going to make the same mistake again by predicting that I can safely retire from this game indefinitely. The last few years have seen incredibly improvements to the times from a number of players, and my sum of best is now down to 2:42. I know that with optimal execution, I would be capable of low to mid 2:43 time, and plan to come back around at this game some day to go after that goal.

This time around, I want to add thanks to Toad22484 for dragging me out of retirement and showing me what a highly optimized run can really look like. I am also grateful for the slowly growing group of awesome folks who reguarly come by my twitch stream to break up the tedium of thousands of record attempts with laughter and conversation. I also want to thank the people in my life who continue to support my hobbie, with special apologies to Vixentropy for waking her up when I completed this run and started screaming.

It's really exciting to be a part of the history of one of my favorite games and see my name up on the same website as some of the most talented gamers out there. The speedrunning community has come to mean a great deal to me, with all the wonderful people who I have met at the AGDQs who expand my horizons.
Co-Op: 0:03:17 by Steve 'Elipsis' Barrios, 'Toad22484'
Get Flash to see this player.
Author's comments:
(Written commentary by Elipsis - please see audio track 2 for joint audio commentary from both runners)

This is the first fully recorded co-op speedrun of Marble Madness that is worth calling an initial starting point for a world record. It was a cooperative effort between Toad22484 and myself that was recorded at AGDQ 2017. While the time here is 3:17, it is worth nothing that real-time 12 seconds in any two player run will be lost rewarding the winner of the previous race with an additional five in-game seconds (2.4 seconds per race times 5). Marble Madness is a very hard and unforgiving game which becomes exponentially harder to perform flawlessly when there is a second player sharing the track. This video represents the very best run of a 6 hour recorded session - Toad22484 and I had to make many adjustments to the usual single-player strategies in order to beat the game fast without getting in each others' way. The commentary on each level will primarily highlight the co-op strategies we employed.


Level Commentary:

Practice Race:

Our goal every time here was a double 55. While it is already hard to get the blind inputs required to do this into muscle memory with 100% consistency, it was especially challenging here to avoid the other marble when we couldn't even see each other. This particular run was just one frame-rule short of our double 55 goal, with a still very satisfactory 54/55 finish.

Beginner Race:

Steeley (the black Marble) is a little bit more difficult to get around for the second player. It was not intended, but this time around Steeley successfully got in my way (although he paid the ultimate price for doing so). This does not represent much of a time loss, however, because both players have to wait for the drawbridge to move out of the way before they can proceed down the pipe. A small time loss here was from my bumping the green slinky enemy on approach to the bridge. Everything else about this level went perfectly.

Intermediate Race:

Toad22484 does a bounce in the first section which benefits us in a couple of ways. First, it gets the blue marble ahead of the red one enough that red has more screen real-estate to work with. Second, it avoids a situation where both players are semi-blind going into the pipe. Everything about this level went well, climaxing in a double 1-cycle green carpet ride for both of us.

Aerial Race:

The red marble has a shorter track here, and so I was always ending up ahead of Toad22484 in practice. This allowed Toad22484 to consistently work with the same timing going through the peg section, and he discovered that some of them can be despawned (or they are still on cooldown) if he moves fast enough. This was pretty much a textbook co-op Aerial race until Toad22484 took a death on the jump. Fortunately, the two-player respawn behavior pulled him pretty far forward, so we didn't lose nearly as much time as a solo player would have. A movement error at the end of the race after the hammers does cost another second or so, however.

Silly Race:

The introductory weaving section lead to some hilarious mistakes in previous attempts until Toad22484 and I agreed that he would always allow red to get just slightly ahead in the intersections. The red track here after the pipe is completely different than what I was used to in solo attempts, and while difficult I think it ended up being less dangerous than the difficult screen-bounce corner that blue has to deal with. The dream here was a double silly-skip... but given that it is rare even for one player to hit this perfectly, it was fortunate that Toad22484 was able to showcase the trick while I went the long way around. Overall a very solid stage.

Ultimate Race:

Red was intended to go down the pipe first here, but the red angle is very awkward and I ended up making a movement error which caused Toad22484 to get in ahead of me. The red marble's track here is insanely more lengthy and difficult than blue's, involving multiple modified floor types that feed straight into each other as well as actual backtracking. This means that barring major mistakes from player 1, red will always get to the combined track last. (Some "race" this one is!)

The conclusion of the Ultimate Race almost stopped this run from happening entirely. We were experiencing a complete crash and soft-lock nearly every time in the final screen of the game until we discovered the guaranteed solution to this problem was to destroy the second Steeley marble (presumably reducing the sprite-count). Effectively, we added this to the route and started practicing Steeley quick-kills. Our strategy here was for Toad22484 to get in first and attmept the quick kill, while I would come in to assist as soon as I got there. Though I took a death to the acid, this basic stategy did not change. Toad22484's first attempt was unsuccessful, but by the time he respawned Steeley was dispatched. What follows is, in my opinion, the highlight of the entire run - a double first cycle Ultimate Race finish. It's really hard to stress how much more difficult sharing the platforms with another marble makes the sequence. Tensions were high here, and we managed to nail the sequence and close out the run.

Final Time: 3:17.29

For the most part I am very happy with this run. While Toad22484 and I acknowledge that it is definitely improvable down the road, there are only a few people who can perform at this level - and we are all geographically dispersed enough that time for collaboration is rare and limited. We may attempt to improve this in the future, but it stands for now as a strong benchmark for what a co-op run should look like. Very big thanks go out to World 9 gaming and the AGDQ 2017 staff for helping make this opportunity possible.