Released in March 1996, Mario's first RPG starts out like most other Mario games: Mario goes to rescue the kidnapped Princess. After a short confrontation with Bowser though, a sword comes crashing into Bowser's keep and sets the three of them flying in different directions. Mario travels around the world, teams up with Bowser and the Princess and others in a quest to restore the 'Star Road' where wishes are granted.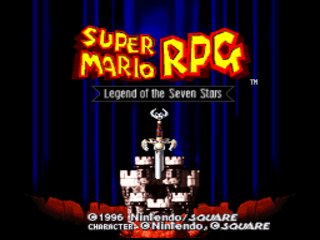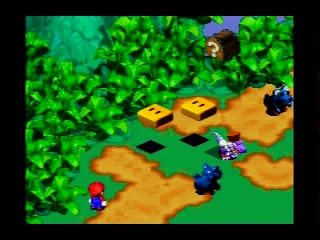 Best time: Single-segment 2:57:28 by Craig 'cyghfer' Gordon on 2011-01-20.
Get Flash to see this player.
Author's comments:
Note: I was retarded while recording this run and had my RCA splitters set up so only one sound channel was recorded, which explains the audio abnormalities present. Also, the in-game pause and break in the video as I enter Seaside is due to swapping DVDs while recording.
I'd like to start by thanking several people that, without whom, this run would not be nearly as good or might not even exist. The most direct acknowledge for the strategies in this run go out to らくぅ (rakuu), who has been speedrunning this game for a long time and from whom I took around 70% of the route from. Even up until the present day he regularly introduces very slight route improvements – I can usually expect to glean something nifty to include in my runs from every stream of his that I watch. Next is 0xwas, who TAS's this game and has a great well of knowledge about the game that I have repeatedly drawn from over time. Perhaps another 20% of the route can be traced to his TAS work on this game, including optimized overworld movement and various other strategies. He also speedruns this game from time to time and is just a great person to chat with – he has definitely helped keep up my motivation and interest, for which I am grateful. My good friend Krystal didn't contribute to this run directly, but she has shown an interest in speedrunning this game that, from the time I started doing attempts, has done more for my motivation than anything else external to myself. She also determined a rough difference between the US and JP versions of this game for speedrunning (the JP version is nearly 9 minutes faster for those curious), which took a lot of time and energy. A brief mention goes out to Catastrophe, a friend in the Bemani community who broke down for me exactly how the Smithy 2 battle script functions. And finally, my biggest thanks goes out to romscout, without whom I might not have ever considered speedrunning this game in the first place. I loved watching his attempt streams of this game back in the day, and it was during a week home from work sick with vertigo that I decided to commit to running this game as I verified his canceled submission as thoroughly as possible. And! – yes, 1% of the route comes from him, namely jumping on the Terrapins and Kinklink instead of untimed attacking them, allowing a 3-turn battle against Pandorite in spite of the Mack Skip.
Of course, thanks as always to the SDA staff for giving so much of their own time to process and present all these amazing runs for us, and my appreciation goes to everyone and anyone who has shown an interest in my activity on this game.
The other 9% of the route unaccounted for above comes from my own loose ends in terms of item management and efforts to synthesize various route ideas. Yes, I actually came up with very little of the route you see in this run on my own – I simply organized existing ideas into one coherent whole. This is also the game that holds the most childhood nostalgia for me, and even after pouring so much time into speedrunning such a luck-based game, it's still a joy for me to play to this day.
I'm not going to talk about the actual details of this run, as I have improved this time by nearly four minutes since this submission. There is no audio commentary for this reason, as doing one for this run only to do another one for a subsequent submission seems redundant. I wanted this run posted nonetheless because it was long overdue for marshmallow's old segmented run to be replaced by one that meets SDA's standards. I one day hope to achieve a time along the lines of 2:49. You can watch my attempts to do so at http://www.justin.tv/cyghfer whenever I happen to have the time on my hands.
Thanks for watching, enjoy. : - )